Des Plaines TARPING AND BOARD-UP SERVICES
Has your home has been damaged by fire, flood, weather, vandalism or even an accident? You need to secure it quickly and safely to avoid any further damage. We respond rapidly with emergency board-up services. This keeps out the elements and unwanted guests.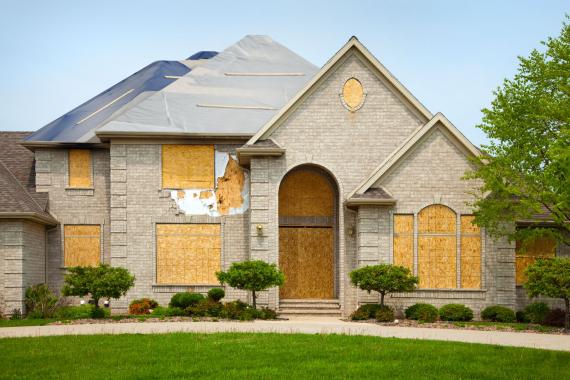 We will board-up any broken windows, walls, or doors that have been damaged. We also provide roof tarp services for damaged roofs. By shielding the compromised areas, we help prevent further damage to your home. You may require these services:
Building & Structure Board-Up: Boarding up a damaged property will restrict unauthorized access. This could result in new or additional damages to your property. Our restoration professionals are trained in performing board-up services. They will meet or exceed all local code requirements.
Roof Tarping: Roof leaks, big or small, can cause significant damage to your home. If roof damage is left untreated, the resulting water damage that can occur could be even more costly!
Temporary Fencing: Temporary fencing provides another level of security to protect your home. Homes damaged during severe weather are popular targets among thieves and looters. This makes a temporary fence vital to your home's security.
Securing a structure after a fire, flood, or vandalism which leaves a breech is paramount. Doing so prevents additional damage from the elements and/ or vandals.
WHEN DO YOU NEED A ROOF TARP OF BOARD-UP SERVICE?
Fire Disaster
A home ravaged by flames may suffer from a compromised structure. It may also suffer from fragile walls and holes through the ceiling, and possibly, the roof. Emergency board-up service and roof tarping prevents additional destruction. It also prevents property loss until restoration can be completed. See our complete Fire Damage Restoration Services here.
Flood or Water Disaster
In the case of flooding, the source of the water could impact the type of home services required. For instance, a leak in the roof from heavy rainfall calls for tarping to temporarily cover the holes. An underground pipe burst or flood caused by a natural disaster can permeate flooring and drywall materials. It destroys the integrity of the walls and requiring immediate board-up services.
See our complete Water Damage Restoration Services here.
SEVERE WEATHER
Severe weather conditions are capable of causing many types of home damage. Strong wind gusts can uproot trees and send branches flying through windows. Also while hail pellets and rain wreak havoc on roofs. Let's not forget a tornado's ability to tear siding from homes and rip shingles off rooftops, too.
In any of these cases, you'll want your windows, walls and roofs covered. So, it prevents additional weather and damage from affecting your home.
VANDALISM
Unfortunately, vandals can generate their fair share of damage, too. Windows and doors smashed by forced entry rocks may require board-up services.
You'll want to make sure your home's points of entry are secured while you wait for your new windows or doors to be installed.
ACCIDENTS
Accidents happen. From minor incidents, like a baseball shattering a window. To major events, like a car crashing into the side of your home. Emergency board-up services provide the temporary security solution you need.
You can rest easy knowing your home is protected from natural elements and intruders until repairs can be completed.
ServiceMaster Disaster Clean up Services RESIDENTIAL TARPING AND BOARD-UP SERVICES
In any emergency situation, call ServiceMaster Disaster Clean up Services 24/7, 365 days a year, and we'll be by your side. From initial damage assessment to board-up services. Emergency tarp installation and follow up. Our experts deliver quality workmanship and guidance to make your life easier after a traumatic disaster.
Doors & Windows Board-Up
Tarping Services
Residential & Commercial Services
Perimeter Security
Temporary Fencing
FREQUENTLY ASKED QUESTIONS​
WHAT ARE BOARD-UP SERVICES?
Your windows are among the most vulnerable entry points in your home. After all, whether you're talking about vandals or high winds, glass is easier to break than solid wall.
Regardless of the reason your windows are damaged, you may not be able to replace them right away. Local installers are probably inundated with replacement requests. When your appointment is delayed, you should pursue board up services for peace of mind.
WHAT TYPES OF PROPERTY DO YOU HELP WITH?
We service commercial buildings, offices, warehouses, residential homes, condos, and more.
WHAT ARE THE MONEY-SAVINGS BENEFITS OF BOARD-UP SERVICES?
Is it really worth pursuing board up services?
Once you realize the many money-saving benefits, you'll discover the services often pay for themselves.
Prevent damage: Anticipating a storm and boarding up your windows in advance can save you the cost of replacing broken windows. Even if your home has already sustained damage, cut your losses by boarding up the windows.
Retain insurance coverage: Your first instinct should be to call your insurance company. Boarding up your windows ensures the best coverage for your claim. This is because the boards help prevent further water or wind damage. Don't give your insurance company an excuse to deny your claim. Pursue board up services following a fire or natural disaster.
Keep vandals out: Board up services are a must. Whether you occupy the damaged home or want to preserve a foreclosed property until it sells. This simple measure deters vandalism and theft. It prevents the liability issue that could arise if an intruder entered the building and sustained an injury.