AGENTS AND ADJUSTERS
Insurance Agents and Adjusters
Handling a claim can be a difficult task. When a disaster happens, sometimes customers can be overwhelmed because they never have experienced a flood or fire and have never had to file a claim. A business owner usually just wants to get back in business as soon as possible as their biggest expense is lost revenue and customers who may never return. A homeowner wants to know that the situation will be returned to normal with a minimum of further disruption to their life.
At ServiceMaster we understand that when we are on site with a customer, it may be during one of the worst days of their lives. Our goal is to help guide them through the restoration process. We will never give claim or policy information to a customer and will not give any advice except to communicate as openly and effectively as possible with their agent and adjuster.
Who is Involved
There are many people who will be involved in single claim. That is why it is imperative to have effective communication with all parties. Besides the homeowner, those who will be involved will include the insurance agent, the onsite insurance adjuster, the representative from the insurance carrier, possibly an inspector, contractors and more. For a claim to go smoothly it is critical that everyone has the correct expectations.
Emergency Process
We are available by telephone 24/7/365
We contact the customer and gather pertinent data. It is very helpful if they have the name of their carrier and the claim number.
We try to be onsite within two to four hours for all losses after receiving the call. For a water loss, we will start the extraction of water if necessary and begin the dry out. On a fire, our field manager will scope the loss and follow up with the adjuster while the crew begins cleaning.
Perform demolition and the dry out of the structure.
Clean the home or office so that it is ready for a contractor to start the rebuild.
The customer will have a few forms to fill out and sign as well as we asked them to complete a customer survey.
Work with insurance adjuster and carrier on final billing.
ServiceMaster Staff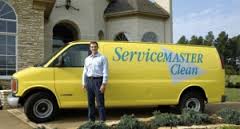 ​
Bob Myers – Field Manager
Scott Poulin – Project Manager
Melissa Compton – Program Manager
Liz Hamilton – Business Manager and Collections
Steve Cox – Owner
Carl Carlson – Owner
Technicians and Crew
We have 18 technicians in the field and our crew has over 100 years of experience. We are IICRC certified as well as have the distinction of being a top tier ServiceMaster with QRV status which requires us to maintain the highest standards in the industry.
It is critical that there are clear lines of communication between everyone. We welcome your calls and if you need any information we are happy to provide it.
We serve Southern, Central and Western Maine from Sugarloaf to Scarborough, Bethel to Damariscotta, Waterville to Windham and everywhere in between. We have locations at 29 Brickyard Circle in Auburn and 60 Gray Road in Falmouth.