Commercial Large Loss Cleaning in Hartford, WI
ServiceMaster Kwik Restore
Natural disasters like fires, floods, and storms are capable of tearing apart properties of all sizes, such as offices, retail stores, and even warehouses. While this amount of damage can cost the companies a fortune with the cost of restoration, time spent out of work, and loss of inventory, this doesn't mean the end of the business.
Extensive damage can have a significant impact on the company, but there is the relief that there are restoration professionals standing by 24/7 to help the business recover, especially when dealing with a large loss.
ServiceMaster Kwik Restore is available 24/7 in Hartford, WI to provide complete commercial large loss restoration services to restore commercial buildings of all types. Our technicians are each licensed and experienced to perform extensive restoration services to ensure effective and timely results. We also make use of professional equipment to address large properties.
Commercial Water Extraction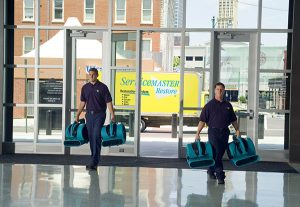 Flooding can leave property structures and its content in ruins with just a few inches of water. Damage to electronics and machinery can occur and flooring, wood, and drywall can absorb water, creating significant damage throughout the building.
If the excess water isn't removed immediately, the damage will spread to larger areas that will only result in additional time and money spent during the restoration process.
Our technicians at ServiceMaster Kwik Restore are experienced and trained to extract all standing water, using commercial grade drying equipment. We will also dehumidify the area to prevent additional structural damage while restoring the damaged electronics.
Our commercial water damage repair services include the following procedures:
Emergency Response and Inspection: Our technicians are available 24/7 to respond right away, limiting the damage by containing it to the affected areas. The entire property will also be inspected to determine the best plan of action.
Water Extraction and Dehumidification: ServiceMaster Kwik Restore uses professional equipment designed to remove floodwaters from the affected areas and remove the remaining moisture from the building materials and air spaces.
Electronics Restoration: All electronics will be thoroughly dried out, including TVs, computers, and data files.
Structural Repairs: All structural repairs will be made to the building, including replacing soiled drywall, insulation, and ceiling material.
Commercial Fire Damage Repair
Fires occurring in a commercial building can easily cause thousands of dollars of damage in minutes; spreading throughout the building, they will consume all materials in their path.
While the first priority is to ensure everyone's safety by evacuating the building, the second will be to start the recovery process right away. This is because the damage from the flames will spread long after they are extinguished. Etching and tarnishing will occur through the spread of the fire's byproducts as it leaves the remaining materials covered in an oily residue.
ServiceMaster Kwik Restore will arrive immediately, addressing all affected materials with professional cleaning products to remove the soot residue. All structural damage will also be repaired, including replacing drywall, flooring, carpeting, and ceiling materials.
All of the following are included within our commercial fire damage restoration services:
Emergency Response and Inspection: Our technicians will arrive right away after receiving your first call for fire damage restoration. We will begin the service by conducting a detailed inspection to determine the best restoration plan.
Pre-Treatment of Soot and Byproducts: As the soot and smoke will leave an oily residue on all remaining surfaces, we will use the appropriate chemical cleaners to treat each surface to remove all residue without causing further damage.
Electronics Restoration: We will use gentle but professional cleaners to restore electronics from soot and smoke damage.
Structural Repairs: All structural damage will be restored by removing permanently damaged porous materials like drywall, insulation, flooring, carpeting, etc. Replacements will be ordered and installed as needed.
As time is money in the world of business, any hesitation towards starting the restoration process will result in additional money lost. This is something we understand at ServiceMaster Kwik Restore, which is why we respond right away to provide the restoration services needed to get businesses back up and running.
Contact Us
ServiceMaster Kwik Restore is available 24/7/365 at 262-235-7076 in Hartford, WI to provide complete commercial large loss restoration services.