Odor Removal in Hartford, WI
Discovering the damage to a home or building after a natural disaster or act of vandalism can be overwhelming, if not traumatic. But there is always that feeling of relief after the restoration process that you can finally move back in.
The first thing you notice the second you open the door is a foul odor leftover from the damage, such as something musty, smoky, or sour, as from a pet or nuisance animal.
Construction furnishing odors can linger. Contact the odor removal experts byclicking here or calling (262) 333-6681.
It's understandable that all you want to do after moving back in is relax, but you may find that these odors are unbearable and can't be removed using home remedies alone. This is because they have become embedded in not only the air spaces but furniture and building materials, making them extremely difficult to remove.
ServiceMaster Kwik Restore is available in Hartford, WI and the surrounding communities to provide complete odor removal services for homes and businesses following a disaster. Our technicians make use of advanced technology designed to reach deep within porous materials, penetrate the odor particle, and eliminate it from within.
Professional Deodorization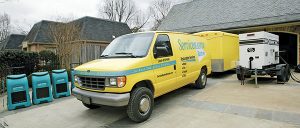 ServiceMaster Kwik Restore is highly trained and experienced when it comes to eliminating odors at their source, using advanced technology and methods. This includes Nano carbon, ozone, and hydroxyl technology as well as thermal fogging to fully remove the foul smell from the affected air space.
Our deodorization techniques are effective when removing odors from all of the following:
Pets
Nuisance animals
Biohazard materials
Living or working in conditions with foul odors can be frustrating and even unbearable, which is why we work to completely remove the odor at the source.
As we are dedicated to fully eliminating the smell, we will include all of the following steps within our odor removal services:
Removal of the odor source
Deodorization of all affected building materials and furnishings
Air washing
Sealing of porous surfaces
Documentation of the service performed
All of the following types of odors can be removed after these disasters:
Fire and Smoke Odors: All smoky smells will be removed following fire or smoke damage.
Water Damage Odors: All musty odors will be removed following water, flood, or mold damage.
Biological Odors: Bio odors from a death or even a nuisance animal can be effectively removed with our deodorization technology.
Living with unpleasant odors after a natural disaster, animal problem, or death can be disturbing, but you don't have to deal with it for long. Our powerful equipment is designed to remove it at the source, giving you the final peace of mind knowing that your home is completely restored.
Free Estimate
Give ServiceMaster Kwik Restore a call at 262-235-7076 for a free estimate on our odor removal services provided in Hartford, WI and the surrounding areas.