Air Duct Cleaning Services
The HVAC system in your home often receives little attention unless something goes wrong.
However, there are a number of reasons to have your air ducts professionally cleaned. Whether you have pet dander build up or smoke damage - we will make your air ducts like new!
As air moves through the HVAC system, dust, pollen, and other airborne debris accumulate in the air ducts and on the internal parts.
This debris buildup forces the HVAC system to work harder to heat or cool your home. This increases your energy bills and the risk of a breakdown.
The indoor air quality of your home can also be affected by dirty air ducts. If ducts are unclean, debris gets pushed out into the air each time the system runs the heat or air conditioning.
Breathing in this debris can trigger allergies or issues like asthma or infection.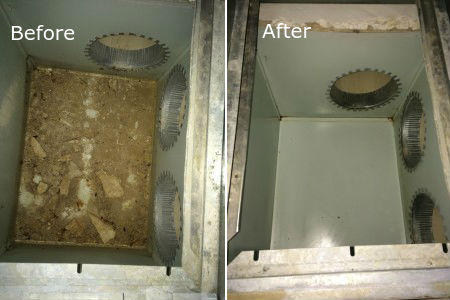 ServiceMaster Kwik Restore provides air duct cleaning services in Cary, Illinois & Southern WI. We serve Lake, McHenry and Kane County in IL and Racine, Kenosha, Milwaukee County in WI.
Our trained and experienced professionals use the right equipment to completely remove all built up dust and debris. We will ensure your air ducts and internal components are cleaned thoroughly.
There are many benefit of these services. One benefit is improving the efficiency of your HVAC system for lower energy bills. Another benefit is lengthening its life by reducing the risk of breakdowns or malfunctioning parts. You can also expect improved indoor air quality after these services are complete.
Air Duct Cleaning Options
It is generally recommended to have professional air duct cleaning services done in your home every 2-5 years.
ServiceMaster Kwik Restore offers two options for our air duct cleaning services. We offer maintenance cleaning and restorative cleaning.
The maintenance cleaning option is for homes that have had their air ducts cleaned in the last five years. The restorative maintenance option is for homes that have not had an air duct cleaning in at least 5 years.
How Often Should You Clean your Air Ducts?
How often you should have your air ducts professionally cleaned depends on your lifestyle and home.
Some things that might lead a homeowner to choose to have their air ducts cleaned more often include:
Smokers in the house
Moving into a new home
Recent home remodeling work
Pets
Occupants with allergies or asthma
If you believe your home or building is due for an air duct cleaning, contact ServiceMaster Kwik Restore.
Take advantage of our air duct cleaning services to lower your heating and cooling bills. You can also feel better about indoor air quality that isn't being affected by your HVAC system.
YOU CAN CALL US AT 847-908-5914 TO SCHEDULE AN AIR DUCT CLEANING APPOINTMENT in Cary, IL.