Hoarding Cleaning
Hoarding is a very serious issue that affects millions of Americans on a daily basis. Most people are familiar with the main characteristic of hoarding in which those affected refuse to throw away anything, leading to a dangerous level of clutter.
However, many may not realize that this behavior is caused by extreme anxiety that makes those affected unable to throw anything away.
If the hoard of items is allowed to grow, it will eventually block off areas of the home, increase the risk of injury or fire, and create favorable conditions for mold or bacteria growth.
ServiceMaster Kwik Restore provides hoarding cleaning services to clear out the homes of hoarders and restore them to a safe living condition.
Because hoarding is a mental disorder, it is very important to take a compassionate approach and involve the affected individual in the process.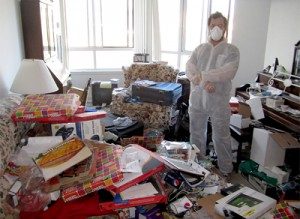 Hoarding cleaning usually starts when a trusted friend or family member intervenes and helps the hoarder realize the importance of cleaning the home.
Those that hoard are usually too embarrassed to reach out for help themselves.
Hoarders develop a certain attachment to the objects they have collected which can make the cleaning process very difficult for them to endure.
We understand the sensitivity involved with these situations which is why our technicians first work to build a feeling of mutual trust and respect with the individual.
Once we have earned the individual's trust, we will create a cleaning plan with the individual and their family to remove the unwanted hoarded items and restore the home.
Our technicians at ServiceMaster Kwik Restore are trained to handle any case of hoarding and we use powerful cleaning products and equipment to ensure that the home is restored to sanitary living conditions.
We are also fully prepared to remove any biohazard materials such as dead animals, bodily fluids, mold, or bacteria that we find in the home.
Our hoarding cleaning services are done in compliance with rules and regulations of the EPA, OSHA, and the Department of Transportation.
You can expect the following with our hoarding cleaning services:
Clutter Removal: We go through the entire home and remove the hoarded items that are unwanted. The final decision of what is kept and what is removed is made by the affected individual.
Decontamination: Once the unwanted items are removed, we thoroughly clean and sanitize the entire home to restore safe and sanitary living conditions.
Deodorization: We can effectively remove any foul odors with our deodorization process.
Proper Disposal: We will make sure that unwanted items are thrown away, donated, or recycled. Any biohazard materials are transported to a medical waste facility for disposal.
If those who struggle with hoarding do not get help, the condition of their homes will become more dangerous and threaten their health and safety.
If you know someone in northern IL and Southern WI areas who is affected by hoarding, reach out to them and contact ServiceMaster Kwik Restore.
Our technicians take a compassionate approach and include the individual in the cleaning process to make the experience much easier.
You Can Call us at 847-908-5914 to Learn More about Our Hoarding Cleaning Services