DRYING AND DEHUMIDICATION
THE BEST TO CALL IN THE WORST COMMERCIAL WATER DAMAGE SITUATIONS
If your commercial property or business establishment requires drying and dehumidification in Georgia and Tennessee due to a wet basement or flood, damaged plumbing or appliances, or excess water as a result of fire suppression, quick response time is the key to successful water damage restoration.
The effects of basement flood damage or other water damage can go quickly from bad to irreparable if not addressed immediately. Excess water in your commercial can cause electrical hazards, expensive damage to your property structure and furnishings, and lead to the growth of hazardous mold.
ServiceMaster of Cobb provide efficient water drying and dehumidifying solutions for flood-damaged properties. Our water restoration and drying anddehumidification process includes data, document and electronic equipment recovery. We also dry and recover antiques, fine art, furniture, rugs, and upholstery. Our heavy-duty equipment and trained technicians can manage the most challenging situations.
COMMERCIAL DRYING AND DEHUMIDIFICATION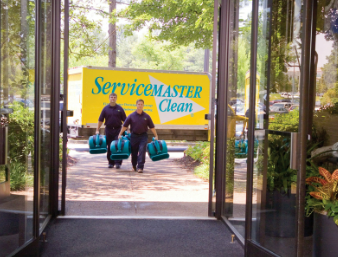 An excess of moisture in your place of business could lead to mold growth, which is not something you want for your employees and customers. Mold not only has a strong, unpleasant odor, but it can also be dangerous to your health. Fortunately, the water can be removed from your workplace before any mold growth occurs. Reduce the risk of mold growth in your office by taking care of the water damage as soon as possible.
Our IICRC certified applied structural drying technicians will measure the moisture content in various areas of the commercial property with state-of-the-art technology to evaluate the techniques needed to complete the water drying and dehumidification process. We will dry the water from your workplace using our professional water damage drying equipment. Any leftover moisture will then be removed through our dehumidification services.
Process of Drying and Dehumidification
Drywall, baseboards, and subflooring quickly absorb water during flooding. After the water is removed, effectively and quickly drying affected areas and removing high levels of moisture prevent the threat of microbial growth, mold, and mildew. Air movers and dehumidifiers remove humidity, produce dry air and create airflow. Moisture evaporation and reducing humidity help eliminate toxins and prevent floors and walls from warping. We use high-tech air movers and dehumidifiers to extract moisture from plaster, interior paint, drywall, and insulation.
Ourapplied structural drying technicians and water damage restoration specialist assess damaged areas and contents to determine what can be safely restored. Salvaging furniture, flooring, and upholstery depends on construction, design and the severity of the damage. Materials need to be completely dried before we can determine what must be permanently removed. We continually monitor and evaluate your commercial property and damaged areas during the drying process. Our applied structural drying technicians and water damage restoration technicians are trained to mitigate water-damaged areas and dispose of hazardous possessions for your health and protection.