Seattle Water Damage Restoration
water damage restoration near you
If you've experienced water damage in Seattle and need a restoration provider, you've come to the right place. ServiceMaster of Seattle understands that water damage can be a difficult experience. We have decades of experience returning Seattle homes and offices back to normal with professional water damage mitigation and restoration services. We aspire to help families and individuals just like you.
Our Seattle restoration team is available 24/7 with disaster restoration services.
if you're looking for water damage restoration in seattle, our team is ready to help. You can contact us online or call us today at (425) 905-2878!

Water Damage Restoration Services in Seattle
At ServiceMaster of Seattle, we understand the devastating effects that water damage can have on your property. That's why we offer top-of-the-line water damage restoration services to our clients in Seattle and the surrounding areas. Our team of experts is equipped with the latest tools and technologies to ensure that your property is restored to its pre-loss condition in a prompt and professional manner.
We take pride in our ability to provide our clients with the best possible service, and we will work tirelessly to ensure that the job is done right the first time. Don't hesitate to contact us if you're in need of water damage restoration services in Seattle - we're here to help.
How to Clean Up Water Damage
When it comes to water damage at home, it can be tempting to want to handle the clean-up ourselves. However, there are numerous reasons why hiring a professional to take care of it is the smarter choice. At ServiceMaster of Seattle, we have seen firsthand the devastating effects that water damage can have on property, possessions, and even health.
Our team of trained professionals is equipped with the latest technology and techniques to ensure that your water damage restoration project is handled effectively and efficiently. Without the proper experience and equipment, attempting to clean up water damage yourself can actually do more harm than good. That's why we're here to help. Trust us – you won't regret it.
It's always best to call a professional water damage restoration company, but you can clean up the mess yourself. If your property in Seattle has experienced water damage, it is important to act promptly to avoid further damage and mold growth.
First, turn off the power in the affected area, and wear protective gear such as rubber gloves, boots, and eye goggles. Remove any standing water with a wet/dry vacuum or a mop, and use fans or dehumidifiers to dry the area.
Once you're done, you should step back and consider whether a call to a professional is in order. Lingering moisture can lead to further damage or mold issues. If the damage is extensive or the risk of mold growth is high, hiring a professional service such as ServiceMaster is recommended to ensure efficient and thorough cleaning.
Water Damage Mitigation Checklist
To better understand the restoration process, we've compiled this water damage checklist. It includes all possible areas in your home or office that may need to be restored.
This list also provides a brief description of why these actions must be taken in order to protect your property. While not all items will apply, this information will help you understand the procedures used in restoring your home or business.
Identify the source and scope of the water damage. A thorough examination using specialized moisture-detection meters, probes and sensors. We determine the extent of the water damage. This enables us to form the most effective plan for returning your property back to normal.
Inspect the attic. Wet insulation, framing and stored contents may need to be treated or protected.
Inspect basements. Basements need to be inspected to plan proper drying procedures for possible water seepage.
Inspect ductwork. Ductwork will be inspected for water intrusion throughout affected areas including floor vents.
Inspect crawlspaces for water damage. Water may seep into crawlspaces and if left unattended, can cause further damage. Wet insulation and framing may need to be treated.
Protect your contents. We do more than just protect items from further damage. We create a more efficient environment for faster, more complete drying. Protecting your contents may include moving items into another room. We may set items up on blocks or moving them off-site.
Perform water extraction. Removing excess water minimizes damage and accelerates drying time. Proper equipment is needed to address all flooring layers and extraction of each layer may occur at different times.
Evaluate carpeting. Leave carpet and pad in place to dry. Under certain conditions, we can leave the pad in place to dry.
Disengage carpet from the tack strip, remove threshold coverings (when applicable) and open seams as needed. This is done to prevent further damage to your carpet and surroundings.
Remove pad. Pad removal may be required to avoid additional damage. This helps prevent microbial growth and creates a better environment for dehumidification.
Remove non-salvageable carpet. Because of its current condition, your carpet may not survive the restoration process.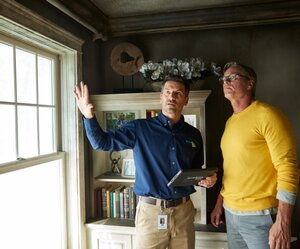 Evaluate flooring.

Tile: Dry in place or remove. (Your tile flooring may not be restorable or it may be more cost-effective to remove it than dry it in place.)
Vinyl: Dry in place or remove (trapped moisture may not dry and could damage the sub-floor.)
Laminate: Dry in place or remove. (Non-porous flooring such as Pergo can trap water. This makes it necessary to remove the laminate in order to dry the sub-floor.)
Hardwood: Dry in place or remove. (Your hardwood flooring may not be restorable or it may be more cost-effective to remove it than dry it in place.)
Sub-floor: Dry in place or remove. (Your sub-floor may not be restorable or it may be more cost-effective to remove it than dry it in place.)
Remove baseboards. Depending on the type of baseboard, removal may be necessary. This will to help dry the structure. We need to address moisture trapped between the baseboard and the wall.

Drill holes in walls/sheetrock/ceilings for drying/ventilation. Holes allow trapped moist air to escape quickly. This helps avoid further damage to sheetrock and framing. This also prevents potential microbial growth.
Remove drywall/sheetrock. Due to the source of the water, the duration of the water exposure or its visible damage, the sheetrock may be unsalvageable. Removal may simply be more cost-effective than drying it in place.
Evaluate insulation. Dry in place or remove (your insulation may not be restorable or it is more cost-effective to remove it than dry it in place.)
Inspect cabinets. Cabinetry is unsealed and allows moisture to seep in. Therefore, inspection is necessary and may include drilling holes or removing toe-kicks.
Remove cabinets. Taking a door off its hinges may be necessary. This allows your flooring to be removed without damaging the door. It also allows for better airflow.
Apply antimicrobials. Application of the proper antimicrobial products keeps dormant microbes from activating. Otherwise, this can happen while your carpet is drying.
Apply odor control. Odors are a natural part of the drying process. Applying proper odor control products helps minimize odors..
Place/setup/install high-velocity air movers. Strategically placed air movers are set up for maximum airflow across surfaces. This accelerates the rate of evaporation from wet materials into the air.
Place/setup/install dehumidifiers. A dehumidifier removes moisture from the air so that evaporation can continue more effectively. Proper dehumidification helps reduce further damage to the building and its contents.
Explain future visits and expectations. Schedule the next contact and discuss follow-up steps. This includes moisture readings, monitoring equipment, repositioning equipment, etc... While every instance is unique and drying times vary, these additional visits will ensure rapid drying. They will contribute toward returning your home or business back to normal.
To schedule water damage restoration services in Seattle or Woodinville, call us today at (425) 905-2878 or contact us online.