You Deserve to Choose What Happens to Your Home.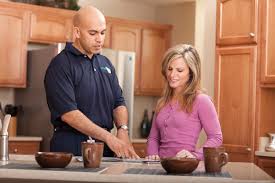 ServiceMaster of Seattle believes that disaster restoration is a case-by-case process – we understand that all disasters are unique and deserve to be handled in the most customized way possible. This is why we've developed a program that allows us to cater and customize everything for you, including pricing: We proudly introduce to you, FlexServ.
Effectiveness shouldn't come at the price of affordability. With FlexServ, you get to pick what you want to do to your home after a disaster. Do you want to finish the project yourself? No problem – we can rent the equipment to you. What if you need help with everything? Don't worry – we've got a FlexServ plan for that too. Whether you're getting insurance to cover the job or you're doing it on your own, FlexServ can give you what you need.
Here's what you'll get:
Professionals who help you select restoration equipment.
Top-notch equipment rentals that are repaired and maintained before and after each use.
Equipment delivery and set-up if needed.
Advice and assistance from expert technicians.
Our FlexServ packages vary in price and service, which means you can choose the plan that fits best within your budget and the extent of damage in your home. Plans include:
1) Drying Services Plan
Ideal for homes or businesses with water damage that requires our professional-grade dry out equipment.
Delivery and equipment setup
Rental air movers and/or dehumidifiers
Moisture readings, monitoring equipment and labor
Equipment pick-up and removal
2) Extract & Treat Plan
Ideal for properties that have extensive water damage that require more than just dry-out services.
Water extraction equipment and labor
Carpet and/or hard surface flooring assessment (padding removal for carpet included)
Anti-microbial treatment
3) Direct Equipment Rental Package
Ideal for the do-it-yourself homeowners who need access to professional-grade disaster restoration equipment.
Full access to rent any equipment you need
Pre-and post-equipment rental equipment check
Our Seattle restoration services are designed to make your life easier. Call (425) 905-2878!