Fire & Smoke Restoration Near Canoga Park
According to a 2019 report by the U.S. Fire Administration (USFA), nearly 30 percent of all reported fires occurred in homes and other types of residential properties. Even worse, residential property is the leading property type for fire deaths (more than 72 percent), fire injuries (more than 76 percent), and property losses (over 46 percent).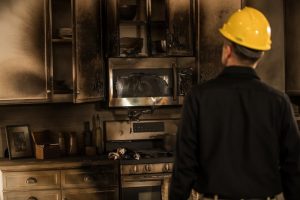 The following are the common causes of home structure fires in the United States:
Cooking
Heating equipment
Careless, unintentional action
Open flame
Electrical malfunction
Smoking materials
Intentional fire setting
And many more!
No matter how the fire was caused, there is nothing more devastating than seeing your home and all your belongings go up in flames. Even though you may think all hope is lost, you cannot waste any time salvaging as much of your property as possible from the damage with the help of our Canoga Park restoration team at ServiceMaster Professional Restoration - Canoga Park.
We can create a full-proof fire damage restoration plan based on the type of fire and the affected areas of your home, remediate water damage and wet areas due to firefighting, perform structural restoration, remove smoke odors and soot, clean up all affected surfaces, and restore items that were not severely damaged from the fire.
Are you in need of professional restoration services after a disaster? Call our disaster restoration experts at(818) 960-1430 orcontact us online today!

Mold Remediation In Canoga Park
Mold can be a damaging, hazardous problem that needs expert attention in order to protect the health and safety of those living inside. For this reason, ServiceMaster Professional Restoration - Canoga Park provides comprehensive mold remediation services that address all issues associated with mold.
Utilizing the latest advances in prevention and remediation strategies, we provide custom-tailored solutions to reduce further damage, health risks, and costs. Our experienced technicians perform multiple assessments to provide air quality control, moisture detection, mold removal, and other necessary treatments to restore your property.
Let us help you get rid of your mold issue today so you can focus on the safety and health of those who matter most!
If you need mold remediation services in Canoga Park, turn to our team today! Call(818) 960-1430 orcontact us online to get started.
Restoring Comfort to Your Home
Dealing with natural disasters, fires, or floods that result in damages can be traumatic. Your home should be a safe space of comfort and relaxation for your family. When that comfort is disturbed, ServiceMaster Professional Restoration are committed to helping you restore it.
Our franchise locations are backed by the strength of a national brand with over six decades of experience. Our Canoga Park restoration team is available 24/7 to assist you through this difficult time.
About Canoga Park
Canoga Park is a neighborhood in the San Fernando Valley area of Los Angeles that was founded in 1912. Today, it has a population of 42,698, is incredibly diverse, and is surrounded by many shops, restaurants, bars, and things to do.
Canoga Park is known for its recent growth in high-tech industries and technologies, offering many new jobs to the area, as well as its close proximity to downtown LA – making it a great spot for those who want the best of LA without living in the dense urban sprawl. While living or visiting the area, you'll be able to enjoy downtown Canoga Park too, which showcases a vibrant, beautiful, and social scene lost in many major city neighborhoods. We love serving this community!
If you need professional restoration services in Canoga Park for water damage, fire/smoke damage, mold damage, or more, call ServiceMaster Professional Restoration at(818) 960-1430.