Residential Water Damage Restoration in Green Bay, wi
Green Bay's Trusted Water Restoration Team
Water damage can be a real pain for Green Bay homeowners. If not handled quickly, it can lead to high repair costs and even dangerous mold growth. But there's no need to panic! When things don't go as planned, simply give us a call at ServiceMaster Recovery by Restoration Holdings - Green Bay, your local water damage repair experts!
With just one phone call, we're on our way to help you, offering guidance on the next steps and using our skills to fix the problem swiftly. And remember, we're available 24/7/365 - every hour, every day of the year, ready to assist with emergency water damage repairs. With ServiceMaster Recovery by Restoration Holdings - Green Bay, help is always within reach!
Don't let water damage disrupt your life. Take action now! Call (920) 325-4373 or contact us online for water mitigation and extraction in Green Bay!
We Handle All Types of Water Damage Repairs
When it comes to water damage, no job is too big or too small for us. Whether it's a minor leak or a major flood, we've got you covered. At ServiceMaster Recovery by Restoration Holdings - Green Bay, we specialize in handling all types of water damage repairs. Our expert team is equipped with the knowledge and tools necessary to tackle any challenge that comes our way.
Our water damage services include the following:
Unexpected Flooding
Heavy Rain or Storm Damage
Leaking Roofs
Backed-Up Sewer Drain
Dishwasher or Washing Machine Overflows
Overflowing Toilets
Bathtubs or SInks
Hot Water Tank Floods
Crawlspace or Basement Water Damage
Sump Pump Failures
Ice Dams
Frozen, Burst Pipes
When you need water removal and water damage restoration, just call ServiceMaster RRH. We have the knowledge, experience, and technology to handle any water damage event from flooding to sewage backups to pipe bursts and more!
Risks of Water Damage
Water damage can be a homeowner's worst nightmare. Not only can it cause significant damage to your property, but it can also lead to serious health risks if not promptly and properly addressed.
Here are some of the most critical risks associated with untreated water damage:
Structural Damage: Water can weaken the structural integrity of your home, causing walls, floors, and ceilings to warp or collapse over time.
Mold and Mildew Growth: Moisture from water damage creates an ideal environment for mold and mildew, which can lead to respiratory issues and other health problems.
Electrical Hazards: Water and electricity are a dangerous combination. Water damage can lead to electrical shorts and potential fire hazards.
Contaminated Water: Depending on the source of the water, it could be contaminated with bacteria, viruses, or hazardous chemicals.
Don't let water damage put your home and health at risk. Contact our team of experts today for a comprehensive water damage assessment and restoration plan.
Our 24/7/365 emergency response team in Green Bay will provide an assessment of the water damage before beginning the drying process. Water can cause unseen damage, such as remaining moisture in the padding and sub-floors, and mold growth may occur if the water is not extracted completely.
Don't risk your health or home. With our Green Bay water restoration company is your side, you can rest assured knowing that your property is in safe hands. Call (920) 325-4373 or contact us online today!
Specialized Water Mitigation Services
ServiceMaster RRH performs water mitigation with the most advanced technology and products to restore your property to its former glory. We begin with a customized water damage restoration plan unique to your commercial building or home and the level of water damage. Our technicians are IICRC™ certified, so you can rest assured that your building is in the best hands.
We follow a three-phase drying process:
Phase 1: Emergency Service
Inspection of the affected areas to determine if the carpet is salvageable or needs to be replaced
Set up of high-velocity air movers and dehumidifiers to dry wet carpet and subfloors
Treatment of carpet for current and potential mold growth
Removal of carpeting including pads if unsalvageable
Phase 2: Reinstallation and Cleaning
Installation of new pads and carpeting
Cleaning and deodorization of carpeting
Cleaning and deodorization of affected upholstery and other damaged furnishings
Removal of drying equipment
Phase 3: Structural Repairs
Assessment of structural damage
Repair of drywall, ceiling, and floors
Structural repair, reinstallation, and cleaning
With locations in Superior, Ashland, Rhinelander, Wausau, Green Bay, Appleton, Fond Du Lac, Duluth and Brookfield, we can get your water damage fixed fast and get your home or business back to its original state fast.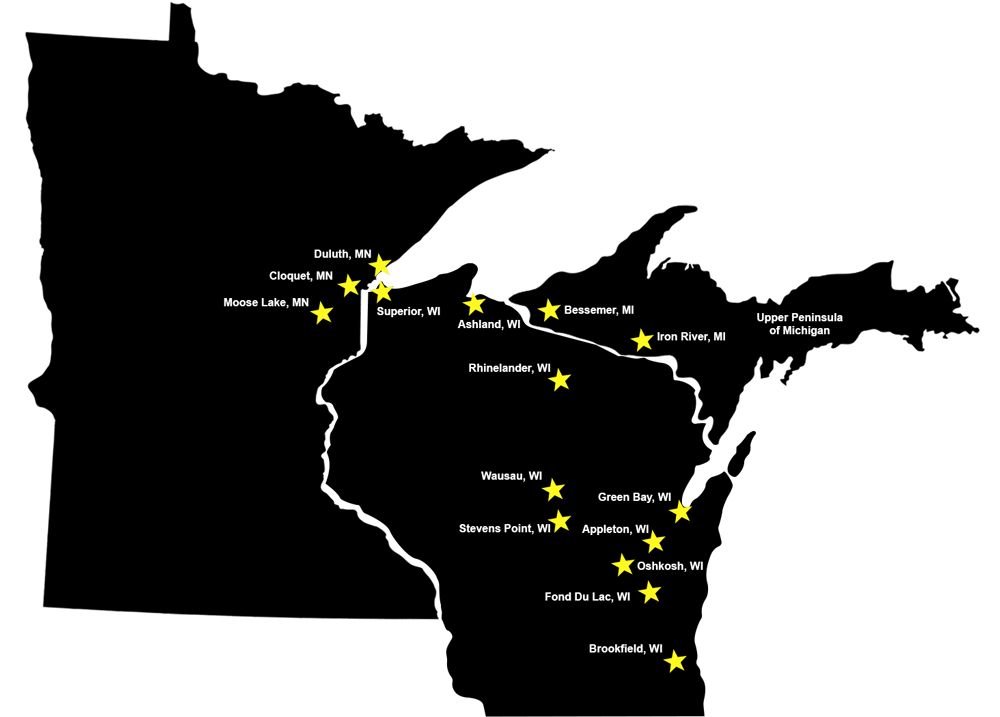 Your business can't afford to be closed another day. Get water damage fixed and your business back to normal FAST!
At ServiceMaster RRH, we have the latest technology to extract water and dehumidify your building or home. Our certified water damage repair technicians in Green Bay use the most innovative products to restore your business or home to pre-loss conditions. Our expertise ensures we provide you with the best care when handling any type of water removal.
Don't rush to replace carpets and flooring due to excess water damage or flood damage. Call ServiceMaster RRH now to restore your building, contents, and assets. We'll provide the clean you expect and the service you deserve from water damage repair experts.