fire damage restoration in Kansas City and shawnee
Reliable and Effective fire restoration services near you
Because the Kansas City region experiences dry air and extreme winds, the area is sometimes under fire warnings. Homeowners should always have a contingency plan in case the unthinkable happens. Fortunately, ServiceMaster DSI is here to help you recover after a fire with fire and smoke restoration services for the Shawnee and Kansas City communities.
No matter the size of the fire, ServiceMaster DSI provides comprehensive fire restoration services that will restore your property and belongings to their pre-fire condition. Our team of certified professionals is uniquely qualified and trained in the most advanced fire damage remediation techniques available.
We understand that a house fire can create an overwhelming amount of stress, which is why we work quickly and efficiently to provide you with the highest level of service. We begin by assessing the damage and formulating a plan for restoring your property as quickly and safely as possible. From there, our fire restoration team will carefully clean and restore all damaged items, making sure to pay special attention to items that may have been exposed to smoke or soot.
No matter what type of fire you experience, ServiceMaster Restore can help get your property back to normal quickly and safely. We are available 24 hours a day, 7 days a week for emergency response!
Contact our fire restoration company today to help your home get back to normal after a fire disaster by calling (913) 270-6197!

Kansas City Fire damage repair specialist
At ServiceMaster Restore, we understand the devastating effects of a fire and work quickly to restore your home or business.
Our fire restoration specialists have years of experience in restoring properties that have been affected by smoke and fire damage, so you can trust us to bring your property back to its pre-fire condition safely and efficiently.
Our fire restoration services include:
Carpet And Upholstered Furniture
Tarping And Boardup
Soot, Smoke, And Odor Removal
Content Cleaning And Restoration
Fire Damage Repair
We use the most advanced equipment and techniques available, along with our proven fire damage repair methods, to restore your property after a fire and make sure it is safe for you and your family.
Our team of dedicated fire repair professionals will work tirelessly to clean, deodorize and repair any fire-related damage in a timely manner.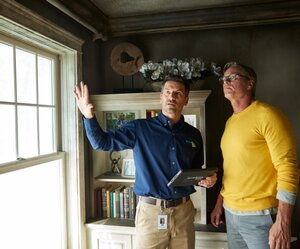 Fire Restoration Process
Fire restoration is essential after any significant fire, but the process is extremely complex, and requires expert knowledge in order to ensure the restoration process is effective.
Our fire restoration process involves:
Inspection and assessment of the damage
Removal of any damaged materials or items
Cleaning, deodorizing, and sanitizing of all surfaces
Smoke odor removal
Repairs to any structural damage caused by the fire
Restoration of any item that can be salvaged
We understand how important it is to restore your property after a fire. That's why we take pride in our quick response time and extensive knowledge when it comes to the fire restoration process.
We have the right tools and experience necessary to ensure your property is restored efficiently and effectively. We guarantee that all services will be provided in a timely manner with top-notch workmanship.
Repair fire damage from your home today! Dial (913) 270-6197 or contact us online for fire damage restoration services in shawnee!

Benefits of Trusting Our Fire Damage Restoration Experts
As a locally owned and operated restoration services company in Kansas City, we're backed by a 65-year reputation of excellence. This means that you get highly trained professionals committed to your satisfaction and offerings that help assure your project is in capable hands.
Additionally, you have access to the following perks:
Fire damage experts who can handle various types of fires including, complex fires, protein fires, natural fires, and more
A thorough process that helps us assess the damage and develop a detailed plan to address the situation
An evaluation to ensure your property is safe to enter so that we can begin the cleaning and salvaging process
Everything we do is customer-centered and designed to prioritize you and your needs. You can count on us to be available 24/7 to promptly and efficiently work to get your home back to its pre-loss state.
Our dedicated commercial and residential restoration service specialists help you eliminate the stress and anxiety that follows a devastating loss. We are prepared to work directly with you and help you navigate the complicated recovery procedure with knowledge, advanced tools, and 100% commitment to rebuilding your life.
If you ever have questions about our fire and smoke damage services, you can check out our FAQs section to get immediate answers to your questions. We encourage you to contact us directly to speak with one of our commercial and residential restoration service professionals for more detailed information.
Frequently Asked Questions
What is salvageable after a fire?
After the devastation of fire, it can be difficult to imagine what is still salvageable. While buildings and the items inside may have severe smoke or fire damage, many times some items such as furniture and appliances can often be restored. These items may need to be deeply cleaned, deodorized, and refinished in order to maintain their original condition.
In most cases, personal property such as furniture, clothing, dishes, electronics, and more often falls into the salvageable category since fire does not usually consume these items entirely. However, even if something appears untouched by flames on the outside that doesn't mean it isn't irreparably damaged from smoke or water from the fire fighting efforts.
It's important to get an expert's opinion as soon as possible, as they can assess what is still usable and safe versus what needs to be discarded.
How does fire and smoke damage restoration work?
Fire and smoke damage restoration is a multi-step process that involves assessing the extent of the damage, removing debris, mitigating odors, cleaning surfaces, and restoring the property to its pre-fire condition. Our skilled technicians utilize specialized equipment and techniques to handle different types of damage caused by fire, smoke, and soot. From structural repairs to content cleaning, we ensure a thorough restoration process that addresses both visible and hidden damage.
Can ServiceMaster help with the insurance claims process for fire and smoke damage?
Absolutely! ServiceMaster DSI understands the complexity of the insurance claims process. Our team has extensive experience working with insurance companies and can assist you in navigating the claims process. We can provide detailed documentation of the damage, work directly with your insurance adjuster, and help ensure a smooth and efficient claims experience.
Is it safe to enter my property after a fire?
It is crucial to prioritize your safety and wait for the appropriate authorities to give you clearance before entering a property that has experienced a fire. Fires can compromise the structural integrity of a building, and there may be hidden hazards such as weakened floors, falling debris, or toxic fumes. Once the authorities have deemed it safe, our trained professionals can conduct a thorough assessment of the damage and proceed with the necessary restoration steps.
Fire Restoration in Kansas City
When your home or business in Kansas City is impacted by fire, trust the experts at ServiceMaster DSI for professional fire restoration services. Our dedicated team understands the devastating effects that fires can have on both your property and your peace of mind. With our extensive knowledge, advanced equipment, and compassionate approach, we are committed to restoring your property efficiently and effectively.
From initial assessment to debris removal, structural repairs, odor mitigation, and content restoration, we handle every aspect of the fire restoration process with utmost care. Count on ServiceMaster DSI to provide you with reliable fire restoration services, helping you regain normalcy in your life after a fire incident.
To get started utilizing our fire restoration services in Shawnee, call (913) 270-6197 or contact us online!