Water Damage Restoration in San Antonio, TX
Emergency Water Damage Restoration & Mitigation Services Near You
Don't wait until tomorrow to extract standing water in your home. But don't do it yourself, either. This is the time to call in a professional residential water damage restoration company in Texas to get the job done with thorough attention to detail. You'll find our San Antonio water damage restoration experts are available when you need us most, because we know probably better than just about anybody that disasters rarely cooperate with standard business hours.
That's why ServiceMaster Restoration by Xtreme Clean answers our phone lines 24/7 and is on the scene within 4 hours or less to extract standing water, start the to start the drying and dehumidification process on your home.
For reliable water damage restoration services in San Antonio, call us at (210) 864-6058 or contact us online today to get a free quote.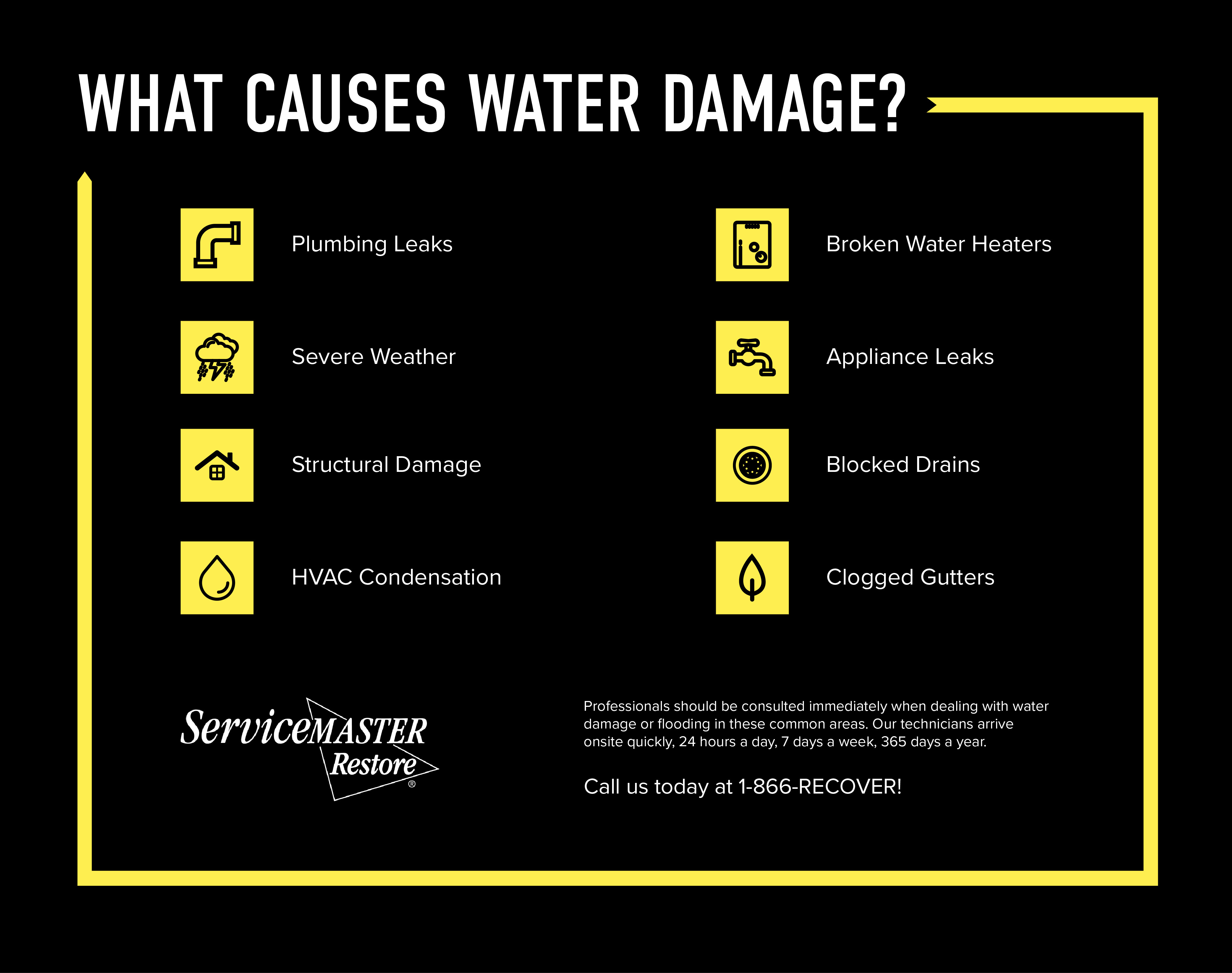 Professional Water Damage Restoration Company in San Antonio
There's no doubt about it – water is pretty much just as destructive as fire, particularly if you don't act with haste to repair the damage it does. Without prompt action, it will inevitably lead to mold damage, structural decay, and destroy your most treasured belongings in your home.
Custom Water Removal & Restoration Plan
When you contact our team, we'll be on the scene to do a thorough assessment and then create and execute a custom plan for the most efficient water removal and restoration process. Our San Antonio water damage restoration technicians will explain what we plan to do.
Extracting the Water & Dehumidifying Your Home
After this, they will give you a comprehensive run-down of all the steps we'll take to extract the water and dry out your property and belongings. The sooner we dry out the wood, drywall, flooring, ceilings, ductwork, furniture, and contents of your home, the better.
Other water damage services we offer in San Antonio, TX, include:
Emergency Flood Services
Storm and Disaster Restoration
Clothing Restoration
ServiceMaster Restoration by Xtreme Clean - Available 24/7/365
Water left in a building for any period of time leads to mold, structural damage, and it destroys what is left in the building. Not to mention there are invisible health hazards lurking in every corner of your waterlogged home, so we advise you and your family to vacate the home ASAP and wait for our San Antonio water damage restoration team to give you the go-ahead before you come back to live under your own roof again.
Remember: Don't delay seeking help with water extraction and dehumidification of your home. Any unnecessary delays could mean your homeowner's insurance could find a reason not to pay out your claim, saying you didn't take the proper steps to merit a full payout. Don't let this happen to you. Schedule an appointment with our San Antonio water damage restoration experts today.
To get a free quote, call us at (210) 864-6058 or contact us online. We're available 24/7 for emergency Water Damage Services in San Antonio, TX.
You Have Questions & We Have Answers
PROVIDING YOU WITH ALL THE INFORMATION YOU'RE LOOKING FOR
Can I clean up water damage myself?

Water damage restoration requires specialized equipment and knowledge to ensure effective and safe mitigation. Attempting to clean up water damage on your own may not fully address the issue, leading to potential long-term problems like mold growth and structural damage.

How does ServiceMaster determine the extent of water damage in a property?

Our trained technicians use moisture detection equipment to assess the extent of water damage. This includes thermal imaging cameras, moisture meters, and hygrometers to identify affected areas, even if they are not visible to the naked eye.

Does ServiceMaster handle sewage cleanup?

Yes, we provide sewage cleanup services. Sewage spills are hazardous and require proper handling and disinfection to ensure the safety of your home and family.

Can my belongings be salvaged after water damage?

Our team will make every effort to salvage and restore your belongings affected by water damage. We offer professional content cleaning and restoration services to bring your items back to their pre-damage condition whenever possible.

How long does the water damage restoration process take?

The duration of the restoration process depends on factors such as the extent of the water damage, the affected areas, and the drying time required. After assessing the situation, we will provide you with an estimated timeline for the restoration process.