Commercial Water Damage Solutions in Manchester, NH
Restoration Services to Protect Your Livelihood
Water damage is the worst. But we don't have to tell you. If you're on this page, it's likely because you've experienced commercial water damage first-hand and need assistance. At ServiceMaster Restoration Services - Merrimack, we offer competitively priced and robust commercial restoration services that help a local business owner like you restore your livelihood.
Our restoration service professionals in Manchester, NH, enjoy helping commercial property owners and managers after natural disasters or mechanical failures that cause water damage. We work diligently to support you and customize your services because we know that no two businesses are the same or experience the same type of problems.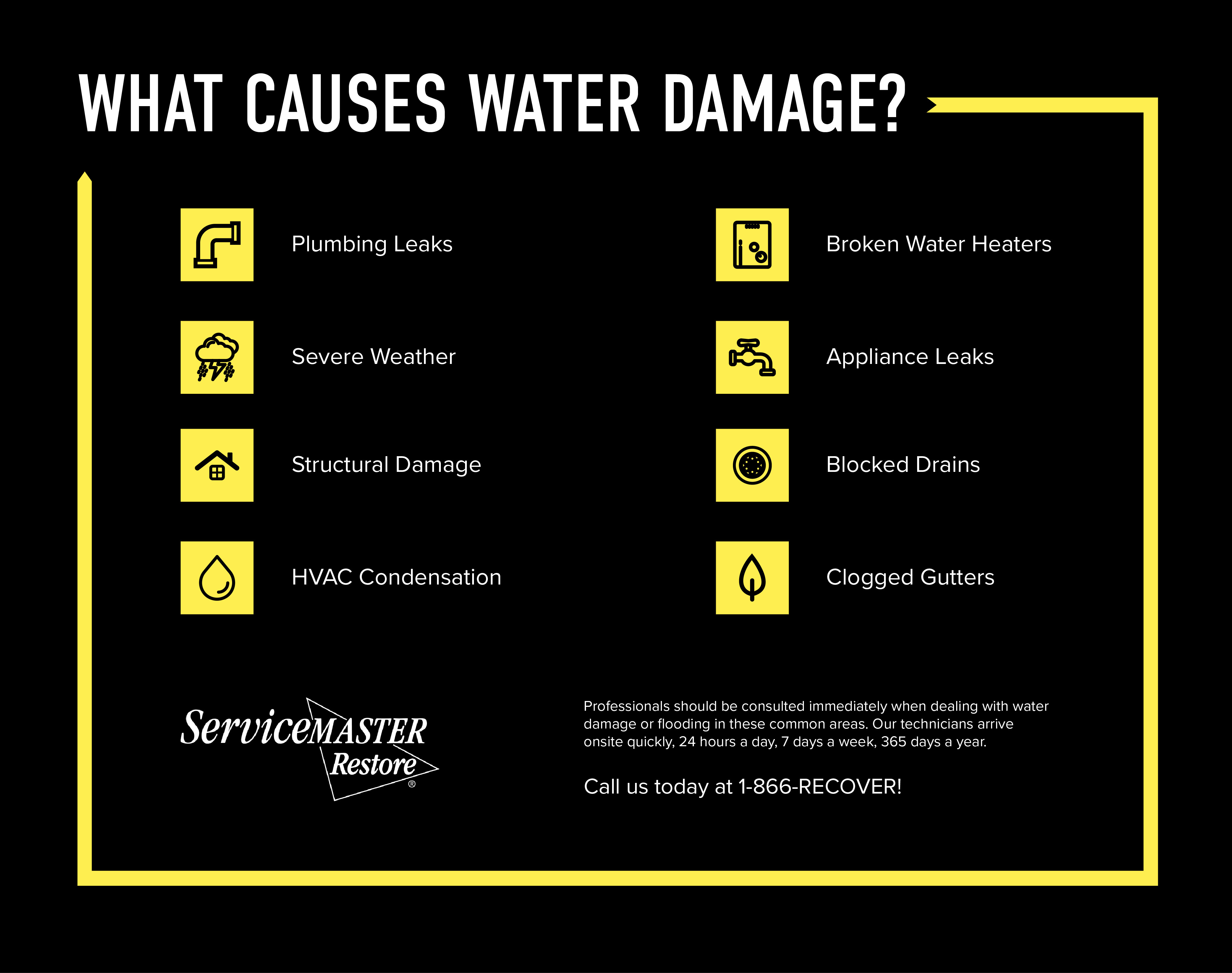 You can trust our water damage restoration experts to:
Arrive promptly and assess the damage thoroughly
Assist you with filing an insurance claim
Provide accurate damage estimates
Keep you informed throughout the recovery process
Our job is to help get your business back up and running sooner so that your bottom line isn't affected and you can continue serving the community.
Call (888) 245-0354 for more information about commercial water damage services in Manchester, NH.
We Follow a Comprehensive Restoration Process
Remediating water from your commercial space requires a proven strategy. Our commercial restoration services are meticulous because leaving any water damage behind can create significant issues for vital internal systems such as electrical, plumbing, and foundation.
Our detailed water damage restoration process involves:
Removing foul odors – Standing water mixed with bacteria can cause foul odors to invade your commercial space and negatively impact air quality.
Dehumidifying – Moisture sitting on surfaces and floating in the air can result in mold growth if your office space isn't dehumidified.
Restoring hard and soft surfaces – Water stains can be challenging to remove, especially if the damage happened weeks or months ago.
Content drying – Water can severely damage important documents and images, which is why our Manchester team performs content drying.
Assessing foundation – Structural and foundation issues are highly likely after flooding. Water and bacteria can eat away at materials making your commercial property less sturdy and dangerous to enter.
What Kind of Water Damage Can We Assist With?
Water damage caused by natural and unnatural disasters can be equally devastating for your business. Fortunately, with several years of experience restoring commercial spaces, we've likely seen it all and restored it all.
We've supported business owners with water damage after:
Roof system failure
Burst pipes
Appliance leaks
Natural floods
Fire extinguishing damage
Any type of disaster that steals your peace of mind and impacts your business negatively requires the assistance of a professional. Our team at ServiceMaster Restoration Services - Merrimack can help you restore your commercial space to keep your doors open and protect the health of your employees and customers.
4 Ways to Prevent Water Damage
From burst pipes to natural flooding, various disasters can strike without warning and leave you wondering how you'll ever get your business back to normal. While we have exceptional restoration services after destruction, you can perform the tasks below to prevent future issues.
1. Regularly Clean Gutters
Gutters and downspouts are designed to redirect water away from your property, protecting your lawn and building material from water damage. However, if gutters are clogged, water can build up and cause cracks that can seep into your workspace. Hiring a professional to handle gutter cleaning will benefit your building long-term.
2. Check For Leaks
Roofs, appliance hoses, and plumbing can break, crack, or burst and cause significant flooding. It's always important to check these components for damage to avoid leaks. You can perform a visual assessment, but we recommend allowing a licensed professional to repair any damage you find on hoses, roof shingles, and pipes to prevent injury.
3. Insulate Pipes
Harsh winters in Manchester can result in frozen pipes that expand and burst. Insulation effectively keeps pipes warm to reduce the chances of plumbing damage that can destroy your commercial space. Our restoration service experts assist you by repairing and fortifying pipes.
4. Annual Maintenance
Annual maintenance is essential to the longevity of your plumbing, water-related appliances, roof, etc., to mitigate issues. Many of these systems require annual or seasonal maintenance to ensure everything is operating efficiently. You could have extensive water damage on your hands without proper maintenance for your commercial HVAC, plumbing, and more.
When Should I Call a Professional for Water Damage?
Water damage may seem like an easy issue to resolve yourself, but you could risk making the damage worse. You should always contact one of our restoration experts to help after water damage, but especially when:
Water is extremely dark, which indicates the presence of bacteria
Mold starts growing on walls, floors, ceilings, and more
Foundation or structural components are severely damaged
Water was destroyed your electrical system
Our Manchester commercial restoration service specialists are available 24 hours a day, 7 days a week, to get your business back up and operating in no time.
Commercial Pre-Loss Planning Assistance
Do you have a contingency plan in case a disaster hits your business? If not, our commercial pre-loss planning can help you anticipate damage before it happens. Our team helps you design a plan specifically for your business to keep your doors open and restore your workspace as soon as possible.
Backed by Over Six Decades of Restoration Expertise
ServiceMaster Restoration Services - Merrimack is a locally owned and operated business backed by over 65 years of experience, respect, name recognition, and client satisfaction. With our commercial restoration professionals partnering with you in Manchester, NH, we can restore your business back to its pre-loss state and help reduce a permanent closure.
Call (888) 245-0354 or contact us to restore your business after water damage.