Fire damage restoration & smoke cleanup in Manchester
Expert Fire Damage Repair Company Near You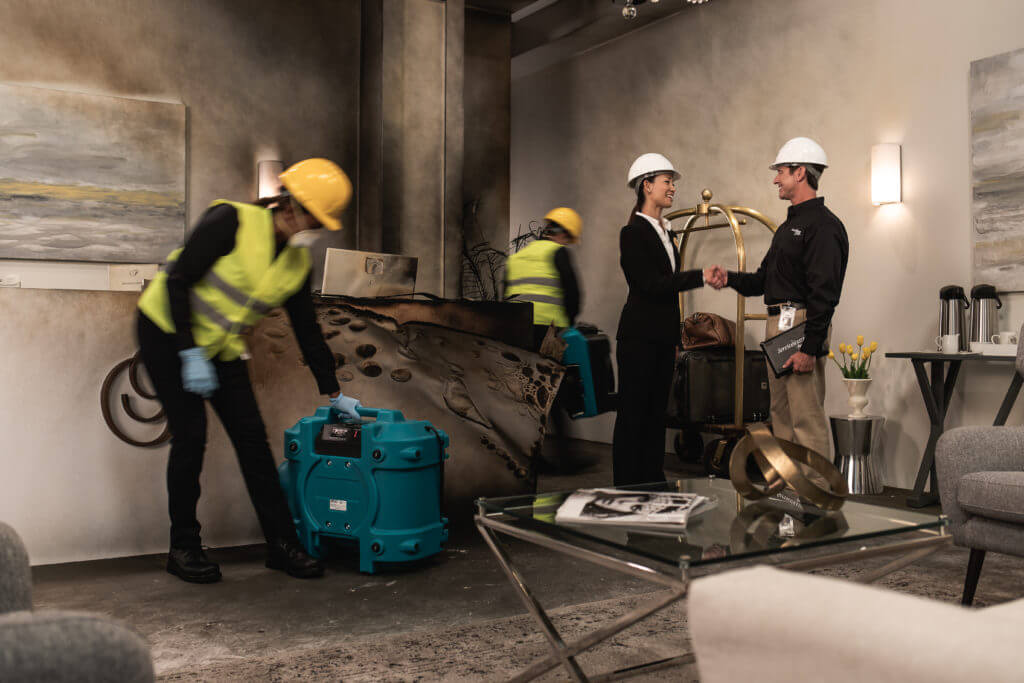 Seeing your home or business consumed by fire can be one of the most severe losses that one can experience. At ServiceMaster Restoration Services, we reassure our customers by having expert guidance and support. We will salvage all of your hard work and prized possessions from fire damage. But, rest assured you have selected the right people to do the job. We have years of experience in returning homes and offices back to normal. We help families and individuals, just like you, make us the best choice for emergency services.
We are known for our consistency, speed and high standards of customer service. Our goal is to restore your property as quickly and efficiently as possible. Call the fire damage restoration and smoke cleanup experts at ServiceMaster Restoration Services at (888) 245-0354. We are available 24/7/365 for emergency response to your fire damage.
THE EXPERTS AT SERVICEMASTER ELITE ARE ALWAYS AVAILABLE FOR ALL YOUR FIRE DAMAGE AND SOOT DAMAGE RESTORATION NEEDS, CALL US AT(888) 245-0354 orcontact us online.
Smoke, Soot and Odor Damage Restoration
Even after a fire has been extinguished, damage to your home and belongings continues. That's why it's so important to call in a professional who knows the right way to deal with soot, smoke and odor to prevent further damage.
The residue left behind from fire damage (such as smoke, soot and other odors) is a biohazard and can cause health problems if it is not taken care of correctly and thoroughly. We'll quickly assess the fire damage to find out the costs for fire restoration and examine if there's any additional damage from water or other factors. Once the amount of fire and smoke damage is determined, we'll come up with an estimate for the cleaning and restoration.
ServiceMaster Restoration Services is your Fire Damage Restoration experts
ServiceMaster Restoration Servicesspecializes in both residential and commercial fire and smoke damage restoration from a wide variety of fire causes including:
Electrical Fire Damage
Appliance fire Damage
Cigar and Cigarette Smoking
Candle Fire Damage
Kitchen Fires
Heater Fire Damage
Lightning Strikes
Fireplaces
Furnace Malfunction
Gasoline and Other Flammable Liquids
Arson
Accidents
Equipment Malfunctions
Puffbacks (boilers, furnaces and water heaters)
Heater Fires
Stovetop Fire Damage
and Much More
We are available 24/7 to handle emergency fire and smoke damage restoration projects.Contact us online or call(888) 245-0354 today.
Properties We Restore
Universities
Grocery Stores
Government Buildings
Industrial Complexes
Warehouses
Hospitals
Condos and Apartments
Hotels
Schools
Restaurants
Our Restoration Process
ServiceMaster Restoration Services offers a thorough fire and smoke damage restoration process that ensures that all affected structures are restored to their pre-fire state. The process begins with an inspection of the existing structural integrity, followed by the removal of damaged materials and salvage of anything still usable.
We'll assess any water damage caused due to extinguishing the fire and take appropriate repair measures including thoroughly drying out the property. Structural repairs will be made and all affected areas will be cleaned with specialized cleaning solutions specifically designed for this purpose, as well as deodorization treatments to fully eradicate odors from the premises.
Our experienced technicians are specially trained to use advanced equipment designed to handle the complexities of each fire situation. By relying on ServiceMaster Restoration Services, you can be certain that the job will be done right and done fast.
Our fire damage restoration & smoke cleanup team is ready to help. Call now at(888) 245-0354 orcontact us online!