Fire Damage Restoration & SMOKE CLEANUP in Manchester
Merrimack damage restoration company offers 24/7 emergency restoration services
Regardless of the cause, fire and smoke damage can be incredibly destructive to the home and your family's personal belongings – not to mention your safety. Within 30 seconds of even the smallest fire starting, the damage and smoke can spread and grow quickly into a full-blown house fire.
Even after the fire is out, you'll need to clean up any water or chemicals used by firefighters or your home's fire extinguisher and repair all the damage left behind. This process can be complex, so it's best to seek out professional help from ServiceMaster Restoration Services - Merrimack to ensure a quality restoration of your home and personal belongings.
Our New Hampshire restoration company offers 24/7 fire and smoke damage restoration services in Merrimack, backed by proven processes that have been used by an extensive nationwide network for 65+ years.
Need fire damage repair in merrimack? Give us a call at (888) 245-0354 to request help today!
What Damage Is Caused by a House Fire?
Your home sustains specific types of damage after a fire, depending on the size and source of the flames. Some of the most common types of damage dealt with by homeowners after a fire include:
Black stains throughout home
Stained furniture and upholstery
Paint discoloration
Persistent smoke odor
Poor indoor air quality
Structural and foundation problems
Can a House Be Restored After a Fire?
Your home can be restored after any fire, no matter how large or small. We begin each restoration with a full assessment of your home's damages and current stability. This will help us uncover the cause of the fire and determine the best way to safely repair your home.
We're a full-service restoration company that specializes in every aspect of recovering your home from fire and smoke damage of any kind:
Repair Physical Damage
Many things can be affected after a fire, such as the structural integrity of your home. The materials used to build your home might also be affected by the fire, and this can cause them to no longer be safe to live in. An expert will inspect your property and tell you if there is any damage that needs to be repaired or if it's safe for you to live in.
Any materials that have been directly exposed to flames, heat, or smoke from a fire and damaged beyond repair will need to be removed and properly disposed of – something our team can handle. Removed charred construction materials can kick up harmful carcinogens that can be damaging if inhaled. Our team has the proper tools and safety gear to ensure your house is completely safe after a fire – contact us today to learn more.
Water Mitigation
Whether you have a fire sprinkler system, or firefighters put out your blaze, the water damage left behind can be serious. With some water damage jobs, it may seem like the damage is confined to just where your fire was. However, water can seep deep into materials and under floors, which can cause problems that aren't easy to spot.
Prevent Mold Growth with Proper Drying Procedures
Standing water and any related moisture should be taken care of immediately by a water damage repair company to prevent mold growth. ServiceMaster can help deliver any water mitigation services your home needs after a fire!
After a fire, the first thing you should do is call ServiceMaster Restoration Services - Merrimack to manage the water cleanup. We can help dry out your home and prevent mold from growing in, under, or behind your carpeting, baseboards, or walls.
Odor Removal
When there's fire, there's smoke. Smoke carries around microscopic particles that catch onto everything and anything they come across, including your clothes, walls, flooring, furniture, electronics, and pretty much anything else found inside your home. Smoke, of course, is not good for your lungs, and neither is it for your home.
Whether it takes one, two, or five trips to remove the smoke odor, we're committed to restoring your indoor air quality for you and your family.
the smell of Burned material and smoke can be tough to eliminate - let our odor removal experts purify the air in your home. Call (888) 245-0354 or contact us online to get started!
Wall, Floor, & Ceiling Cleaning
A fire is a dirty thing, and it leaves behind all kinds of residue that can make your home look dirty in the process. Even if your walls, floors, or ceilings don't look damaged by flames, you still need to clean up your home, not only to remove any trapped odors but to restore its appearance. We take the time to thoroughly clean and restore your home's appearance with reliable fire and smoke cleanup solutions.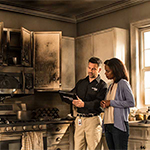 Pack-Out Services for Your Items
When a fire has damaged your home, you need a company you can trust to clean, pack, and store your possessions safely. We're experts in handling and protecting personal property! The team at ServiceMaster Restoration Services - Merrimack will even assist with pack-out services and content inventory to make storage and repairs that much easier.
Request Your Merrimack Fire Restoration Services 24/7!
Did your property in Merrimack get damaged by fire or smoke? Don't wait to call us! We offer emergency services 24/7 and will arrive as soon as possible. Our experienced professionals will do a full inspection to determine the extent of damage and create a restoration plan customized to your specific needs.
We have the necessary equipment and expertise to handle any type of fire damage, so you can feel confident that everything will be taken care of safely and efficiently. We'll be happy to answer any questions you have about our fire and smoke restoration process as well – just give us a call today!
Give us a call at (888) 245-0354 or reach out online to request your fire restoration services in Merrimack today!