recover from hendersonville, tn tornado damage, fire damage, or flood damage today
As a company, ServiceMaster Total Restoration Services by Trifecta - Nashville is guided by our integrity and our commitment to provide compassionate, reliable restoration services.
We take great pride in our work, and we love helping people get back on their feet after a devastating:
Get in touch with the best restoration company near you today! Give us a call at (615) 558-5255 orcontact us online!
We're With You Until The End
From your initial inspection to following up at the end of the job, we are with you every step of the way. We can even help you with your insurance claim!
With help from our local restoration experts in Nashville, you can get the peace of mind you deserve. Home and business owners rest a little easier knowing that ServiceMaster Total Restoration Services by Trifecta - Nashville has their back when disaster strikes.
Help When You Most Need It
We may not be able to predict the future, but when the unforeseen happens, we can help you pick up the pieces and move forward.
Whether you are a homeowner or you manage a commercial property, ServiceMaster Total Restoration Services by Trifecta - Nashville is there to help when you need us most.
Dial (615) 558-5255 orcontact us online to learn more about our mold removal services near you!
Why Do I Need to Hire Professionals When I Already Know How To Clean?
While cleaning may come to mind as an unnecessary expense to hire a team for, clean up after a disaster is a whole different story than routine maintenance.
There is no telling the damage that can be done by a flood, fire, tornado, or other disasters, and some damage can only be fully understood once the restoration begins.
Working with a team of experienced professionals is often a wise investment to ensure that your property is restored back to it's preferred state.
When you have a team behind you, they come with:
The practical knowledge of how to restore your space,
The necessary equipment to handle messes that can only come from disaster, and
The mental strength to know where to start and how to power through to the end of the job.
Helping You REbuild After the Disaster
When you have just experienced a disaster, the trauma of the disaster is one thing, but cleaning up the resulting mess and restoring the damage done can be heartbreaking all over again.
It may be in your best interest to entrust your property to the hands of our experienced Nashville cleaning services.
Give our team a call at (615) 558-5255 orcontact us online to schedule water damage restoration today!
Frequently Asked Questions
What Causes Mold Growth in Your Home?
Mold is a type of fungi that is present in both indoor and outdoor environments. It can grow on almost any surface, and its spores are released into the air, where they can be inhaled by people. Some mold species are beneficial, such as those used in the production of cheese and antibiotics. However, other mold species can cause health problems, including respiratory infections, nasal congestion, and skin irritation.
Mold growth is often caused by excessive moisture levels. When surfaces become wet, mold spores can land on them and begin to grow. To prevent mold growth in your home, it is important to keep indoor surfaces dry and free of standing water. You should also repair any leaks promptly and ventilate damp areas such as bathrooms and laundry rooms. By taking these steps, you can help to create a mold-free environment.
How Long Does It Take for Mold to Grow After Water Damage?
It can only take 1-2 days for mold to start growing after your home has experienced water damage.
That is why it's critical that you get in touch with us as soon as you notice or suspect your home has suffered from water damage. We have the training, skills, and equipment needed to help prevent further damage.
Water damage can happen any time of day or night. That's why we're available 24/7, 365 days a year.
What Kills Black Mold on Walls?
Black mold can cause health problems related to a respiratory response, such as chronic coughing and sneezing, irritation to the eyes, mucus membranes of the nose and throat, rashes, chronic fatigue and persistent headaches. Therefore, you should consider black mold a problem to be solved as soon as possible. Black mold is a common problem in many houses, especially in damp areas or poorly ventilated rooms.
There are several products you can try to remove black mold:
White vinegar. This is an environmentally friendly and healthy way to kill mold on walls. You can use pure vinegar directly, or dilute it with water and spray it on the mold. You should leave it for a few minutes and then you can clean the wall.

Tea tree oil. Tea tree oil is a non-toxic product that can help you to remove black mold from the walls. You can mix one teaspoon of tea tree oil per cup of water, and spray it on the mold using a spray bottle. Just like vinegar, tea tree oil should act for a few minutes to be most effective.

Bleach. Bleach will only kill mold on non-porous surfaces such as tile, window frames, etc. If you have black mold on the wall, bleach will only remove the most superficial mold. Keep in mind that bleach emits unhealthy fumes and can be a health hazard, so you should take precautions and never mix it with other products.
Moisture is the main trigger for mold spores to find the ideal environment in which to settle and proliferate. In general, black mold is found in places with moisture problems, low sunlight, and poor ventilation. When visible, it appears as a black stain that can be on ceilings, walls, and even furniture of different types.
If you are unable to fix the mold problem in your home, a team of professionals can come in to identify the cause of the mold and combat it. Professionals have the equipment and expertise to deliver lasting results and make your home a safe place to live.
Contact ServiceMaster today, and we'll start eradicating the black mold problem in your walls soon.
Who Should I Call For Mold Removal?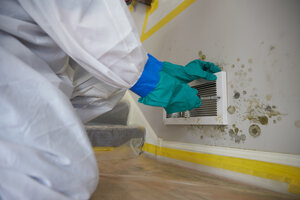 If you're wondering who to call for mold removal, you aren't alone.
When it comes to mold removal and mitigation, you'll want to call a certified and reputable mold removal company.
Our professional mold removal company will:
Correctly isolate the mold-contaminated area from other areas in the home
Have the tools, equipment, and skill to accurately remove mold
Be able to locate and remedy the cause of the mold
Help prevent the mold spores from spreading to other areas
Restore the affected areas to it's pre-loss state
The mold removal process is extensive, but we have everything needed to correctly remove the mold found in your property.
How Long Does Mold Removal Take?
Mold removal can be a tricky and costly process, mold removal is always best left to the professionals. The cost of mold removal will vary depending on the size and extent of the mold problem. In most cases, mold removal can be completed within a few days. However, in some instances, mold removal may take weeks or even months. The key to preventing mold growth is to address any moisture problems as soon as possible. By addressing moisture issues quickly, you can help to prevent mold growth and save yourself time and money in the long run.
What Should We Do to Address Water Damage?
Water damage is a serious problem that can have devastating consequences for both homes and businesses. If left unchecked, water damage can lead to the growth of mold and mildew, which can cause serious health problems. Additionally, water damage can cause structural damage to buildings and lead to expensive repairs. The best way to address water damage is to take immediate action. Once water has entered a building, it is important to remove the water as quickly as possible.
This can be done using pumps, vacuums, or other water removal equipment. Once the water has been removed, the affected areas should be dried completely. This can be accomplished using fans, dehumidifiers, or other drying equipment. Finally, any damaged materials should be repaired or replaced. By taking these steps, you can minimize the long-term effects of water damage.
How Long Does It Take for Water Damage to Go Away?
Water damage is one of the most common types of damage that can occur to a home. Whether it is due to a broken pipe, a flooded basement, or a leaky roof, water damage can cause significant problems for a home and its occupants. The good news is that water damage is usually not permanent, and with proper care and water damage restoration, most homes can be returned to their pre-damage condition.
However, it is important to note that water damage can sometimes take weeks or even months to fully go away. It is important to be patient and to work with a professional water damage restoration company in order to ensure that your home is properly restored.
Do you have any questions or do you need to book your service? Call us at (615) 558-5255 or reach out online today to get started.