commercial water damage restoration in Laurel
Disaster Restoration Services Near You
ServiceMaster Action Cleaning is a top-rated commercial water damage restoration company that specializes in restoring businesses that have been affected by a flood, sewage backup, broken pipes and more. Our top priority is to save your property from further damage by arriving on scene immediately so that we can quickly extract any standing water and clean the affected areas. ServiceMaster Action Cleaning provides 24-hour service so that our team is available when you need us most!
Contact us online or call (601) 476-6501 for commercial water damage restoration in Laurel, MS.
Certified Restoration Professionals
We are certified experts in water damage restoration. No matter where the water has come from, ServiceMaster techs will know how to quickly clean up and restore your property back to pre-loss condition. Our team has seen it all and are always equipped with the most up-to-date cleaning methods and advanced technology that helps us restore your property safely.
Drying Solutions for Your Business Property
Water damage such as floods, plumbing leaks, broken pipes, storms, sewage backup, and appliance malfunctions can all cause unexpected destruction in your business. Getting it cleaned up and back to its pre-loss state is job number one. At ServiceMaster Restore®, we are ready to assist you at a moment's notice.
Our commercial water damage restoration team will minimize interruptions to your business and do everything possible to keep your doors open during the restoration process. We want to make sure you can continue to provide for your family and your employees. When it comes to getting you back in business, we've got you covered.
What Is Water Mitigation?
Water mitigation is the process of reducing or preventing further water damage after a flood, a leaking roof, or any number of water-related incidents. By taking fast action, you can prevent additional damages and minimize costs. The ServiceMaster Restore team is here to provide exactly that.
Our experts can assist you with a wide range of commercial water damage repairs and other related services in Laurel, Mississippi:
Site Security – In times of trouble, ServiceMaster Restore can help keep your business site safe and secure.
Contaminated Water & Sewage Backups – More than damaging your business, sewage backups and flooding can be a health hazard. Sewage and floods can contain bacteria, viruses, and other germs that can cause disease and illness.
Roof Leaks & Failures – A leaking roof can create a lot of damage quickly and, if left neglected, can compromise the building's strength, foundation, and overall structure.
Carpet & Upholstered Furniture – One of the biggest issues a business operation has to deal with after any type of water damage is a wet carpet. ServiceMaster Restore will do the utmost to evaluate and salvage carpet whenever possible.
Appliance Ruptures & Leaks – Appliances in commercial buildings can leak because of aging materials, improper connections, or ruptured hoses. Damage can go unseen for an extended period of time.
Drying & Dehumidification – Water removal services on their own are usually not enough to remove all the moisture from your business facility after a water damage event. Water can hide behind walls, under flooring, or in your HVAC system and vents.
Flood Water – Floodwater damage at your business facility can quickly and severely impact your business. As the water rises, so do the damages.
Content & Document Drying – Water damage is one of the most difficult situations faced by a commercial operation. Water can be damaging not only to flooring, ceilings, and furniture, but its effect on paper-based items often is devastatingly destructive. Even if contents don't come into direct content with the water, humidity can also damage certain items.
Burst & Leaking Pipes – Frozen water pipes can wreak havoc on a business. When a pipe freezes, water may slow to a trickle or not flow at all. Pressure inside the pipe from expanding ice can leave you with no water or cause your pipes to burst, leading to a full-on flood and expensive property damage.
Fire Fighting Damage – Flooding damage from firefighting can occur for a number of reasons. It could be water from a fire hose used in fighting the fire, water from your building's sprinkler system, or even your fire suppression system breaking or malfunctioning.
All Commercial Services – Damages to your business from water, fire, smoke, or mold can mean lost revenue, and potentially, lost customers.
Why Choose ServiceMaster Action Cleaning?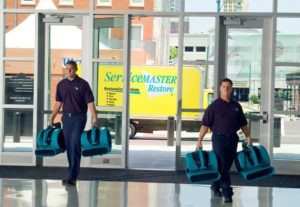 ServiceMaster Action Cleaning isn't just a highly-trained and experienced company. Our team knows that when water has damaged your commercial building, you are dealing with a crisis. Your livelihood is being threatened and you need to know that you have the best restoration company in the business to get you back on your feet faster. When you choose ServiceMaster Action Cleaning, you are choosing to become a part of the ServiceMaster family. Your home or business is always our top priority!
We are available 24/7 to help with commercial water damage restoration needs. Contact us online or call (601) 476-6501.