Water Damage Restoration in Laurel, MS
Fast, Reliable Water Damage Repair for Homes & Other Properties
Has your home suffered water damage due to a burst pipes, torrential rains, or some other unexpected disaster? When water damage occurs in your home, we know how important it is for you to get back to normal as soon as possible. Your life has been completely disrupted by this unplanned disaster, and you need to rely on someone you can trust to take care of your home. At ServiceMaster Action Cleaning, our professional team of licensed and insured water damage restoration technicians in Laurel will make sure your property is restored as quickly and efficiently as possible, protecting your property and giving you peace of mind. When it comes to water damage, fast action is vital in minimizing the risk to your home and belongings. That's why we're here for you 24/7.
Got some water damage? We can help. Reach out to us online or give us a call at (601) 476-6501 to get started. We'll be there when you need us most!
What Causes Water Damage?
Water damage happens for a variety of reasons, including:
Plumbing leaks
Broken water heaters
Severe weather
Appliance leaks
Burst or broken pipes and hoses
A clogged toilet
Moisture behind walls
A leaking roof
Foundation cracks
Whatever the cause, fast water mitigation is key to restoration, and this is where ServiceMaster Restore excels. Our technicians arrive onsite quickly, 24 hours a day, 7 days a week, 365 days a year. With our rapid response teams, your floors, walls, and personal property can often be restored.
Are you a business owner? We also provide commercial water damage restoration.
What Is Water Mitigation?
Water mitigation is the process of reducing or preventing the amount of water damage that happens after a flood or due to a leaking roof, or as a result of any number of water-related problems. By taking fast action and contacting ServiceMaster Action Cleaning in Laurel, MS, you can prevent additional damage and cost.
Our Water Damage Restoration Process
You may be wondering what the water damage restoration process includes. When you call us after a flood or other water disaster in your home, we will take the following steps:
Perform a quick yet thorough inspection to assess the situation
Extract excess water, which is also known as water mitigation
Begin drying and dehumidifying the affected areas and furnishings
Clean and sanitize surfaces, furniture, and other belongings
Complete any necessary repairs or reconstruction
Depending on the extent of the water damage, we may need to do more or less, but we will keep you informed at every junction. When you need reliable water damage restoration repair contractors, you can trust our experience.
Did you know we're available 24/7, 365 days a year for your water damage needs? Call us at (601) 476-6501 or reach out online to set up your appointment.
Water Damage | Frequently Asked Questions
What are the signs of water damage?
Sometimes, water damage can creep up on you. When looking for signs of water damage, keep your eyes, ears, and nose peeled for:
Mold odor (mold often smells musty and earthy; mold can also smell like dirty, sweaty socks)
Discoloration on your ceiling
Interior paint that's bubbling, chipping, or cracking
Increased water bills
Sounds of running water
Recurring pools and puddles of water
Staying on top of these signs could prevent widespread water damage in your home!
How serious is water damage?
Water damage is very serious. If initial signs of water damage are left unaddressed or if major problems aren't handled promptly, your home will likely undergo structural damage and leave you and your family at risk of health and safety hazards. We know it's stressful dealing with water damage, but it needs to be dealt with quickly. You can absolutely count on us 24/7, 365 days a year to be there when you need us.
What To Do If You're In The Middle of A Loss
If your property has experienced water damage, there are several things you can do before our restoration experts arrive. Time is of the essence in these situations and a quick response can make a major difference in the extent of repairs and restoration.
What to Do
Immediately call for professional help. Water and bacteria-growth damages can begin within hours.
Remove as much water as possible by mopping and blotting.
Remove wet area rugs or other floor coverings not permanently attached.
Do not attempt to start removing wall-to-wall carpet without a professional.
Lift draperies from the floor, loop through a coat hanger, and hang them on a drapery rod.
Wipe furniture, prop up wet cushions to dry, and place aluminum foil under furniture legs.
Move photos, paintings, and art objects to a safe, dry location.
Pack books tightly on shelves until a restoration pro can begin specialized drying.
Open drawers, closets, and cabinets to enhance drying.
What Not to Do
There are also certain things you should not do in the case of a water emergency. Adhere to the following advice to avoid injury or further damage to your property: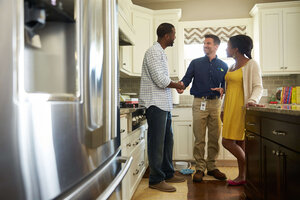 Never enter a room with standing water until electricity has been turned off!
Never use a regular household vacuum to remove water.
Never lift tacked-down carpet without professional help.
Never use electrical appliances while on wet carpet or flooring.
Do not disturb visible mold.
Do not remove books from shelves.
Our Comprehensive Water Damage Services
Our Laurel water damage team has you covered with:
Appliance ruptures and leaks
Roof leaks and failures
Broken water heaters
Flooded basement & rising water
Fire fighting damage
Drying and dehumidification
Burst and leaking pipes
Contaminated water & sewage backups
Content and document drying
Carpet and upholstered furniture
From water damage repair of drywall to drying out carpets and furniture to facilitating insurance claims, our team is here for you, removing the water and the worry.