Water Damage Restoration and Repair in Boston, MA
No matter the amount, water in your property can lead to serious damage. Regardless of its source, water damage can quickly worsen without immediate action. The water and moisture become absorbed by porous building materials and furnishings, potentially causing structural damage. This also increases the chance for mold growth. If not addressed in a timely manner, the water will continue to spread and cause damage. That said, immediate action is crucial.
With complete water damage restoration services, ServiceMaster Disaster Associates, Inc. can help water-damaged homes and businesses in Boston, MA. We also serve properties in Massachusetts's Essex and Middlesex counties and New Hampshire's Strafford and Hillsborough counties. We employ technicians who are certified, trained, and equipped to handle all levels of water damage. Within our services, we will stop the water's spread, remove excess water and moisture, completely dry affected materials and areas, and conduct repairs.
Water Damage Dangers in Boston, MA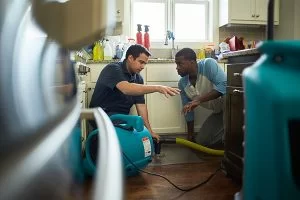 Drywall, wood, flooring, insulation, and other porous building materials absorb water like a sponge. This absorption can cause the materials to warp, stain, and rot. In more severe cases, these materials suffer structural damage, which is what makes water damage so hazardous. The water also increases the likelihood for mold growth.
Common Signs of Water/Flood Damage
Sometimes, as in the case of a flood, it may be readily apparent that standing water has taken a toll on your home. Other times, like many cases of burst pipes, the signs may be a little more insidious. Keep an eye out for things like:
Mold growth - Where there is moisture, there is usually mold, as this organism cannot grow without high levels of water present.
A water bubble on your ceiling - If you see this, it is best not to try and pop it, but to leave it for the professional cleanup crew. It may burst on its own, but you don't want to risk soaking your floors if you don't have to.
Water stain on the wall or ceiling - This is a sure sign of a pipe or roof leak.
Swollen drywall - Drywall is surprisingly absorbent, and swelling is a sure sign of accumulated water.
Whether your problem is major or minor, we're here to assist you with water remediation and flood cleanup. Give us a call at (781) 531-9634.
ServiceMaster Provides Commercial and Residential Water Damage Restoration in Boston, MA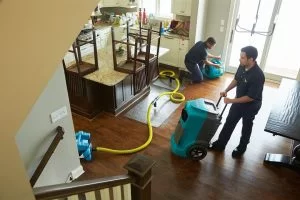 Our professional technicians at ServiceMaster Disaster Associates, Inc. are prepared to provide assistance in any case of water damage, including both residential and commercial cases.
We will conduct the following with our water damage restoration services:
Quickly arrive at your property to contain the water and stop it from spreading.
Start water damage restoration work to return your property back to a good, safe condition.
Assess the water damage for its type and extent, allowing us to develop a proper water damage restoration plan.
Water extraction, using advanced water extraction equipment.
Extract moisture from damaged materials using professional dehumidification equipment.
Water Damage Restoration & Removal in Boston, MA –
Watch Our ServiceMaster Video:
Water damage can worsen quickly, resulting in significant property damage. If your property has suffered water damage, then you need to contact ServiceMaster Disaster Associates, Inc. immediately for our water damage restoration services. Our professional technicians will work in an efficient manner to restore your property to its former state.
If you need commercial or residential water damage restoration and cleanup services in Boston, MA, or any of the neighboring areas, call us at (781) 531-9634.