Kailua FIRE & SMOKE DAMAGE Restoration
Professional Fire Damage Restoration Services in Honolulu & Oahu
At ServiceMaster Restore in Honolulu, Hawaii, we understand how devastating a fire can be. With so many valuables and memories at stake, it is important to work with an expert as soon as possible to help stabilize and restore your home.

Once the fire is extinguished, damage to your property and belongings can continue, due to complex chemical reactions that synthetic materials generate when burned. Acting fast after a fire will give you a better chance of saving your belongings. A few days can make all the difference between your possessions being cleanable to becoming unsalvageable.

You can trust our expert technicians and the knowledge they have to save your belongings.
We can remove soot from the following at-risk items:
Brass, Chrome, & Aluminum
Marble, Porcelain & Tile
Upholstery & Carpeting
Are you in need of professional fire and smoke restoration services? Call (808) 707-7341 today to speak with our specialists in Kailua!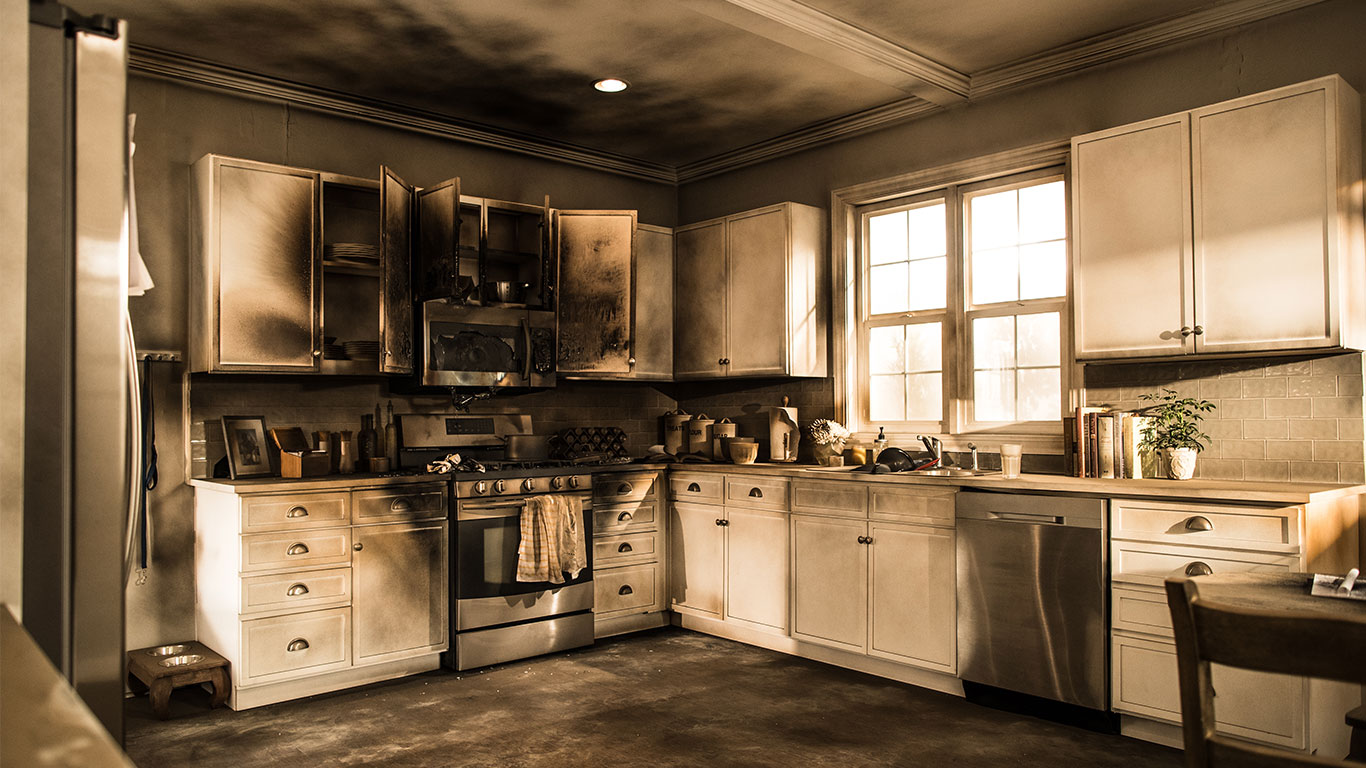 Our Fire & Smoke Restoration Process
Step 1 - Our highly trained technicians will conduct Emergency Pre-Cleaning of your belongings and home.
Step 2 - We do a thorough cleanup of the content we need to remove before restoring the effected space.
Step 3 - We will remove items from your home, as necessary, to help restore them and your property. Our technicians have a high level of expertise and the necessary equipment to help salvage your possessions.
Step 4 - We will clean walls and ceilings, restoring your property back to normal.
Step 5 - We will deodorize your belongings and home or business.
Contact us for Fire & Smoke Damage Restoration and Cleaning in Honolulu, Hawaii and all of Oahu! Read more about what our clients have to say here!
Tips for Cleaning Up After a House Fire​
Always call a professional for assistance after a fire. Irreversible etching damage can occur from corrosive byproducts in as little as 72 hours.
Air out your home or business if the temperature is above 60 degrees, so you can reduce the smoke odor.
Clean chrome, porcelain, formica, and aluminum fixtures & surfaces to prevent permanent damage from etching or tarnishing.
If your furnace uses forced hot air, change the air filter.
You can capture the loose soot in the air by taping damp cheesecloth over the supply registers & returns in your home.
All open food packages should be discarded.
If your electricity is off – clean your refrigerator and leave the doors open.
Send any clothing with smoke damage to a restoration dry cleaner.
Being Mindful of Health Risks After a House Fire
Be careful not to touch upholstery, walls, woodwork or personal belongings with bare hands as oil from your hands can cause further damage.
Don't wash your walls. Soot residue can further damage your walls if cleaned incorrectly.
Don't clean upholstered furniture or carpeting.
Have all electrical appliances checked before using.
If you're ceiling is wet, don't use ceiling fixtures.
What Can Be Saved from Smoke Damage?
While smoke damage is serious and can physically break down whatever it touches, several of your belongings can be saved from the effects of smoke damage if treated right away. These include:
Hard surface items
Upholstery
Bedding
Clothing
Wooden furniture
If not treated right away, the acid that lies within smoke particles can actively damage your walls, floors, furniture and more. Acting fast by calling a professional fire restoration company is the best way to rescue your items.
Get the help you need today! We offer 24-Hr emergency cleanup and restoration services for your home. Call (808) 707-7341 or contact us online.