Emergency Board Up Services for Elgin, IL
Whenever your home or building is damaged to the point that it is structurally unsound, or exposed to the outside world, it is critically important to get it stabilized and sealed as quickly as possible.
At ServiceMaster Kwik Restore, we do just that through our emergency board up services.
While these security measures are only temporary, they are essential in order to protect your building and belongings, as well as any individuals in the building, until more permanent fixes can be made.
We offer these services to property owners in need in Elgin, IL.
When Disaster Strikes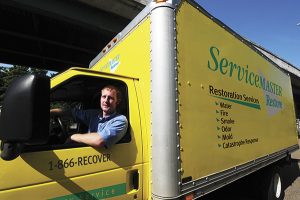 There are a number of conditions that can lead to the need for site-stabilization and board up services. Among the most common that we respond to include:
Major storms
Severe accidents
Fires
Floods
Pest infestations
Vandalism
No matter the cause of the damage, we highly encourage you to get your property professionally inspected as soon as possible.
Leaving your building and belongings exposed to the outside world increases the chances of additional damage occurring.
Similarly, if any structural damage has taken place, there is an obvious need to get it addressed.
Securing Your Property
At ServiceMaster Kwik Restore, we will temporarily stabilize and secure your property to significantly reduce the likelihood of additional damage affecting your building and belongings.
If any structural damage is found, we will stabilize affected elements to prevent collapse.
If any holes open up into your building, we will board them up or tarp over them. In either case, this will keep wind, rain, animals, and vandals all where they belong: outside of your building.
It is important to note that we offer our emergency board up services on a 24/7 basis. This is because time is of the absolute essence whenever your building is damaged.
If you find yourself in need of these services, and choose to utilize our expertise, you can expect the following:
24-hour availability and a rapid response by our technicians
The stabilization of weakened structural building components
The covering of all opening and holes
Roof tarping services
Temporary enclosures
Barricades when needed
As we stated above, these fixes are only meant to be temporary. You will still need to seek long-term restoration and reconstruction solutions.
We can address a lot of your requirements through our other service offerings, but our board up services are specifically designed to give you the security you need during the time it takes to set up long-term plans.
We are available 24 hours a day and will happily answer any questions you have. At ServiceMaster Kwik Restore, we proudly provide a variety of disaster restoration services to property owners in Elgin, IL.
To Take Advantage of Our Emergency Board up Services, or to Speak with One of Our Representatives, Give us a Call at 847-908-5914