Mold Remediation Elgin, IL
Property owners in Elgin, IL, experience all four seasons of the year. As a result, they are exposed to a number of circumstances that put their buildings at a greater risk of experiencing mold growth.
The rather simple conditions required for mold to grow do not help. If you notice it on your property, we encourage you to contact our ServiceMaster Kwik Restore representatives right away. We provide mold remediation services to eliminate all mold from your property and restore affected surfaces and belongings.
More on Mold Growth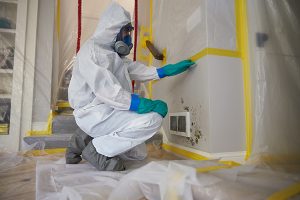 Mold is extremely versatile and can grow in a wide range of environments. This is because all it needs is excess moisture and an organic food source.
Since many buildings are constructed with wood and drywall, all that is truly required is additional moisture. Once it takes hold, mold is extremely difficult to eliminate because of how easily it can spread its spores.
Additionally, the physical damage that mold can cause on your property is severe. It can literally eat away at important structural materials, and even permanently damage your treasured belongings.
As far as your health is concerned, mold can trigger severe allergies, respiratory infections, and even asthma attacks. For all of these reasons and more, it is critical that you get mold professionally removed as soon as you notice it on your property.
Complete Mold Removal Services
Our ServiceMaster Kwik Restore technicians are experts at eliminating mold. We work hand-in-hand with an environmental testing agency to determine its precise location, and then contain it to ensure that it does not spread while we work.
Once it is contained, we utilize our mold removal equipment and methodologies to eradicate it (the solution in question involves an anti-microbial cleaning process).
When your property is mold-free, we will provide complete restoration services to return your building and items as close to their original condition as possible.
When you choose to work with us, you can expect the following:
Advanced testing to determine where the mold is
The development of a report detailing these findings (we then send it to your insurance company)
Containment of the mold
The creation and implementation of a mold remediation plan based on our findings
The restoration of affected materials and surfaces
Mold can appear at any time of the year in Elgin, IL. To prevent it from causing extensive damage to your property and health, we offer complete mold remediation services here at ServiceMaster Kwik Restore.
We encourage you to contact our representatives as soon as you notice the mold in order to reduce the levels of damage, and get your property restored.
To Learn More about Our Mold Remediation Services Give us a Call at 847-908-5914
Directions from ServiceMaster Kwik Restore to Grand Victoria Casino. Head west on River Bluff Rd toward Sherwood Ave. Turn left onto Duncan Ave. Turn left onto N Spring St. Continue onto S Grove Ave. Arrive at 250 S Grove Ave, Elgin, IL 60120.
Directions from ServiceMaster Kwik Restore to Randall Oaks Zoo. Head east on River Bluff Rd toward Dundee Ave. Turn right onto Dundee Ave. Continue straight to stay on Dundee Ave. Turn right onto Kimball St. Turn right onto N State St. Turn left onto Big Timber Rd. Turn left onto N Randall Rd. Arrive at 1180 Randall Rd, Elfin, IL 60124.