Mold Remediation Services
Mold plays an important role in nature where it serves to break down organic matter. However, mold must always be eradicated anytime it is found inside the occupied area of a home or office. Flood and fire disasters provide mold with the nutrients it needs to grow and propagate. ServiceMaster Restoration by the Disaster Response experts offers complete mold remediation and removal in Grand Rapids and surrounding areas to ensure the air inside your home or commercial building will be healthy and safe.
Understanding Mold Exposure
Mold colonies can cause a variety of Indoor Air Quality (IAQ) and health issues. Airborne spores are rapidly distributed throughout the building by means of the HVAC system. Plumbing leaks, flooding and fire suppression all contribute to the problem as the mold flourishes. Once colonies are established, they begin to release spores and Volatile Organic Compounds (VOCs). Allergens generated by mold can cause severe reactions, including eye irritation, sneezing, sore throat and skin rash. If left unaddressed, mold can complicate serious respiratory conditions such as bronchitis, asthma, and COPD. Black mold is particularly dangerous since it can release harmful mycotoxins, and in some cases, a person's health could be adversely impacted.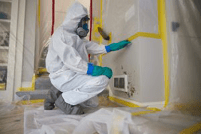 The Mold Removal Process
Within 48 hours, mold spores begin to grow when exposed to moisture, which can result from a broken pipe, a flood, a slow leak or even high humidity. We employ specific protocols designed to remove existing colonies and eliminate the chance for new growth.
Mold Inspection Phase: Our technicians will inspect your home for visible signs of activity. If mold is found, we can help prepare the reports for your insurance company. As long as the mold contamination area is limited to 10 square feet, we will proceed with a complete mold remediation effort. If we encounter an affected area of more than 10 square feet, we will contain the area, stop the normal mitigation process, and immediately notify your insurance company. If this is the case, we strongly recommend the use of an environmental testing service to establish baseline levels of mold.
Mold Containment: We use a variety of containment strategies to stop the spread of mold. This includes infrared detection technology and environmentally friendly chemicals to remediate the infestation. A special anti-microbial agent is used to protect your home from future growth.
Contents Cleaning: After removing and disposing of porous and compromised materials like carpeting and drywall, we will professionally clean your belongings, including furniture, decorative pieces, clothing and other restorable items. Our technicians use a variety of techniques and professional-grade products that clean thoroughly without affecting the material itself. Our certified technicians can eliminate mold and other biological contaminants, so the air inside your home stays, healthy, clean and safe.