Water Damage Restoration in Spring Hills
Expert Water Damage Mitigation, Repair, & Cleanup Services Nearby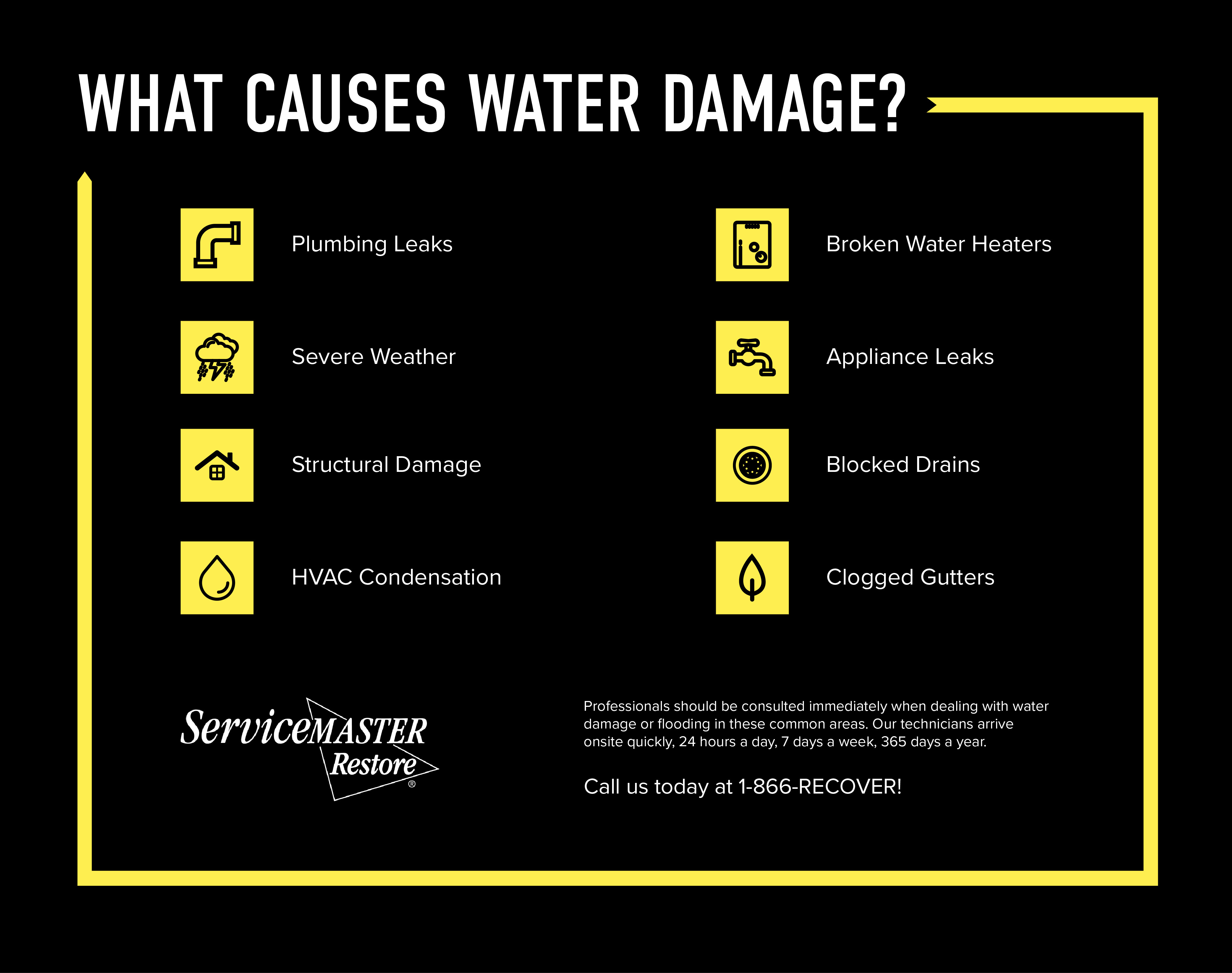 Facing water damage issues in your Spring Hills business? We're here to help!
At ServiceMaster Professional Services Citrus County, we specialize in repairing all water damage, regardless of its origin.
Common scenarios we address include:
Plumbing Leaks
Burst Pipes
Sewage Backup
Appliance Malfunctions
Flooding
Roof Leaks
Firefighting Efforts
For dependable flood and water damage restoration in Spring Hills, call (352) 309-2404 or contact us online now to get started!
Our Water Damage Restoration Process
Responding promptly is the key to a smoother recovery. Therefore, upon your call, we'll dispatch a specialized crew for water damage mitigation emergencies in Spring Hills. We'll perform a thorough assessment of the situation to gauge the extent of the damage.
Subsequently, we'll formulate a tailored action plan, which may encompass:
Securing the Site
Water Mitigation
Drying & Dehumidifying
Handling Contaminated Water
Pack-Out & Content Relocation
Cleaning & Deodorizing Contents
Detailed Content Inventory
Document Drying & Recovery
Structural Stabilization Through Construction
Assistance with Insurance Claims
Note that this list is not exhaustive. We're here to assist in any way possible! Should you have inquiries or concerns about water damage repair near you, don't hesitate to contact our team. A real person can always answer your call and help you determine the next steps.
To discover more about our professional commercial water damage restoration services nearby, get in touch with our team today! You can contact us online or call (352) 309-2404.
Common Signs Of Water Damage
Water damage can severely compromise a building's structural integrity if not detected and addressed early. To safeguard your property from water-related harm, it's crucial to familiarize yourself with common signs indicating potential water damage.
These signs include:
Water Stains on Walls or Ceilings
Seepage of Water in Areas like Window and Door Frames
Persistent Musty Odors
Peeling Paint or Wallpaper
Warped or Bubbled Flooring or Ceiling Panels
Mold Growth
If you observe any of these signs within your residence, it's imperative to promptly contact a Spring Hills water damage restoration company to minimize potential water-related damage.
Does Water Damage Lead To Mold Growth?
Water damage is a serious issue that requires immediate attention, as it can foster mold growth within your property. Mold spores are consistently present in the air, and when water damage occurs, these spores find an environment conducive to growth.
Mold can develop wherever water is present, typically within 24-72 hours following water damage. Swift action is crucial for water damage restoration, not only to eliminate water but also to promptly address any potential mold growth before it escalates into a more significant problem.
Don't allow water damage and potential mold growth to burden your business. Act swiftly and contact our professional water damage restoration company today!
Emergency Water Damage Restoration Services Available 24/7
At ServiceMaster Professional Services Citrus County, we understand that water damage can occur at any time, day or night. That's why we offer emergency water damage restoration services 24 hours a day, 7 days a week. Our team of experts is always ready to respond quickly to your water damage emergency and begin the restoration process as soon as possible.
The Sooner You Act, The Better
If you've experienced water damage in your home or business, it's essential to act fast. The longer you wait, the more damage can occur, leading to more extensive repairs and potentially higher costs. Our team of professionals is equipped with the latest tools and technology to mitigate the damage and restore your property to its pre-loss condition.
Why Choose ServiceMaster Professional Services Citrus County?
At ServiceMaster Professional Services Citrus County, we pride ourselves on providing top-quality water damage restoration services to our customers in Crystal River, FL, and the surrounding areas. Our team of experts is highly trained and certified to handle any water damage situation, from minor leaks to major floods. We use state-of-the-art equipment and techniques to ensure that your property is restored quickly and efficiently.
When you choose ServiceMaster Professional Services Citrus County for your water damage restoration needs, you can expect:
24/7 emergency services
Friendly and knowledgeable staff
Quick response time
Expert water damage mitigation, repair, and cleanup services
Transparent pricing and honest communication
Don't let water damage ruin your home or business. Contact ServiceMaster Professional Services Citrus County today to schedule your water damage restoration services.
Wish to learn more? Check out our other client testimonials here!
To explore further about our water damage mitigation, restoration, and cleanup services in Spring Hills, call (352) 309-2404 or contact us online!
Frequently Asked Questions
How long does water damage restoration take?
Most water damage restoration projects can be completed within 7 days or less. However, the duration may vary based on several factors, including:
Extent of the Damage: The severity and size of the affected area can significantly influence the restoration timeline.
Types of Materials Affected: Different materials require varying drying times and restoration methods.
Weather Conditions: High humidity and low temperatures can slow down the drying process.
Presence of Mold: If mold growth is detected, additional time may be required for mold removal and remediation.
Structural Damage: The need for repairs or reconstruction can extend the restoration process.
Response Time: The sooner the restoration process begins following water damage, the faster it can be completed.
Contact ServiceMaster Professional Services Citrus County for a more accurate estimate based on your circumstances. Our technicians are available 24/7 for emergency water damage restoration services in Spring Hills.