Fire and Smoke Damage restoration in Neillsville
Fire Damage Restoration Near You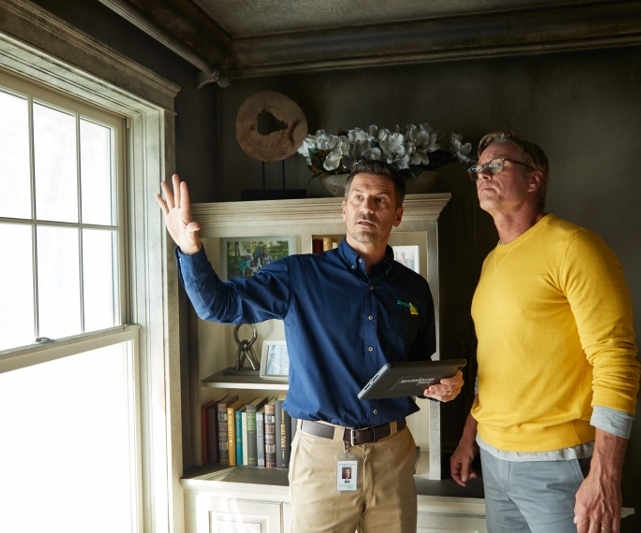 Whether the fire was devastating with considerable damage or a small fire that left behind a smoky odor, we use specialized fire restoration techniques to remove smoke damage, soot, smoke odor from most materials. Follow these important steps to save money and minimize further damage.
After you have had a fire with considerable damage, contact your insurance company so they can manage your claim expeditiously. Next, contact ServiceMaster of Clark and Jackson County and Tomah. We will hurry out to assess the situation-free of charge-and determine what can be done to bring your life back to normal in the shortest time possible. We provide fire damage restoration services to the Wisconsin communities of Clark County, Jackson County, Tomah, Neillsville, and Black River Falls.
Give us a call at (715) 226-3957 or contact us online to schedule emergency restoration near you today!
Professional Fire Cleanup Products
Many items that are covered in soot can be saved through a careful cleaning process. Some materials like plastic and rubber will absorb smoke-odor molecules and may not be salvageable. However, our specialized fire damage cleaning products, equipment and technology remove odors from stubborn materials that usually hold smoke odors after cleaning. Most of the time we are able to save your valuables and sentimental items in a cost effective manner.
Do you have a ceramic tub or sink? Do they have soot on them? Do not use water! Soot has chemical properties that can become acidic when water is added and may cause more damage. One thing you can do to help save these items is to take a dry towel and gently wipe them out.
Our Fire Restoration Process
A fire restoration is a process of returning a home to its pre-fire condition. The first step is to assess the damage and develop a plan for repairs. This may involve calling in professional contractors to make structural repairs, as well as cleaning and deodorizing the home. In some cases, it may also be necessary to remove damaged items from the home. Once the physical damage has been addressed, the focus shifts to emotional healing. This may involve talking with a therapist or joining a support group. The goal of fire restoration is to help families recover from the trauma of a fire and regain their sense of normalcy. If you are in need of fire restoration services, contact our experts!
Consult with a fire restoration specialist today by dialing (715) 226-3957 now!
Smoke Damage Restoration
Smoke damage occurs when the byproducts of combustion come into contact with surfaces in your home. The soot and odors left behind can be difficult to remove, and restoration may require the help of a professional. Smoke damage is more than just a cosmetic issue – it can also cause serious health problems. Inhalation of smoke particles can irritate the lungs and cause respiratory problems, while soot can contain harmful chemicals that can be absorbed through the skin. If you have experienced smoke damage, it is important to call a restoration company as soon as possible.
Our technicians will determine what is the course of action for eliminating the odor. Burning scented candles, using perfumed aerosols, or providing extra ventilation will sometimes help to temporarily remove a portion of the smell, but in reality this only masks or dilutes the smoke odor and does not permanently remove it. SM of Clark and Jackson County and Tomah uses heavy-duty, specialized equipment to literally neutralize and remove odor molecules from your home or office. Based on the severity of the problem, we have an array of methods and equipment to handle any problem with restoration smoke damage!
Why Hire ServiceMaster of Clark and Jackson County
ServiceMaster has been providing fire damage restoration services with the utmost honesty and understanding for more than 65 years, and this has always been our core value. In order to deliver the best solutions, we make an investment in our customer relationships. The professionals at ServiceMaster Restore are available around-the-clock, every day of the year, to complete the task to your satisfaction.
We pride ourselves on being supportive, genuine, professional, committed, and accessible. We understand how stressful fire damage can be, that's why we're always here to walk you through the restoration process every step of the way. With the help of our comprehensive restoration certifications and customer satisfaction trainings, we guarantee our specialists will leave you feeling taken care of!
Dial (715) 226-3957 or contact us online to learn more about smoke damage restoration today!
Frequently ASked Questions
PROVIDING YOU WITH ALL THE INFORMATION YOU'RE LOOKING FOR
What Can Be Salvaged After A Fire?

As devastating as fires can be, there are a few things that can be restored back to their original condition. This includes cloth items and hard, non-porous items. For instance, any clothing, drapery, or removable furniture covers can easily be restored if they never came into direct contact with the fire. We recommend using a heavy duty detergent or a speciality dry cleaning services to bring these belongings back to life!




When it comes to hard, non-porous items - this will usually include glass or metal objects. With a simple soap and vinegar solution, you can restore glassware, pots, pans, silverware, china, and more! Soot accumulation can be soaked and scrubbed off when you combine patience with an effective cleaning solution!