Residential Fire Damage Near Fredericksburg, VA
Professional, Reliable Residential Fire Damage Restoration Near You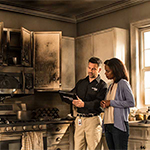 Experiencing a house fire can be a deeply disturbing and disruptive event for any homeowner. The aftermath of such a disaster leaves you with a myriad of concerns, from damage assessment to the restoration process. That doesn't even include trying to get your insurance to help you recover from your losses.
ServiceMaster of Greater Washington is here to help you navigate this challenging time, get back on your feet, and get you back to business as usual. Our team of professional fire and smoke damage restoration experts in Fredericksburg, VA is here to help you see it through to the end.
Our local fire damage restoration professionals understand the emotional toll a fire can take on you and your family, and many of us have experienced it firsthand. We prioritize your safety and comfort, working tirelessly to restore your home to its pre-loss condition.
For top-notch, effective home fire damage restoration near Fredericksburg, VA, call us today at(240) 512-6803 for a free assessment or contact us online
Our Fire Damage Restoration Process
At Fredericksburg, we understand that fire emergencies can happen at any time, day or night. That's why we are available 24/7 for fire damage emergencies in Fredericksburg, VA and the surrounding areas. Our professionals are available around the clock to respond quickly to your call.
While restoring your home, we:
Damage Assessment: Begin with a comprehensive assessment of the fire damage. This includes evaluating the structural integrity, identifying areas that require repairs or replacement, and understanding the extent of the damage.
Securing the Property: Ensure the property is safe and secure to prevent further damage, unauthorized access, or potential safety hazards. This often involves boarding up windows and doors and addressing any compromised structures.
Planning and Design: Collaborate with architects, contractors, and restoration specialists to create a detailed plan for the reconstruction and restoration. This plan may encompass layout changes, material choices, and potential upgrades.
Obtaining Permits: Depending on the scope of the fire damage and reconstruction, you may need to secure permits from local authorities before work can begin.
Demolition: If areas of the property are severely damaged or unsafe, they may need to be demolished before the reconstruction can begin.
Structural Repairs: Structural repairs are a fundamental part of the process. This may involve rebuilding walls, floors, and ceilings and replacing damaged drywall, insulation, and structural materials.
Electrical and HVAC Systems: Ensure that electrical systems and HVAC (Heating, Ventilation, and Air Conditioning) systems are safe and operational. Address any repairs or replacements needed, ensuring they comply with safety standards.
Rebuilding Materials: Choose appropriate materials that meet safety and building code requirements while aligning with your aesthetic and functional preferences.
Reconstruction: The reconstruction begins, involving framing, roofing, drywall installation, flooring, and painting.
Inspections: Various inspections are conducted to ensure compliance with building codes and safety standards. These inspections help verify that the work is being done correctly and safely.
Finishing Touches: Add the finishing touches, such as fixtures, cabinetry, and interior decor, making the property feel like home again.
Final Inspections: After completing the project, final inspections are performed to ensure everything meets the necessary standards and regulations.
Moving Back In: Once all approvals are granted, it's time to move back into your newly restored property, embracing the fresh start it represents.
The fire damage restoration process is complex and often time-consuming, but it allows you to transform your property, making it even better than it was. While it can be a challenging journey, with patience and perseverance, you can rebuild and restore your property, turning a chapter of loss into a story of resilience and recovery.
Why Choose Us?
When you choose ServiceMaster Restore for your fire damage restoration needs in Fredericksburg, VA, you're partnering with a company that is locally owned and operated by a team from right here in the Greater Washington area. We've helped Fredericksburg homeowners just like you pick up the pieces after a fire devastated their home, time and time again.
Our dedication to customer service is reflected in our:
24/7 Emergency Response: We're available around the clock to address your urgent fire damage restoration needs and minimize further damage
Highly Trained Professionals: Our team undergoes extensive training and adheres to industry best practices, providing you with the highest quality service
Comprehensive Solutions: In addition to fire damage restoration, we offer a wide range of services, including water damage restoration and mold remediation, ensuring a complete recovery for your home
Are you looking for quick and reliable fire damage restoration services? Contact our technicians online or call us at(240) 512-6803
Frequently Asked Questions:
How long will it take for the restoration process to be completed?
This depends on the variables and number of services involved with the process. You can check with your ServiceMaster of Greater Washington technician about estimated dates and phases of your restoration project!
What items can be restored after Fire and Smoke damage:
Restoration after fire and smoke damage is possible with the right approach. After a thorough assessment of the property, professional restoration specialists can begin to restore affected areas using specialized techniques and equipment. This may include cleaning walls, floors, furniture, fixtures, electronics or other items that have been damaged by smoke or soot from a fire; deodorizing surfaces; replacing drywall and insulation; as well as restoring structural components such as framing members. With careful attention to detail during every step of the process it is possible to bring back your home or business close to its pre-fire condition.
How can I keep track of non-restorable items?
Make a list of items (including food items) deemed nonrestorable; have one copy for yourself and one for your insurance company. Personal items including electronics and furniture can be restored if they were not damaged by flames.