Midland Commercial Water Damage Restoration
Water Mitigation in Saginaw, Bay City, Mount Pleasant, & Beyond
Water damage such as floods, plumbing leaks, broken pipes, storms, sewage backup, and appliance malfunctions can all cause unexpected destruction in your business. Getting it cleaned up and back to its rightful state is job number one. We minimize interruptions to your business and do everything possible to keep your doors open during the restoration process so you can continue to provide for your family and your employees.
When it comes to getting you back in business, we've got your back.

What is water mitigation?
Water mitigation is the process of reducing or preventing the amount of water damage that happens after a flood, a leaking roof or any number of water-related reasons. By taking fast action, you can prevent additional damage and costs.
ServiceMaster by Fuson provides commercial water restoration Michigan businesses can count on. We also offer these services to to the following counties: Midland, Bay, Saginaw, Gladwin, Clare, Isabella, Gratiot, Roscommon.
We also offer Emergency Water Damage Clean up and Restoration Michigan businesses can depend on. We offer 24/7 Emergency service to the following counties: Midland, Bay, Saginaw, Gladwin, Clare, Isabella, Gratiot, Roscommon. Not sure if we cover your area? Give us a call (989) 200-5126.
What are the causes of water damage?
Water damage happens for a variety of reasons, including:
Structure failure
Severe weather
Plumbing leaks
Burst or broken pipes and hoses

A clogged toilet
Moisture behind walls
A leaking roof
Foundation cracks
Whatever the cause, fast mitigation is key to restoration.
Minutes: Water damage can spread to other areas of your home.
Hours: Pressed wood swells and disintegrates and bacterial odor spread throughout your home.
Days: Water can cause severe complications and secondary damages resulting in disruptive and costly repairs.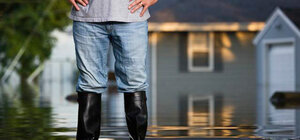 ​
Emergency Flood Damage Restoration Services
Water damage can be a devastating experience for any homeowner. Not only is it inconvenient, but it can also cause serious structural damage to your home if left untreated.
When water enters your home, you need to act quickly and call a professional restoration company for help with water removal and flood damage restoration services.
At ServiceMaster Restoration by Fuson, we understand the urgency of these situations and are available 24/7 to provide fast response times when you need us most. We use advanced equipment such as pumps, vacuums, dehumidifiers and more in order to effectively remove all traces of standing water from your property while minimizing further damages caused by moisture buildup over time.
In short: If there's ever an emergency involving flooding at your property – don't hesitate; contact our expert team today for top quality service backed up by years' worth experience working within this industry!
Count on the water restoration experts at ServiceMaster by Fuson:
24/7/365 Response – Seven days a week, 365 days a year, daytime or nighttime, we rapidly respond to keep your business running smoothly.
Industry Leadership – For more than 60 years, ServiceMaster Restore has set the standard for water damage services.
Best-of-Class Methods – Our methods meet the highest industry standards.
Technology – We use proven products, methods and processes to ensure the best results.
Insurance Standards – ServiceMaster by Fuson works with the IICRC to help set the standards by which the industry operates.
Insurance Capabilities – We offer comprehensive water mitigation services and have a long history of working with insurance companies so you benefit from our claims process expertise.