CORONAVIRUS CLEANING COVID-19 INFORMATION
Here at ServiceMaster by Fuson, we have been following local, regional, national, and worldwide forums to help us prepare and be ready to act when COVID 19, originating from Sars-COV-2, intrudes our own doorsteps here in Mid-Michigan. We have always provided Emergency Restoration Services and Planning to local businesses, government buildings, nursing homes/elderly care facilities, and schools, so we knew that we NEEDED to be prepared to assist our neighbors, friends, and families when this Emergency first began taking shape.
As experts in creating clean, safe, and healthy environments, we at ServiceMaster would like to share our expertise to help you enhance preventive protocols for your office. The current pandemic of this newer pathogen, the coronavirus (COVID-19) deserves our full attention to attempt to contain, reduce the spread of and most importantly overcome the impact this disease will have on our families, communities, and businesses.
We have and will continue to develop and implement the most effective procedures and products to help sanitize pre-affected businesses and schools. A great way to prevent COVID-19 is to eliminate the origin. SARS-COV-2. This is our first strike to protect our local businesses and schools against this disease. We are also prepared and ready to act in the unfortunate event that a client's business is directly affected and contaminated with COVID-19.
We are offering FREE no-obligation quotes to area businesses and schools to help inform and protect Mid-Michigan. Please do not hesitate to call, or miss this opportunity, to gain a greater knowledge and became more aware and prepared if and when Mid-Michigan becomes directly affected. (989) 200-5126
COVID-19 Cleaning & Sanitizing
Given the current uncertainty of the COVID-19 Pandemic, we thought it was important to reach out and let you know that we are still available to help you, your business, and your customers. We understand that the State of Emergency has put a strain on the economy, and the workplace… Whether you are limiting contact with walk-ins, working with a skeleton crew, or conducting business remotely; chances are that your business has suffered.
Because of our experience cleaning and disinfecting facilities that have been at risk for exposure to various infectious diseases, we wanted to reach out to our community and see if you are in need of any cleaning or sanitizing services to help reduce the risk of the Coronavirus. Please check out our helpful resources below and don't hesitate to give us a call.
Useful Resourse for Coronavirus Cleaning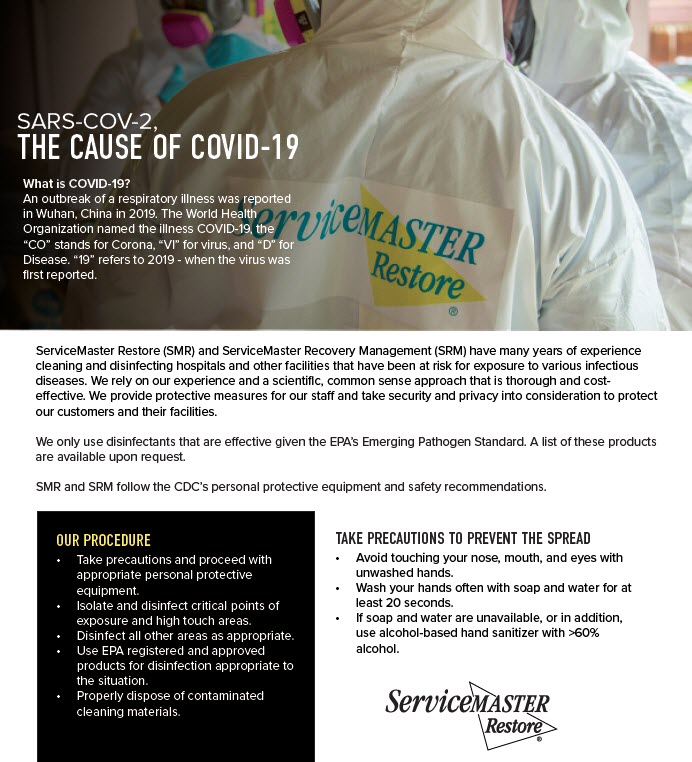 We're here to help with Coronavirus Sanitizing & Cleaning
Here are some popular search terms you may use to help find more information on Coronavirus cleaning & sanitization. For the latest information on the Coronavirus, you may visit the CDC's website HERE. Coronavirus Michigan Visit Here. Some popular search terms: Coronavirus Cleaning, COVID-19 Cleaning, Coronavirus Disinfecting, Covid-19 Disinfecting, Preventative cleaning techniques, post coronavirus cleaning, commercial disinfecting, business disinfection, Post Confirmed case cleaning, Clorox Total 360 disinfectant, Best Hand Sanitizer, Coronavirus cleaning tips. We are here to help. Should you need cleaning & sanitizing services, Contact Servicemaster by Fuson today for help.
(989) 200-5126