SAN DIEGO MOLD REMOVAL AND INSPECTION
Professional Mold RemEDIATION Company Near You
Mold spores are everywhere and are generally safe, unless under the right conditions. After any type of water enters the home, whether from a plumbing leak or flood, mold has the chance to grow within as little as 48 hours. Once it gets started, it's hard to put a stop to property and health damage without the help of a team of professionals. This is where ServiceMaster Absolute Water & Fire Damage Services comes in.
We are available to help if your home has dealt with a plumbing mishap, flood, or another type of water damage. With mold damage, the issue must be addressed quickly and correctly by a team of mold removal and remediation experts. Our technicians use the best tools in the industry to remove all mold growth. Our procedures are designed to protect the rest of your home and family.
Dial(619) 492-5084 orcontact us online to learn more about our mold removal services near you!
Difference Between Mold & Mildew
Mildew is usually used to refer to types of fungus and mold growing in moist conditions. Oftentimes, the term mildew is used to describe mold that is flat or powder-like (as opposed to mold that looks fuzzy). Color-wise, mildew is usually grey or white and turns brownish. Other kinds of mold are green, black, or even red.
Can You Paint Over Mold Damage?
Painting over mold will not eliminate a mold infestation. While painting may kill the visible mold in the area where paint is applied, invisible mold spores will still be present and the root cause of the growth will not be addressed. To correctly eliminate mold growing inside your home or building, the correct steps need to be followed to eliminate moisture and remove mold.
Once mold growth has be addressed in the correct manner, painting can be part of the restoration process to encapsulate remaining mold and repair discoloration. Mold resistant paints are also available on the market.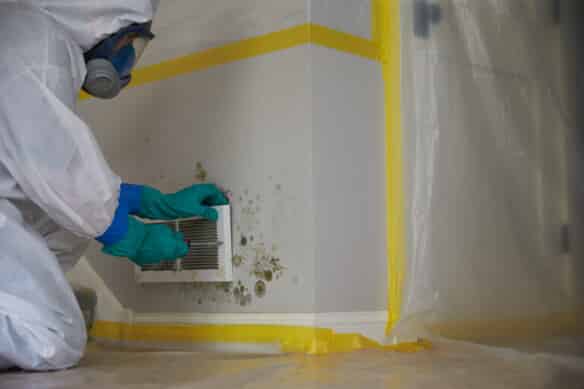 When to hire a professional for mold remediation?
If you suspect that you have a mold problem in your home, it is important to take action immediately. Mold can cause serious health problems, including respiratory issues, headaches, and skin irritation.
While there are DIY mold removal methods available, it is often best to hire a professional for mold remediation. Our expert team will be able to properly assess the situation and develop a plan to remove the mold. In addition, we have the necessary equipment and experience to safely and effectively remove the mold.
If you have a serious mold problem, it is important to call a professional as soon as possible. At ServiceMaster Absolute Water & Fire Damage Services we will be able to help you rid your home of mold and prevent it from coming back.
Mold can pose serious health risks. If you notice mold in your home, contact our remediation experts! You can reach us at(619) 492-5084 orcontact us online.
Our Mold Removal Process in San Diego
At ServiceMaster, we follow a proven process to clean your home and get it back to its former condition.
Our team follows a series of steps:
Find the Location. Our team works quickly to test your property for mold exposure. We then locate the source quickly and accurately. We'll also work to help you stop the source of water damage to reduce the chance of further damage and growth.

Isolate It. We'll isolate the affected and contaminated areas to avoid spreading the mold to other areas of the home. We'll assess the damage and get to work on creating a plan for mold remediation services.

Remove Affected Materials. First, our team will make all the necessary preparations. We will then remove all the affected materials and clean the space to completely remove the mold.

Restore Space. Once things are clean and clear of mold, we'll completely dry the area to avoid further damage. We will make the necessary repairs and replacements to get your property back to normal.
If you've found any type of mold growing in your home or business, it's important to get help soon. ServiceMaster Absolute Water & Fire Damage Services offers mold cleaning services in San Diego. Relying on our advanced equipment and proven methods, we're able to help prevent the chance of an infestation returning.
Give our team a call at(619) 492-5084 orcontact us online to schedule mold remediation today!