FIRE DAMAGE RESTORATION in Columbus
Expert Columbus Fire Damage Cleanup
ServiceMaster by Angler is the longest-running family-owned restoration company in Columbus,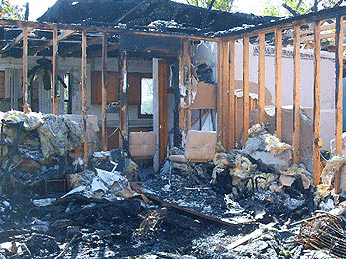 OH and a top provider of residential fire damage restoration services in the area. Our highly trained staff has the knowledge and equipment along with 45+ years of experience to effectively handle fire damage cleanup and repair services for local residential settings.
Fire damage can have deep, lasting effects beyond the structural elements of the building if it is not addressed quickly which is why our phone lines are open 24 hours a day. The fire damage restoration team of ServiceMaster by Angler can handle any size residential fire damage project, regardless of the extent of the damage. We are dedicated to completely restoring your property to get your residence back in its current state as soon as possible.
Do you need professional fire damage restoration in columbus?Call(614) 454-3850 orcontact us Now to get started!
FIRE DAMAGE RESTORATION AND SMOKE REMOVAL
Examples of our residential fire damage restoration jobs can be viewed in our gallery below. As you browse through the photos, you will understand the amount of work required for effective fire damage restoration and smoke odor removal.
Some restoration companies may claim to have the expertise and credentials to provide fire damage restoration and smoke odor removal but will not do the job effectively or according to building codes. Our experienced technicians locate and remove any hidden sources of smoke odor that many contractors overlook.
We take so much pride in our smoke odor removal services that we offer a "Lifetime No Odor Guarantee." Make sure to check the credentials of any restoration company you hire because a surge in destructive storms in the Columbus area over the last couple years has led to the development of many new restoration companies that do not have the credentials or experience to handle residential fire damage restoration and smoke deodorization.
FIRE DAMAGE REMEDIATION IN Columbus, OHIO
Highly Trained Fire Damage Remediation
ServiceMaster by Angler provides residential fire damage restoration and specializes in cleaning all surfaces, smoke deodorization, and removing items that have been charred or destroyed. We look within cracks, behind moldings and within all cavities to locate and remove any smoke odor or soot. If the building is not properly deodorized, the smoke odor can linger for years.
We provide complete fire damage restoration and smoke odor removal services to resident homes in Columbus and Southwest Ohio. Our staff is dedicated to restoring your property in an effective and timely manner so that you can resume business as quickly as possible.
What's your plan when disaster strikes? Contact ServiceMaster by Angler at(614) 454-3850 FOR FIRE DAMAGE CLEANUP in Columbus, OH.