ABOUT US
OHIO'S EXPERT IN REPAIR
After more than 45 years, over 40 team members, and a fully stocked 15,000 Square foot facility, we are more than just a fire water restoration company or a carpet cleaner. We specialize in all aspects of restoration from beginning to end. From repairing a roof after storm damage to extracting water after an ice maker line break, ServiceMaster by Angler is Ohio's expert in repairing homes and restoring lives.
MARK GERKEN – PARTNER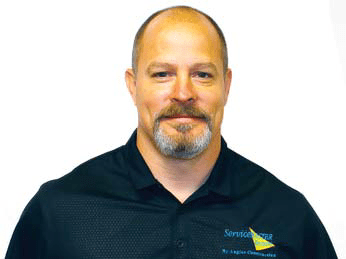 Mark serves our company as an Owner and Partner. He comes from a large family and grew up in Toledo, Ohio. With over 20 + years of experience in Service Delivery, Team Building and Sales, Mark brings strong leadership skills to ServiceMaster by Angler. He is accustomed to running multi-site business units that cover large geographic areas and is excited to put his pride and focus on his hometown market. Prior to settling in Centerville nine years ago, his family spent thirteen years living in Arizona, New York and the Greater Philadelphia area.
With a strong sense of community, Mark enjoys volunteering and giving back. He and his wife Lacy have 2 beautiful girls, Remy and Beatrice. When he's not in the gym watching his girls playing volleyball, he spends his downtime with family and friends.
GEOFF GANZ – PARTNER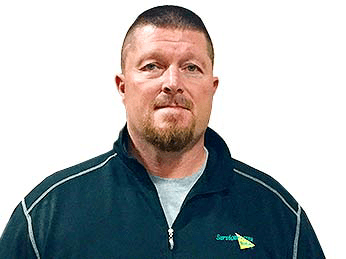 Geoff serves our company as an Owner and Partner. Geoff grew up in Powell, Ohio and was introduced to the construction industry at an early age. Geoff brings over 25 years 'experience as a business owner and operator. Prior to ServiceMaster by Angler, Geoff was the owner of a Stanley Steamer franchise on the east coast, a ServiceMaster franchise, as well as Curry Creek Construction in Southern Ohio. His strong work ethic and passion for success has enabled him to work all over the United States.
After spending nearly 10 years in New York, his family roots brought him back to Ohio. Geoff is family and community focused. He and his wife, Holly, enjoy watching their daughter Mia play soccer and spending time with extended family. He is also the President of The Wilmington Rotary club.
SINGLE SOURCE PROVIDER
To date, ServiceMaster by Angler is the only "Single Source Provider" in the Dayton, OH Area, for all Restoration and Cleaning services necessary to restore your home or business. ServiceMaster by Angler in Dayton, Ohio can complete all of your needs from water damage repair, fire damage restoration, flooded basement restoration, smoke odor removal, structure repair, content inventory and cleaning, dry cleaning, electronics restoration, moving and storing of all your belongings, all within a single company. This truly makes your claims situation trouble free. ServiceMaster is a National Brand that has over 5000 Franchises and specializes in Water Mitigation and Content Cleaning.
FEATURED JOB
PROJECT: COMMERCIAL WATER MITIGATION
Commercial Water Damage At It's Worst
In the middle of January, a 2 story vacant commercial building had a pipe burst on the second floor causing water damage throughout the upper level and entire first floor. The pipe burst due to the fact the building was without heat in more than half of the building. When ServiceMaster Restore by Angler arrived on the jobsite, the entrance to the building was frozen, there was 1 inch of standing water throughout the entire building, ceiling tiles were wet and falling down and the upper level was like an ice rink.
Our certified water technicians placed over 35 air movers throughout both levels of the building to help expedite the drying process. In order to eliminate any future water damage we had to start the drying process immediately. The water was extracted from the carpet, the wet tiles had to be removed and disposed of properly. All the base molding was removed, speed holes were drilled into the walls for cavity drying, any wet drywall and insulation was removed and disposed. An anti-Microbial agent is used to prevent mold growth during the drying process. We used a desiccant dehumidifier to tackle this specific situation due to cold temperatures and low humidity situation.