Water Damage Restoration in Dayton
Restoring Homes in the Aftermath of Natural and Unnatural Disasters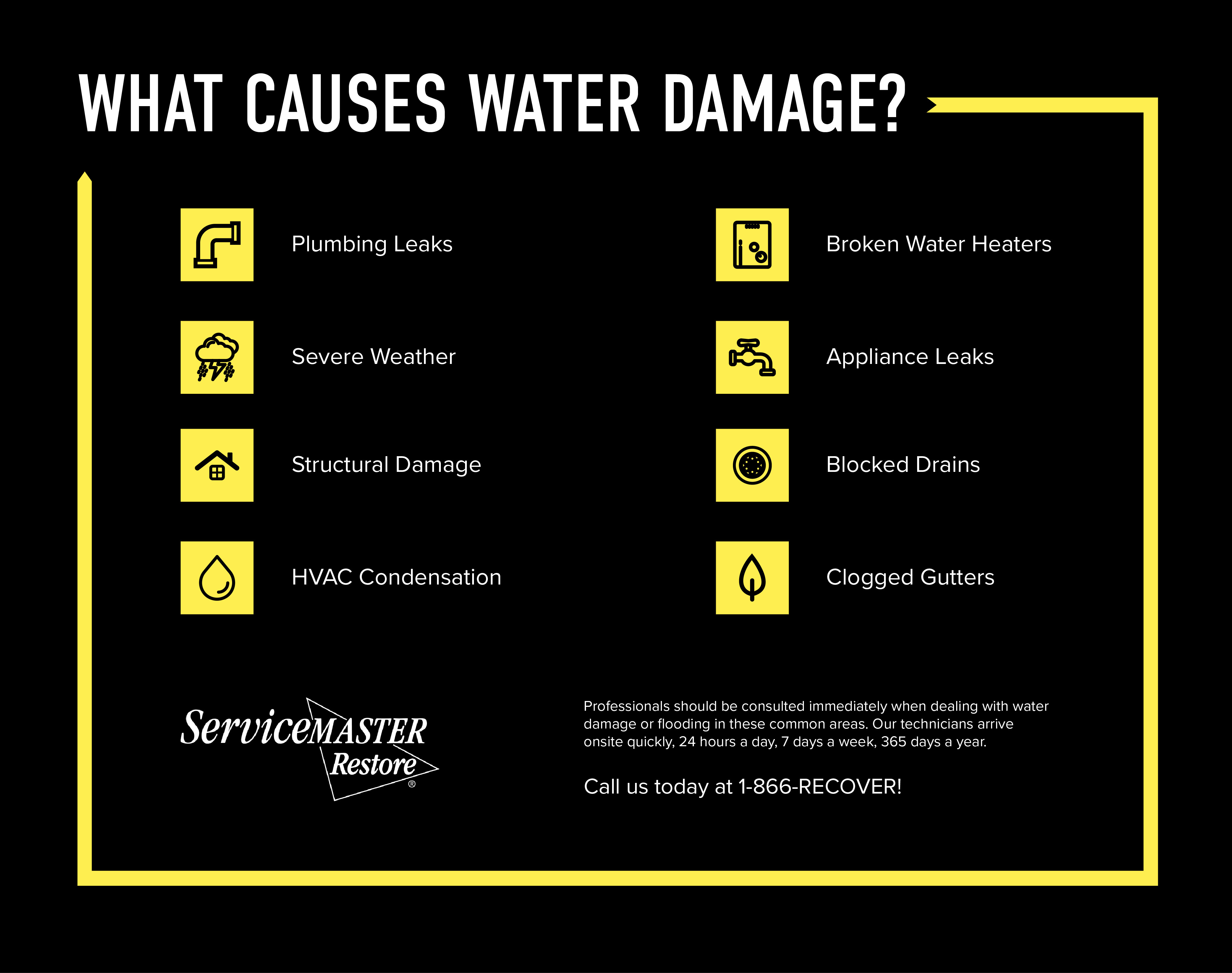 Water damage sustained to your home involves more than just damp floors and walls. It can also mean mold growth and structural deterioration that can threaten the safety of you and your loved ones. You should have a trusted recovery expert partnering with you to make your space feel like home again. ServiceMaster by Angler - Dayton can support you with water damage restoration services in Dayton, assisting with mold remediation, foundational assessments, and so much more.
Our goal is to develop a custom plan to get your home back to livable conditions. We do this by using years of knowledge and an abundance of resources. As a locally owned and operated restoration service company backed by over 65 years of expertise, we care about seeing the community thrive and helping our neighbors recover their livelihoods.
If you've experienced water damage in dayton, call(937) 358-8995 orcontact us now for our water restoration services!
We aim to be your go-to provider of water restoration after the following disasters:
Burst pipes
Broken sump pump
Flooding after severe weather
Disconnected appliance hoses
Leaky roof
Our Dayton restoration service professionals use a comprehensive restoration process to restore your home and peace of mind. First, we arrive on the property and start assessing the extent of the water damage. We check every room for mold growth, structural damage and formulate a plan of action. After we've evaluated your home, we discuss the next steps and a reasonable timeline for completion. In between our discussions, we can partner with your insurance company, providing estimates for the damage and resolving issues quickly to help get you back on your feet.
The Dos and Don'ts of Water Damage Restoration
When you've experienced property damage due to a water-related incident, you don't have time to wait for help. The destruction your home has already sustained could potentially worsen if issues aren't addressed immediately. Our Dayton water damage restoration experts understand that and want to help you as soon as we can. However, before we arrive, you should know a few dos and don'ts to ensure everyone's safety.
The "dos" of water restoration include:
Making sure no one is inside the home or assessing the damage themselves, as it could lead to injury
Informing your insurance provider of the property damage immediately so that they can begin a claim
Removing personal belongings and salvageable items (once the property is deemed safe to enter)
Renting storage space to house recovered possessions to protect them from further damage
The don'ts include:
Don't enter any areas with discolored or dark water as there's a chance that dangerous bacteria are present
Don't touch carpeting that is partially tacked down or tile that is lifted
Don't turn on any lights or electrical appliances while standing on wet flooring before water removal has begun
Don't touch walls, floors, or ceilings with evidence of water stains, air pockets, or damage
Our damage restoration specialists in Dayton are here 24 hours a day, 7 days a week, 365 days a year, to deodorize your space, eliminate mold, remove water, and repair any foundational damage. We know you've been through some of the darkest days of your life, but our team wants to help you see the light at the end of the tunnel.
To get started on home water restoration after devastating water damage, please call (937) 358-8995 today.