Fire and Smoke Damage Restoration Services in South Bend

Northern Indiana's Leading 24-Hour Emergency Fire Restoration Company
At ServiceMaster by Monroe Restoration - South Bend, we understand the devastation a house fire brings to a family.
That's why we make it our business to get there fast when you need us. We provide 24/7 emergency service with a 2-4 hour or less response time for all our customers. We know that the faster your home is secured, the faster you'll be able to focus on the next step- getting the proper restoration services needed to get your life back in order. Our qualified and dependable crew is IIRC certified and have been rated as Indiana's top choice to restore your home after fire disaster strikes.
Our Five Step Fire and Smoke Restoration Process
Emergency Pre-Cleaning
Content Cleaning
Content Pack-Out
Wall and Ceiling Structure Cleaning
Deodorization
If your home needs fire or smoke damage restoration, call our experts today at(574) 498-3425 orcontact us online. We're available 24/7!
Water Remediation, Smoke Damage Cleanup, Soot Removal, Board-Ups and Wall Stabilization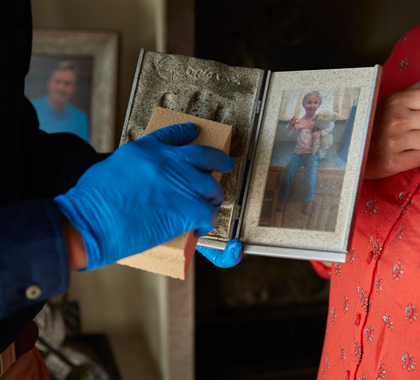 There are many different tasks that must be taken care of before people can move back into their residence after a house fire. We provide water remediation services to make sure that the water or chemical used to quench the fire is removed quickly and effectively to help prevent mold from sneaking in during the restoration process.
We'll also make sure that the foundation of your home is safe, stabilizing the walls and ceilings, to help prevent them from collapsing. During the cleanup and restoration process, the smoke and soot cleanup begins.
The damage from smoke and soot is especially difficult to repair, so even if you only experienced a small kitchen fire, household cleaners may not do the job. It's best to have a professional cleaning service like ServiceMaster Restore to clean your home and its contents.
Reach out to our expert team to help with your fire and smoke restoration project in South Bend. Call us at(574) 498-3425 orschedule your service online.
IICRC Certified, Licensed and Insured Fire Remediation Contractors
The ServiceMaster Restore team possesses a tremendous amount of experience in residential fire disaster cleanup and restoration and have been helping people with fire damage for years. Our experience is key because it almost guarantees that nothing will surprise us. We are a licensed disaster recovery team with the skills necessary to clean your home after a fire and rebuild it to pre-disaster conditions.
We Work with Your Insurance
We understand the complexities of dealing with insurance adjusters to get your claim paid out in a timely manner. We are recommended by most insurance companies and in some cases, have a pre-negotiated contract for services. This allows our clients to focus on keeping their South Bend, Valparaiso and Fort Wayne families happy and healthy while we work with the insurance companies to make sure that you get as much compensation for your home repairs as you possibly can.
OUR PROVEN FIRE DISASTER RESTORATION PROCESS INCLUDES:
Identifying the Source to Determine the Type of Fire
Evaluating the Areas That Were Damaged by Water and Chemicals from Firefighting
Water Remediation
Content Removal and Inventory
Content Cleaning and Storage
Structural Restoration
Odor Elimination
Returning Clean Items to Your Restored Home
When fire disaster strikes, it is important to call the restoration professionals who can clean up the mess and get your family back on track. For the fastest response to fire in South Bend, Fort Wayne, Valparaiso and the surrounding areas, call ServiceMaster by Monroe Restoration - South Bend. We are here to help you!
Don't wait if your home has experienced fire damage. the sooner you begin restoration the better. Call our experts today at(574) 498-3425 orcontact us online.