Water Damage Restoration in South Bend, IN
Emergency Water Damage Mitigation & Repair Services Near You
Dealing with water damage of any kind can be stressful and a headache, to say the least. This is exactly why we're here. If you notice signs of water damage or even suspect you have water damage, give us a call. Time is of the essence so it doesn't worsen or cause mold growth.
We're locally owned and operated here in South Bend. We're also backed by a nationally-recognized restoration brand that boasts over 65 years in the industry. We've seen it all and offer the solutions you need.
You're welcome to check out our reviews to see why our customers love our service.
For water damage restoration in South BEnd, IN, call us at (574) 498-3425 or contact us online. We're available 24/7/365.
Our South Bend Water Mitigation and Restoration Services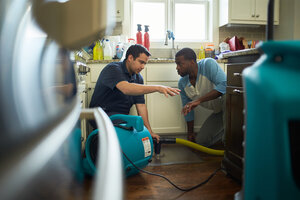 Water mitigation involves us removing the water and preventing the water damage from getting worse.
Water damage restoration, on the other hand, involves restoring and rebuilding the affected area to their pre-loss state.
Our Water Mitigation Process
Our six-step water damage restoration process includes:
Inspection and Assessment
Water Removal
Anti-Microbial Application
Drying: Air Movement
Drying: Dehumidifying
Drying: Monitoring
Our Water Damage Restoration Process
Some of the water restoration services we provide include:
Ozone Treatments
Content Removal, Inventory and Cleaning
Disinfecting and Mold Prevention
Expert Drywall, Ceiling and Structural Repairs
THERE ARE QUITE A FEW STEPS INVOLVED IN THE PROCESS, BUT WE HANDLE IT ALL FOR YOU. REQUEST YOUR SERVICE BY REACHING OUT ONLINE OR BY DIALING (574) 498-3425.
Fast, Emergency Water Damage Cleanup & Repair for Northern Indiana Homeowners
When you experience an appliance failure, leaky toilet, burst or broken pipe, roof leak, basement flood or sewer backup in your home, time is of the essence.
The longer you wait for repairs, the greater the chance of structural damage, health issues or other problems that can drain your finances and undermine your quality of life.
Available 24/7 for Emergencies
ServiceMaster by Monroe Restoration - South Bend is committed to protecting you from all the threats water damage can bring to your property and is available 24/7 to mitigate the water and begin restoration.
No matter when your pipe bursts, your toilet overflows, or storm damage occurs, we will answer the phone and dispatch a team to your residence.
Drying and Repairing After Water Damage
We will work diligently to rapidly clean and dry your house, making sure that no corner of the property continues to harbor water.
Once the dry-out is complete, we will assess the extent of the damage to your walls, appliances and furniture.
We strive to keep the cost of water damage to a minimum, allowing you to bounce back quickly no matter how bad the initial flooding is.
Expert Tips for Preventing Water Damage in Your Home
At ServiceMaster by Monroe Restoration - South Bend, we understand that preventing water damage is just as important as repairing it. Here are some expert tips to help you prevent water damage in your home:
Regularly inspect and maintain your plumbing and appliances, such as washing machines, dishwashers, and water heaters.
Ensure that your gutters and downspouts are clear of debris and functioning properly to prevent water from backing up and causing damage to your roof or foundation.
Install a sump pump to prevent water from accumulating in your basement or crawl space.
Consider installing water detection devices that can alert you to leaks or floods before they cause significant damage.
Ensure that your home's drainage systems are designed to carry water away from your home, rather than towards it.
By following these tips and taking proactive measures to prevent water damage, you can help protect your home and avoid costly repairs down the line.
Trusted Water Damage Restoration Company in South Bend, IN
Whether your water disaster occurred in the basement, main living area, bathroom or kitchen, ServiceMaster Restore has the talent, the equipment and the experienced to repair your home and bring it back to pre-disaster conditions or better.
We are fully capable of every repair from roofs to floors and everything in between.
For reliable water damage restoration in South Bend, Fort Wayne, Valparaiso and the surrounding areas, call us at (574) 498-3425 or contact us online.