Fire Damage Restoration in Idaho Falls
We Are the Fire & Smoke Damage Repair Experts in Ammon & Southeast Idaho
Fire damage can be heartbreaking. Few things are more devastating that watching your beloved home and valuables become consumed in flames. But before you lose hope, realize that help is available. Our team of Idaho Falls fire damage repair specialists know how to salvage and repair homes damaged by fire. Because smoke and soot damage continue to corrode materials even after the fire is extinguished, we act quickly to minimize damage and restore your home or business.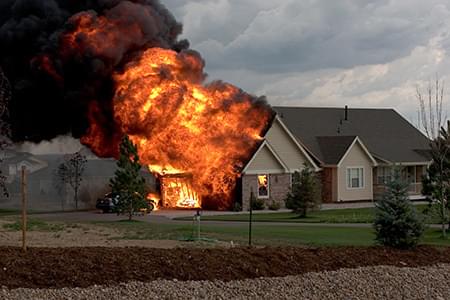 Complex chemical reactions occur in the synthetic materials found in furniture and flooring, causing further damage. Our certified Idaho Falls fire damage restoration professionals are expertly trained, experienced and use only the most effective equipment and methods to salvage your belongings. Call us immediately to be sure your valuable property and belongings are salvageable, not permanently damaged or destroyed.
Materials We Restore Through Fire Damage Repair
Some items are more sensitive to smoke and soot damage than others. ServiceMaster Cleaning and Restoration can completely clean and restore materials that are more susceptible to corrosion to save your Idaho Falls property.
Some of the materials that we can clean include the following:
Brass
Aluminum
Chrome
Marble
Tile
Porcelain
Carpets
Upholstery
Steps Included in Our Fire Restoration Process
The moment disaster strikes, you may be at a loss about what to do. We recommend that you call ServiceMaster Cleaning and Restoration right away so we can begin the fire damage restoration process. The sooner we can get to work, the more we can preserve your property and belongings and maximize what can be salvaged for you.
Our Idaho Falls fire, smoke, and soot restoration process involves these steps:
1. Emergency pre-cleaning
2. Content cleaning
3. Content pack out
4. Wall and ceiling cleaning
5. Deodorization
Don't wait! In about 72 hours irreversible damage may be done to your belongings after a fire has been extinguished. Call our professionals immediately so that the corrosion can be stopped. For professional and experienced fire and smoke restoration in Idaho Falls, call ServiceMaster Cleaning and Restoration today!
Fire Safety: What to Do After a Fire
Even with the best preparation, fire damage can still be devastating. One of the best things to do if your building has caught fire is to exit and move away from the structure. This prevents you from being trapped, from inhaling toxic smoke, and from injury if structural integrity gives way. One smart step to take after alerting the fire department is to inform utilities like gas and electric that your building has caught fire. Once the fire is out, we recommend that you document the damage to maximize the accuracy of your insurance claim. Lastly, it's important to remember that restoring your building or possessions is not a DIY project. To ensure your safety, a team of professionals should take care of structural repairs, smoke removal, cleaning, and the rest.
It's our job to remove your stress with our professional fire damage services throughout Idaho Falls, Ammon, and beyond. We know where to start. We have the right resources and work to support you through this difficult time. Call ServiceMaster Cleaning and Restoration for expert fire damage restoration today!
For fire damage repair in Idaho Falls, call (208) 400-5723 today.