Mold Remediation in Idaho Falls
Mold Services Near You
The horror of finding mold in the home is something no one wants to experience. You are probably wondering how a mold infestation starts in the home in the first place. Mold spores expand rapidly in damp, moist conditions. If you have excess moisture in a room like the bathroom or kitchen, this can provide the right conditions for mold growth. Leaky pipes, flooding, and lack of good airflow/ventilation are all other potential causes.
Removing mold with common, all-purpose cleaners will not eliminate the mold. In some cases, these products may encourage the mold to spread. It's best to hire mold removal specialists who will get the job done right. ServiceMaster Fire and Water Restoration by Houts will analyze what kind of mold is present and target it with the most effective treatment to ensure that mold is properly removed.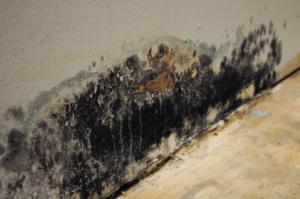 Goldmorr Mold Removal System
We are excited to announce that members of our Idaho Falls mold remediation team have recently become Certified Goldmorr Master Technicians. The Goldmorr mold removal system is a breakout line of products that offers amazing whole home results. It removes not only visible surface mold, but also eliminates airborne spores and particulates.
In desperate need of Idaho Falls mold remediation ? Call(208) 400-5723 to schedule your consultation orcontact us now!
Trust Our Certified Mold Removal Specialists
Our team of experts are professionally certified by the IICRC. We take pride in our training, our experience and certification. Our Idaho Falls company policies reflect the strictest standards to ensure that all mold is properly eliminated from your property.
Our Process is Proven to Eliminate Mold
1. Inspect and Evaluate the Damage:
Our Idaho Falls mold remediation technicians use high-tech moisture meters to examine ceilings, walls, flooring, and all other areas potentially affected by mold to determine the levels of moisture.
2. Extract and Dry:
We use the most recent water extraction and dehumidification equipment to thoroughly extract all moisture and water from carpets, walls, floors, cabinets, upholstery, fabrics, and any other areas needed.
3. Seal All Contaminated Areas:
We seal off the affected area to ensure that mold will not spread by releasing spores into unaffected areas or rooms in the property.
4. Remove Affected Materials:
If necessary, we will remove drywall and any other affected building materials that are too damaged to repair.
5. Remove All Spores:
We use high efficiency HEPA vacuums to wipe down all surfaces, eliminating any remaining mold particles or spores.
If You Suspect Water Damage, Take Preventative Measures
The best method to control mold is to prevent it from growing in the first place. If you have experienced water damage, attempt to dry the materials as soon as possible and keep air moving throughout the affected area. If the area is dried in less than 24 hours, there is a good chance that mold will not develop. For trusted mold remediation and mitigation services in Idaho Falls, Ammon, and beyond, call ServiceMaster Cleaning and Restoration today!
Contact an Idaho mold specialist at(208) 400-5723 today!