Specialty Services
Specialized Restoration Services in Colorado Springs
We are here to help you with your hoarding, trauma, biohazard, and vandalism cleanup emergency 24 hours a day, 7 days a week, 365 days a year!
Hoarding Recovery and Restoration
Our team at ServiceMaster has partnered up with Matt Paxton of the television series "Hoarders" to tackle this serious and difficult topic in order to train our teams at ServiceMaster of Colorado Springs.
The training that was developed from that partnership in dealing with hoarding recovery and restoration is second to none. We truly understand what it takes to properly sort through and ultimately restore a home from hoarding.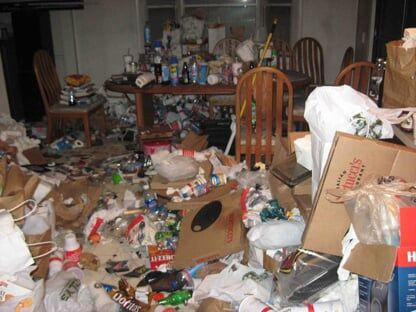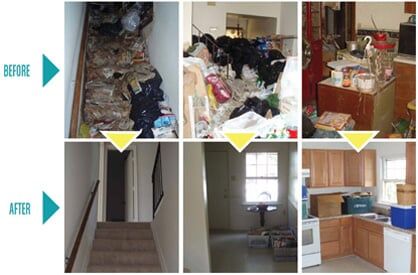 Restoring a home after hoarding takes great attention to detail. There could be hundreds if not thousands of items to search through. We also know how difficult it can be for a family to go through, which is why we organize important items and remove the hazardous materials in a responsible manner for you.
Hoarding restoration can be a very detailed procedure. Don't risk injury from falling over things or sickness from handling hazardous materials by yourself.
Find out how we can help with your hoarding recovery and restoration needs. Call(719) 356-3189 to speak to the trained experts at ServiceMaster of Colorado Springs!
About Our Specialty Services
Trauma and Biohazard Cleanup
One unique service offering is trauma and biohazard cleanups, such as:
Biohazard and blood-borne pathogen cleanups
Law enforcement vehicle cleaning and sanitization
Undetected death scene cleanup
Suicide cleanup and sanitizing
Biohazard spills or leakage
These types of cleaning services should be left to the professionals at ServiceMaster. Our experts have received special training and equipment in preparation for this unique cleaning service. We will restore, remove, and/or dispose of all contaminated content and structural materials in these cases.
Often, these jobs are of a highly sensitive and confidential nature. Our staff is trained to provide appropriate assistance to their clients in times of distress.
Vandalism Cleanup
If your property has been vandalized, call us at (719) 356-3189 ASAP. Here are some ways to minimize damage effects:
Wash any egg or other residue from the building exterior.

Remove any debris or food from carpets or interior walls. Scrape or blot carpets and furniture–do not rub.

Vacuum glass particles from carpet and upholstery. Do not walk barefoot in the area of glass residue.
Save any information about the type of liquid that was spread over surfaces.
Make a list of all damage.
Important warnings on damage resulting from vandalism:
Do not attempt to remove chemical stains, such as ink or paint.
Do not operate damaged electrical appliances.
Do not throw away damaged wood chips or other small articles. They might be helpful for repair.
Do not use household cleaning products on fabrics, upholstery, or carpet without consulting your professional cleaner.
The act of vandalism is serious, especially if it is done to your home or business. That is why we have a professionally trained staff to get your vandalism cleanup completed in as little time as possible. Our team of experts will take care of your cleanup needs 24/7/365.
Other Specialty Services We Offer
In addition to the above, ServiceMaster of Colorado Springs can also take care of:
Impact damage

Reconstruction

Air duct cleaning

Tarping and boardup
Whatever you need help with, our team will get the job done right. We pride ourselves on our high-quality, effective services!
Request an estimate online or call(719) 356-3189 to get started.