Mold remediation in Hattiesburg
Need Mold Remediation Near You? We Help Protect Your Loved Ones!
Damp and dark spaces are the perfect breeding grounds for mold and other dangerous pathogens. Unfortunately, you may not even know you're living with mold. You may only realize it after you or your loved one's health deteriorates.
Our team at ServiceMaster of Hattiesburg never wants the well-being of your family to be at stake. This is why we offer mold damage restoration services for homeowners like you in Hattiesburg.
Has your home has been through recent flooding? Are you dealing with backed-up sewer lines or plumbing leaks? If so, there's a chance you could have mold developing. We use state-of-the-art equipment to effectively eliminate mold. We will assess affected areas and address them immediately.
Count on us for quick & effective mold removal in Hattiesburg. Call us at (601) 374-5925 or contact us online to get started. We're available 24/7!
Warning Signs that Mold is Present in Your Home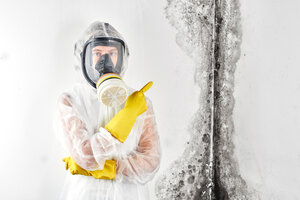 When mold has infested large areas of your home or spores are present in the air, you may notice your health start to decline. You or your loved ones may experience subtle or overt symptoms of mold growth.
Some of the signs mold is present in your home can include:
Skin irritation
Sudden coughing and sneezing
Difficulty breathing
Asthma flare-ups
Burning eyes
Mold exposure can affect everyone, from infants to seniors. It's vital to get a professional mold remediation company like ours to assist you. We can quickly identify the source and discuss viable and comprehensive options for removal.
Why You Need a Professional Mold Remediation Company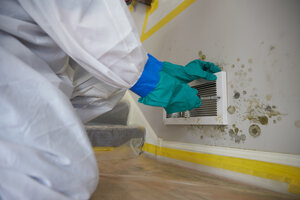 Individuals allergic to mold can experience some severe symptoms after exposure. Severe reactions include nervous system issues like headaches, memory problems, and brain fog. You should never have to deal with the aftermath of mold alone. Our professionals are here for you 24 hours a day, 7 days a week, to deliver exceptional mold removal solutions.
We can also provide:
Thorough detection and sampling of the entire space and accurate mold removal
Methods and equipment to keep you from continuously breathing in harmful spores
Detailed information about the source of the mold growth
Deodorization strategies to remove any lingering odors from the space and cleanse the air
Dependable Restoration Services
ServiceMaster Restore provides a full range of mold removal services in the following areas: water damage restoration, mold assessment and remediation. We also offer more mold prevention services to help eliminate the possibilities of future problems!
If not removed, mold can cause respiratory irritation, allergies and asthma. Mold can also damage the structural integrity of your property and may be a biohazard.
With ServiceMaster Restore, we have the expertise and experience to safely remove all traces of mold from your property. We'll then put protections in place so that it doesn't come back again. Our team of specialists are trained to handle your job with care and urgency. We'll keep you informed every step of the way so you never have to worry about what's happening behind the scenes.
Give us a call at (601) 374-5925 or contact us online to schedule mold inspection today!
Frequently Asked Questions
Can dehumidifiers help prevent mold?
Yes - dehumidifiers can help prevent mold growth in your home. Mold thrives in humid and moist environments. Essentially, dehumidifiers help reduce humidity levels in said environments.
Wondering when and how to use dehumidifiers? Learn more on our blog!