Hattiesburg Water Damage Restoration Services
Your Trusted Local Water Damage Company Restoring Your Home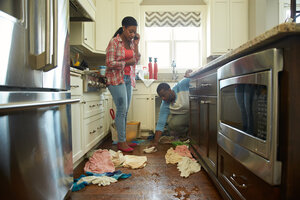 Has your home recently suffered water damage in Hattiesburg, MS? Of all the potential damage to your home, none may be more dangerous than water. There are quite a few reasons why, but most of all, water damage can be very difficult to detect. Though the damage is often visible, just as often it can be hidden beneath floors, inside walls, and elsewhere. That's why you need a team of experienced professionals assisting you with detection and restoration of any water-damaged areas of your home and property. The team at ServiceMaster of Hattiesburg is up to that task. We are a local home restoration company that offers a wide range of services, including water damage restoration and repairs, and we are ready to get to work to bring your property back to its pre-damaged state.
Water damage can be caused by a number of reasons, but one thing is for sure: it needs to be addressed as quickly as possible. Water damage can spread and worsen if not taken care of in a timely manner, leading to further damage and destruction in your home. Our team is always available to take your call when your home sustains damage. We are your partner in getting back to normal as quickly and as safely as possible.
Need assistance? Our Hattiesburg water restoration company is available 24/7/365, so call our team now at (601) 374-5925.
Common Causes of Water Damage
Many people associate widespread water damage with floods or other weather events. Though they are a few of the causes, they aren't the only ones. Water damage can result from a wide variety of problems, including:
Plumbing leaks
Broken appliances, including water heaters
Clogged toilets
A leaking roof
Broken or burst pipes
Foundation cracks
Moisture behind walls or under floors
Regardless of what caused the damage, the course of action is clear: reach out to a Hattiesburg water damage repair professional immediately. We'll take swift action to help minimize any further damages.
Steps You Can Take to Protect Your Home
So your home has sustained water damage and you're waiting for the restoration team to arrive. What can you do to help minimize the damage? Quite a few things, actually. And there are also several things you should not do. We've compiled a list of do's and do nots below.
Some actions you should take:
Remove as much water as you can using mops or towels and home dehumidifier to prevent mold damage
Remove any wet items from the room, including rugs, furniture, and anything else you can move
Lift up curtains and drapes from the floor and loop them through the drapery rod.
Wipe water off furniture and prop up pillows.
Move any décor, including pictures and art, to safe, dry areas.
Open drawers, closets, and windows, if possible
Some things you should NOT do:
Never enter a room with standing water if electricity hasn't been turned off
Don't try to remove wet carpeting without professional assistance
Don't try to use any electrical appliances
Do not touch any visible mold
Leave any water-damaged books and documents alone to avoid further damaging them
If you're not sure about something, the safest thing to do is to do nothing. Disturbing visible mold damage can release potentially harmful spores into the air. Our team will be there soon and will be able to assess the situation and get to work. Your safety is paramount and our first priority.
Water Damage Cleanup Whenever You Need It
We can't stress enough how important it is to take swift action when you find water damage. That's why ServiceMaster of Hattiesburg makes ourselves available 24/7/365. As soon as any damage has subsided, we will get to work on restoring your property. Your home is so much more than just a house and we understand how stressful and even traumatic it can be when it sustains damages of any kind. We will be by your side every step of the way and are your partner in getting back to normal.
Our Hattiesburg water damage restoration team is standing by to help you. Call us now at (601) 374-5925.