FIRE AND SMOKE DAMAGE REMEDIATION SERVICES
Extensive fire damage is unequivocally one of the most severe losses and stressful situations that a homeowner can ever experience in their home. This type of devastating loss can leave you feeling overwhelmed and unsure, but having clear guidance and support from the right restoration crew can offer reassurance and peace of mind.
At ServiceMaster Restore of Lynchburg, we don't just employ talented experts in the field. Our staff is full of caring professionals who will take the utmost care getting you back into your home as quickly as possible while offering guidance and reassurance each and every step of the way. We offer a complete range of fire-damage restoration services that also include soot, smoke, and odor removal, so, no matter the extent of your damage, ServiceMaster® has your covered.
Call (434) 254-1570 any time day or night, for comprehensive fire and smoke damage repair in the Lynchburg, VA area.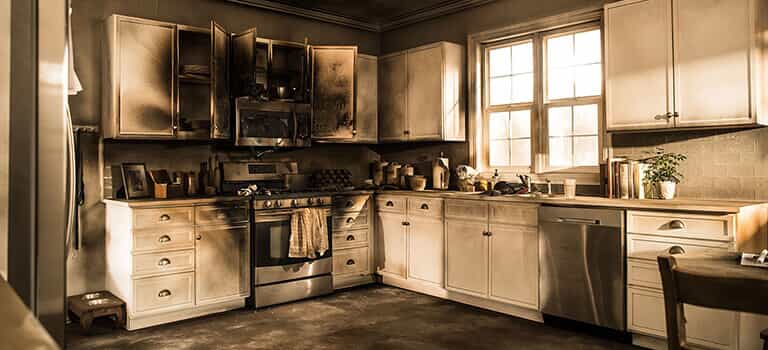 FIRE DAMAGE BEYOND THE FLAMES
Most people think big flames and total destruction when they think of a fire-damaged home, but even small fires can cause extensive damage.
Even after the flames are extinguished, ash and smoke can damage materials left behind.
Smoke odor is pervasive and will spread through the home causing damage long after the fire if not properly remediated.
It only takes a few minutes for walls and other surfaces to become discolored and a few hours for the finishes on kitchen appliances to begin to yellow.
Smoke can cause etching in glass and tarnish on metal after a very short time.
Soot leaves behind a greasy, caustic residue that is difficult to remove with conventional cleansers.
ALL FIRE DAMAGES ARE NOT CREATED EQUAL
At ServiceMaster®, we understand that every fire damage is unique. Our thorough restoration process includes:
Identifying the source of the fire to most effectively treat it based on the cause.
Evaluating any water damage incurred from firefighting efforts and remediating the damage if necessary.
Assessing sensitive materials for damage due to smoke and soot particles.
Removing damaged contents, especially items that are immediately needed such as clothing, prescriptions, school books, business needs, etc.
Providing pack out services from remaining content to be cleaned and stored.
Structural remediation including removal of porous contents that will hold onto smoke such as insulation and charred wood.
Evaluating other materials and structures such as carpets and floor coverings for removal.
Inspecting the structural integrity of the home for safety.
Treating and sealing surfaces for smoke odors to eliminate odors and restore surfaces to pre-loss conditions.
Packing in cleaned and restored contents to their original location.