Newton, IA Water Damage Restoration
Trusted Home Water Damage Repair Services
Burst pipes, flash floods, leaky roofs – no matter what it was that caused the water damage to your property, nobody expects it and it tends to happen at the least opportune times.
You have to act quickly to mitigate the damage, too, or it will continue to cause continued problems like structural deterioration, mold growth, and odor problems.
Signs of Water Damage
Some common signs of water damage include:
Peeling paint/wallpaper: Water damage can cause the paint to bubble, blister and peel off due to moisture seeping into the walls or ceiling.
Wet/warped walls, floors, or ceilings: Untreated water damage can cause wood to swell and warp, leading to visible signs of water damage on walls, floors, and/or ceilings.
Discolored patches on walls/ceilings: These patches are caused by mold growth due to high humidity levels in the home.
Staining/mold growth on surfaces: Black or green patches of mold growing on any surface inside the home indicate that water is present and uncontrolled moisture may be building up in areas not normally exposed to water.
Loose joints around windows/doors: Cracks between door frames and window seals signify that there may be a leak causing them to swell up over time, leading to more serious structural issues if left untreated for too long.
Sound of running water when taps are turned off: A leaky pipe causes pressure changes, making it sound like there's running water even when no one is using it.
Not Sure What to Do? Turn to Us!
If you're wondering what next steps to take, you should contact a residential water damage restoration company in Newton ASAP. We'll be there to help within mere hours of your call. You can rely on the ServiceMaster of Newton team to deliver expert water mitigation services and help make your house a home again.
Count on us for reliable water damage restoration near you. Call us at (641) 332-6949 or reach out online to schedule your service. We're available 24/7.
How Does ServiceMaster of Newton Perform Water Mitigation?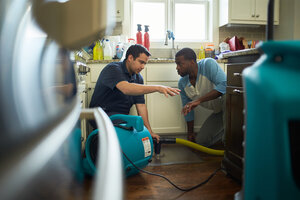 When you contact ServiceMaster of Newton, our team will take the time to gather all the necessary tools and equipment to tackle the job that awaits us at your home.
Once we arrive, we'll assess the water damage. We'll extract standing water so it halts further damage to the contents and structure of your home.
Our team will dry and dehumidify your home to restore its condition thoroughly before you are cleared to move back into your home.
Our team will make swift work of the following tasks:
Extracting the standing water
Drying out and dehumidifying your property and the impacted contents
Addressing any mold damage as a result of the excess water
Removing destroyed objects
Cleaning and disinfecting salvageable items
Rebuilding any part of the structure that has been affected by water damage
At ServiceMaster of Newton, we'll handle the whole water damage restoration process for you. And we'll do wo while treating you like our only customer. Water damage is stressful, but we'll be there to relieve that stress.
Our team utilizes state-of-the-art tools and equipment to restore your property effectively after water damage. For water extraction, we use powerful truck-mounted vacuum systems and submersible pumps that ensure all standing water is eliminated from your premises. To dry the affected area, high-speed air movers are employed to accelerate the evaporation process, while dehumidifiers are used to control the moisture levels in the air. Infrared cameras are beneficial in detecting hidden water behind walls and ceilings, ensuring no area is left untreated. To sanitize and deodorize your space, we use top-tier antimicrobial treatments and industrial air scrubbers. Our goal is to restore your space to its original condition and prevent the potential growth of mold and mildew.
Request your service online or call our team at (641) 332-6949. Our water damage restoration company is IICRC certified and will get your job done right.
What is Mold Remediation?
Mold remediation seeks to ensure your home is free from mold as thoroughly as possible and identifies and resolves the original cause of mold, so it doesn't grow back. Prevention of future mold growth is the main thing that sets simple mold removal apart from mold remediation. Prevention of mold regrowth is usually done by way of sanitizing your home and containing the mold so it doesn't spread. The mold remediation process involves many steps which usually includes:
An assessment of the mold type
Containment of the area
Removal of mold
Cleaning the air
Sanitizing the affected area
In addition to the above our experienced team can give you preventive recommendations to help keep your home free from mold in the future. Since mold spores are capable of moving unseen through the air if mold is not properly handled it can easily grow back.
What Should I Do About Water Damage?
Important: If your home is still flooded, do not enter any standing floodwater, as it can contain sewage and other harmful substances like oil or chemicals, or could be electrically charged by submerged power lines or wiring.
Once the water is gone and you begin to see the extent of the water damage, continue to take caution when entering rooms that have been waterlogged, as the structural integrity of the building or floors could have been compromised. The first thing you should do next is contact water damage restoration professionals as soon as possible, as the longer the damage remains unaddressed in your home, the more problems it can cause- from damaging wiring and electronics, to growing harmful mold that requires professional remediation before it undermines the structural integrity of your home or your health. Contact ServiceMaster of Newton for emergency water damage restoration in the Newton, IA area.
Why it's Important to Bring in Experts for Water Damage Restoration
Standing water can cause many problems left unattended and it's important to have specialists called in as soon as you notice it.
The longer it stands, your walls and foundation will be at great risk. Not to mention, if you wait to long to seek help, your homeowner's insurance might not pay out your claim if you went the ill-fated DYI course.
Save yourself the headache. Contact our locally owned and operated water damage restoration company ASAP – we are open 24/7, as we know these kinds of inconveniences don't care about respecting business hours.
Even if you find water damage at night - don't hesitate to call us. We'll be there when you need us most. Dial (641) 332-6949 or contact us online to get started.
Why Choose ServiceMaster of Newton?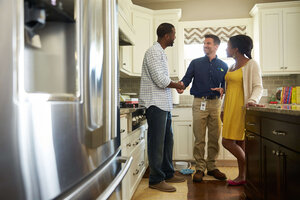 ServiceMaster of Newton is a locally owned and operated company backed by the national company ServiceMaster Restore®. They have been an industry leader in water damage restoration for more than 65 years.
At ServiceMaster of Newton, we:
Are available around the clock to respond to water damage emergencies
Are IICRC certified
Ensure you are satisfied throughout the process
Are fully equipped to offer you the right solutions
Our team is ready to handle any home impacted by water. We have extensive training, state-of-the-art tools, and proper equipment to restore your home.
Whether you need water dame or flood damage restoration in Newtown, we can help. Call us 24/7 at (641) 332-6949 to request your service.
Frequently Asked Questions
How long does water damage restoration take?
Most water damage restoration cases take up to 7 days to complete. Others can take several weeks depending on many factors, including:
The type of water damage
Extent of the damage
Structural damage
Accessibility to the affected area
The need to relocate inhabitants or workers
Availability of the restoration company
Insurance company processing times
These factors help you can help you better manage a water damage emergency. Do not let water damage disrupt your life. Let our experts handle the restoration quickly and efficiently.
Contact ServiceMaster of Newton today to schedule a consultation. Our technicians can restore your home to its pre-damaged state!