Professional Fire Damage Restoration in Wilmington
Professional, Reliable, and Effective Fire Damage Restoration Near You
Fire and smoke damage can be devastating for any property, leaving a lasting impact on both the structure and its contents. It can so overwhelming to deal with, and all you want to do is get your life back to normal as soon as you can.
When fire and smoke damage have turned your home, your business, and your life upside down, we're here for you. ServiceMaster of Wilmington is here to help with professional fire damage restoration services in Wilmington. After we do our initial assessment, we'll make a timeline and a customized plan for your home or business to return it to it's pre-fire condition. Our team of certified fire damage experts is trained to handle every aspect of fire damage cleanup and restoration, providing peace of mind and minimizing disruption to your life or operations.
For helpful and immediate fire damage restoration services in Wilmington, give us a call at (910) 202-4274.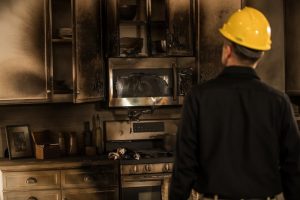 What To Do When Your Property is Damaged by Fire or Smoke?
If your home or business experiences fire or smoke damage, it's essential to take the right steps to minimize further damage and ensure a safe and efficient recovery. The sooner you can get a fire damage restoration specialist to respond to the situation, the better.
Do:
Keep your hands clean to avoid spreading soot and causing further damage

Cover high-traffic areas with clean towels or old linens to protect carpets and flooring

Change your HVAC filter and cover air registers with cheesecloth to trap soot particles
Don't:
Attempt to clean walls, ceilings, or other surfaces yourself, as improper cleaning can worsen the damage

Use electrical appliances or turn on ceiling fans, as wiring may be damaged

Consume food or beverages that may have been exposed to smoke, heat, or soot, as they may be contaminated

Send clothing or textiles to a regular dry cleaner, as improper cleaning can set smoke odors
Don't wait to start the fire recover process. Call ServiceMaster of Wilmington at (910) 202-4274 and make your home or business safe and whole again.