Water Damage Restoration Services Syracuse, NY
Quickly Recover from Floods, Storms & Plumbing Issues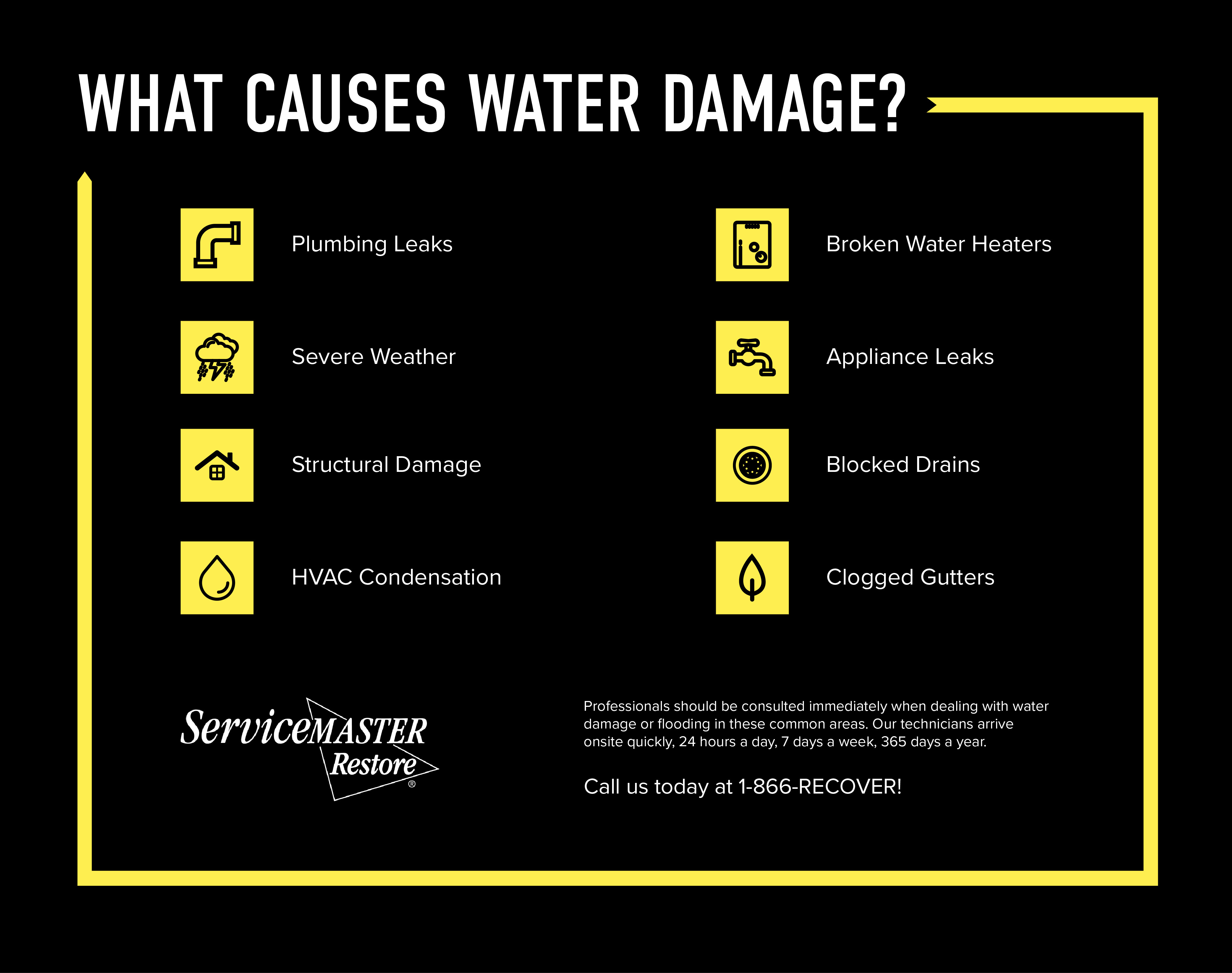 When your home is damaged by water, whether that damage is major or minor, it can be tough to know where to start. Any damage to your property can be stressful. After all, this is your home and you always want it to remain safe and taken care of. However, sometimes the unthinkable happens, and when that occurs, ServiceMaster Recovery by Close - Syracuse is the one to turn to. We are a restoration company that specializes in water damage restoration services. Water damage is one of the worst types of damage your property can endure. This is simply because it can lead to additional damages if not addressed in a timely manner. Our Syracuse water damage restoration team has the experience to navigate any challenges.
In need of water damage restoration services in Syracuse? Contact Us online or Give us a call at (315) 543-6457. We're available 24/7!
Common Causes of Water Damages in New York
Storms and floods can cause widespread water damage. But they are not the only means by which your home can sustain water damage. In fact, there are quite a few more common culprits. Our Syracuse water damage experts are prepared for everything.
Some other common causes include:
Burst or broken pipes
Appliance leaks
Broken water heaters
HVAC condensation
Clogged gutters
Foundation cracks
Moisture behind walls
Roof leaks
Structural damage
These are just a few of the ways in which your home can sustain water damage. As you can see, plumbing problems are a very common cause of problems. You may think that a small leak can't do much damage. But if it's not addressed in a timely manner, it could lead to major headaches down the road.
The Importance of Taking Quick Action After Water Damage
What makes water damage different from other types of damage is that it can get worse the longer it goes unaddressed. Water on your floor can spread to walls and elsewhere, where it can then wreak additional havoc. It also doesn't take long for soggy materials such as drywall to become a source of mold growth. This is a situation which will then require additional action. No matter how minimal you may think the damage is, it's important to always err on the side of caution. Most water damage exists beyond what the eye can see. Only a pro like those from ServiceMaster Recovery by Close - Syracuse can accurately detect all moisture.
Read Testimonials from happy clients.
Not Sure When to Call a Water Restoration Company?
When water damage has occurred, it is important to call a professional water damage restoration company like ServiceMaster Recovery by Close - Syracuse as soon as possible. Our skilled and knowledgeable experts can help with water cleanup and drying safely, quickly and efficiently. Not only will this prevent further damage from occurring, but this is the best way to avoid the threat of mold development which could lead to more repair costs down the line.
Our Water Restoration Process
ServiceMaster takes a 1-2-3 approach to our residential water restoration in Syracuse, NY. We always begin with a thorough assessment. It's important to uncover every inch of damage to know the best approach to take with the restoration. We follow the assessment with water mitigation. This reduces or prevents the extent of water damage caused by a flood or other disaster. Finally, we get to work on your water damage restoration. We are always focused on delivering a fast, efficient, and reliable solution that never compromises quality.
Types of Water Damage
One of the factors that affect the cost of water damage restoration is the type of water damage your property has. Only a qualified water damage restoration expert can determine the category of your damage. Each category or class of water damage is based on how clean the water is and how much of your property is affected.
Water damage categories:
Category 1: Clean Water - Examples include floodwater that does not pose an immediate health threat, water from broken appliances, toilet holding tanks, rain, or snow. Note: standing clean water can turn into Category 2 water damage within 48 hours.
Category 2: Grey Water - Also known as "sullage," it is household wastewater that does not contain fecal matter. Examples include water from tubs, showers, washing machine, dishwasher, and sinks
Category 3: Black Water - This is water that contains human waste and other bacteria or toxins. Examples are water from toilets, bidets, broken sewage pipes or water from food preparation sinks. It also includes water that is contaminated with chemicals. Severe flooding from rivers, lakes, hurricanes, or other natural disasters is typically automatically categorized as black water.
If you need water damage restoration in Syracuse, NY reach out to ServiceMaster immediately. Allowing standing water to stay on your property will only make it worse. Contact our water damage restoration pros at (315) 543-6457 -- we are available 24/7/365 days a week!
Trust ServiceMaster Recovery by Close - Syracuse
Whether you are dealing with weather damage or plumbing problems, you want the team you hire to restore your property to be the best. The water damage restoration services we offer aren't just a service we provide; they are all that we do. We are singularly focused on restoring properties to their pre-loss state. We are dedicated to doing so in an efficient manner that never sacrifices quality.
Our Syracuse water damage restoration company offers:
Fully trained and certified technicians
24/7/365 emergency availability
Assistance navigating the insurance process
We are the go-to advisor in the restoration industry and a leading provider of water damage recoveries. Our team looks forward to helping you through this difficult time.
For water damage restoration in Syracuse, NYContact us at the first sign of water damage. We are available 24/7 for emergencies.