Restoration Company Near new haven, CT
Our Branford based restoration company is locally owned & operated by Demie and Drew Kufta. They offer you years of experience in the restoration industry and construction industries.
When you hire us, you can rest easy knowing that we are backed by a national franchise network with over 65 years of experience. ServiceMaster Restore is the industry's go-to advisor.
All of our professionals are trained and certified in each applicable area of commercial and residential restoration.
In addition to providing you with our expertise and quality workmanship, we are dedicated to giving our customers excellent, timely, and trustworthy service. We are committed to your satisfaction.
Contact us online or call us today at (203) 717-9406 to get started. When disaster strikes, we'll be there for you 24/7, 365 days a year.
Water Damage Restoration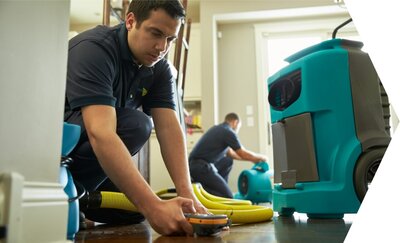 If your home or business has been the victim of water damage, it is important to act quickly to minimize the amount of damage and prevent further issues. The first step is to remove any standing water from the affected area.
Once all of the water has been removed, you will need to dry out the area completely. This can be done by using fans, dehumidifiers, or a combination of both.
Once you've mitigated the water damage it's important to call a certified restoration expert to begin the water damage process.
Water damage restoration can be a time-consuming and daunting task, but it is important to work with a skilled and experienced professional to ensure that your home or business is restored to its original condition.
Trust us for genuine & experienced water damage restoration in New Haven county. Book your service by calling our friendly team at (203) 717-9406 or reach out online.
Weather Damage Restoration Services in New Haven
Weather damage restoration following storm damage is a process that addresses the unique challenges posed by severe weather. From high winds and flash flooding to hail and fallen trees, storm damage can come in many forms. As a result, the restoration process must be tailored to each individual case.
Common Types of Weather Damage
Some common types of weather damage include:
High winds causing roof, window, or siding damage.
Floods leading to water damage in homes and businesses.
Hail denting cars and break windows.
Fallen trees crushing buildings and vehicles.
Each type of storm damage requires a different approach to restoration, but the goal is always the same: to return the property to its pre-storm condition. With the help of a professional restoration company, storm damage doesn't have to be a disaster.
Let Us Help You Rebuild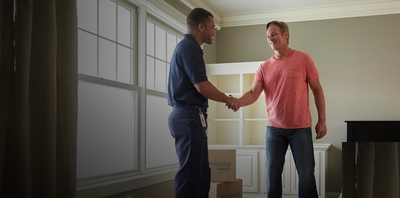 As experts in our field, we know that experiencing damage of any kind to your home or business can be stressful and overwhelming.
More than simply a restoration company near New Haven, at ServiceMaster Restoration Services - New Haven County, we are a team of people who care about the happiness and wellbeing of others.
During your time of need, we are committed to guiding you through the restoration process and helping restore normalcy to your life.
To learn how we can assist you in restoring your home or business, please don't hesitate to reach out to us today.