Water Damage Restoration in Lewiston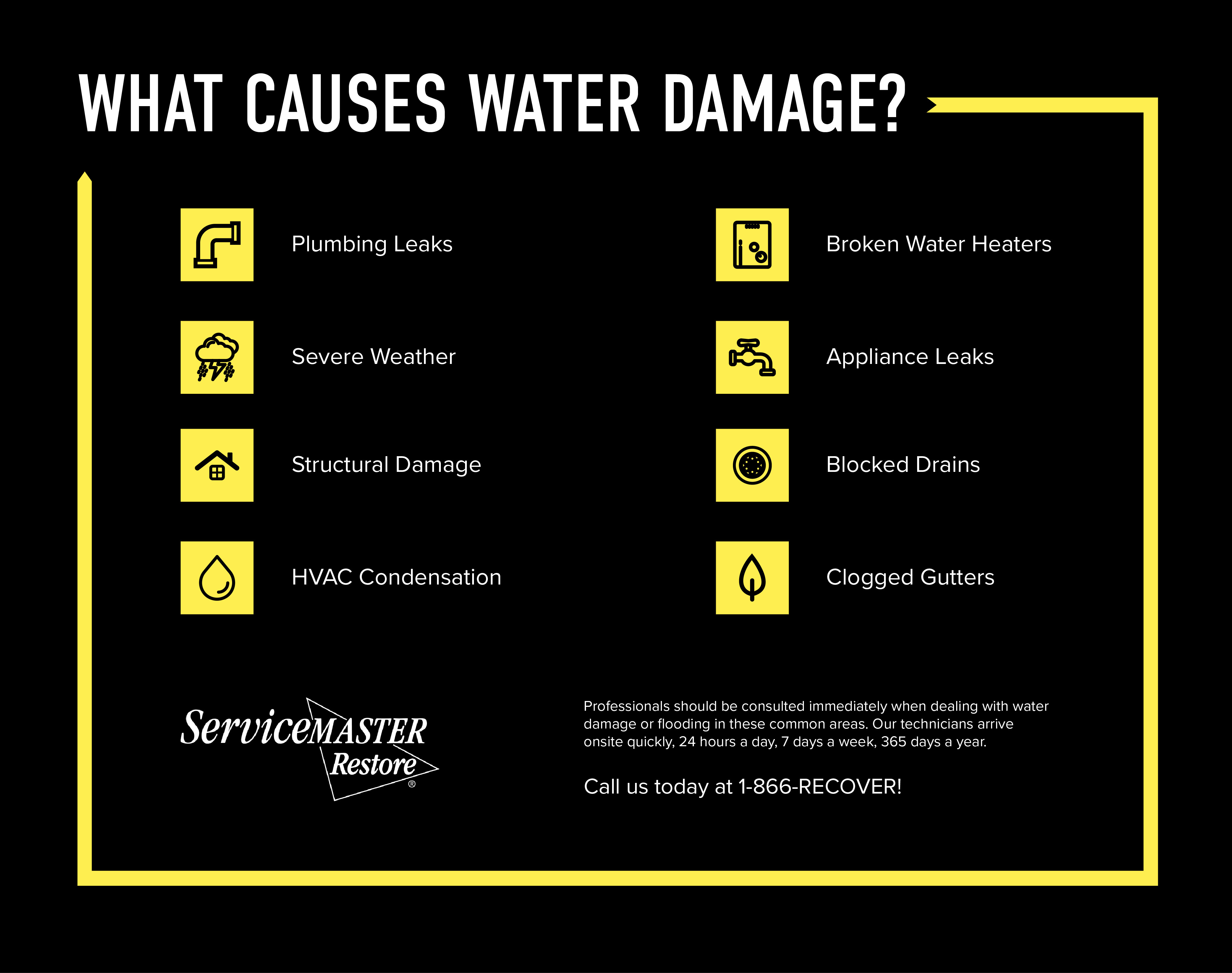 Water damage can hit your home unexpectedly and from a variety of sources. Whether a pipe burst, an appliance leaked, or a storm caused torrential rainfall and your basement flooded, it's a difficult situation to be in. You need a team that can handle your property with care, provide effective solutions, and work fast. Our team of flood cleanup professionals understand how to put together a plan quickly to dry out, salvage, and repair damage to your home.
ServiceMaster Building Maintenance is made up of a team of seasoned technicians who provide mitigation and restoration services to bring your property back to pre-loss condition or better.
Need a contractor to repair water damage? Call(208) 400-5649 and we'll be there right away to help!
What Is Water Mitigation?
Water mitigation is a process that requires completion before the restoration process can begin. It involves minimizing the amount of loss using highly effective equipment and executing techniques that prevent damage from spreading.
After safely ensuring structural stability, we focus on removing damaged materials, extracting water, and drying the property. Then, the restoration process can begin. We'll clean and disinfect salvageable items, replace walls and flooring, and repair other damages. At this point, our experts can eliminate toxic mold and conduct moisture testing for a safe return.
Fire Fighting Water Damage Restoration
On its own, fire can cause massive damage. Unfortunately, when it comes to handling fires, you'll likely find yourself also facing water problems.
From sprinkler systems to fire hoses, the very water used to extinguish the fire can cause structural damage from the high-pressure water jets, as well as moisture saturation that can require extensive cleanup and salvaging. Worse yet, water damage from fire fighting can even create an environment for mold to grow if it's not cleaned up fast.
ServiceMaster Building Maintenance has a team of first response flood and fire restoration specialists ready to help you whenever you need it. We are available 24 hours a day, 7 days a week, and every single day of the year!
The Dangers of Mold Growth
It only takes a small amount of undetected water in the right location for mold to begin developing. Within 24 hours, mold spores start growing and will continue to spread and flourish.
Left unattended, mold can cause a slew of issues for your health and home:
Persistent allergy symptoms – skin and eye irritation, fever, nausea, headache, etc.
Feeling fatigued or lethargic consistently
Breathing problems, especially for those with asthma or lung conditions
For these reasons, it's important to have a team of professionals working on repairing damage and extracting water.
DIY Water Damage Cleanup: Can Water Damage Be Fixed on Its Own?
Ignoring water damage isn't a good idea—it's not going to go away or fix itself on its own. Likewise, do-it-yourself water damage repairs aren't recommended.
Countless times, we've seen and heard about individuals who try to DIY their home's water damage. Often, they fail to properly identify where water is hiding and do not completely dry out certain areas within the home. This can lead to mold growth issues down the road.
By the time they notice the mold, it can end up being more expensive than just having a team of restoration professionals take care of the issue to begin with.
Get Professional Water Damage Cleanup and Restoration
To be on the safe side, it's always best to leave water extraction and remediation to the professionals. Our team at ServiceMaster Building Maintenance will take care to remove all water-damaged materials and structures. Then, we will restore your home to its original condition, thereby restoring your comfort and safety. You won't have to worry about mold or mildew problems—we work hard to ensure we don't miss any spots.
So why wait? For 24-hour water extraction and more, just reach out to our restoration team.
We can handle your water damage restoration needs in Lewiston. Call(208) 400-5649 for emergencies, orcontact us online.