Water Damage Restoration in Fresno
Water Damage Repair from Certified, Industry Experts
Is water damage wreaking havoc in your home? Are you dealing with the aftermath of a flood or plumbing failure? The ability to salvage items decreases while mold growth increases as time passes. This added element of time can cause homeowners to experience a personal meltdown. The good news is that help is available from trained professionals. When you are faced with a flood or water damage in your Fresno home, you need an expert. We know how to handle water extraction, drying, salvaging, and repair.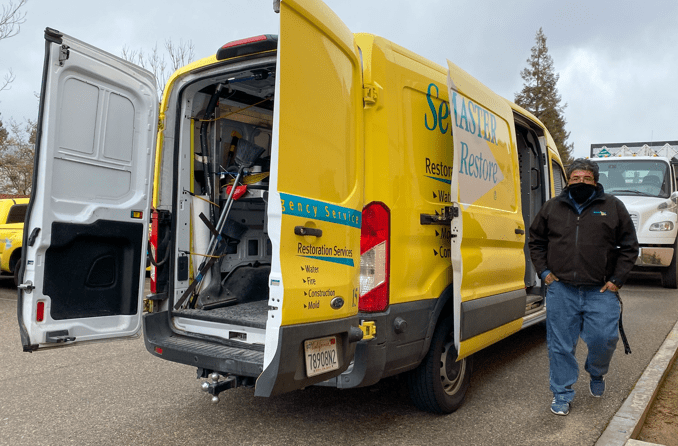 At ServiceMaster by Benevento, we have well over 30 years of experience in water damage restoration near you. We address situations involving water damage cleanup and salvaging property destroyed by flooding. Water damage is not just destructive to property. It can pose many hazards and dangers for homeowners both during and after a flooding event. Our Fresno water restoration pros know how to keep you and your family safe in the event of a water-related disaster.
WE are eager to provide assistance with all aspects of personal property damage restoration services in fresno. Call us at (559) 772-1034 or contact us online today for water mitigation in fresno.
What Usually Cannot Be Salvaged During Water Damage Remediation
There are some items that simply need to be discarded due to the likelihood of contamination. Any food or water present during a flood event is obviously going to need to be tossed. The next category of non-salvageable items: food-related or kitchen objects made from wood. Metal kitchenware can usually be sanitized. Carpet and rugs can be salvaged in some instances. Oftentimes it is necessary to replace them because of how easily they can harbor pathogens and contaminants. Walls will usually need to be dismantled. Drywall and insulation will begin to accommodate mold if they are not replaced.
Where Water & Moisture May Be Hiding
It can be difficult to identify and address every single area where water can hide. That's why Fresno restoration service professionals need to be consulted for water damage restoration. We have compiled a list of common places that moisture or water can accumulate out of sight.
The darkness of cabinets and cupboards
Beneath appliances
Behind drywall
Under flooring
Around home foundation
Removing Water Safely & Effectively
If you are experiencing an emergency, our team can show up quickly and get to work right away. Keeping as valuables and possessions safe and salvageable is always our first priority. This comes after your immediate safety. Our certified water damage cleanup team in Fresno know what techniques are effective. They eliminate moisture and restore property as near as possible to pre-loss condition. We will stay by your side until you are safely back at home.
When you need emergency water damage restoration in fresno, call us right away at (559) 772-1034 or contact us online.