Fresno Commercial Restoration Services
Our Commercial Restoration Company Is Available 24/7
When disaster strikes suddenly, businesses need to find restoration services quickly in order to stay profitable. A disaster event on the premises of your commercial property can cripple your ability to operate normally in the short run and sometimes for a long period of time. Floods, fire, natural disasters, are all threats to revenue, productivity, and customer service. Choosing the right team is vital to a faster and smoother recovery. Our team has been serving Fresno County for over 30 years, and we have helped numerous businesses repair their buildings after severe damage. When you are faced with a disaster within or near your commercial building, ServiceMaster by Benevento is available to help you recover quickly and get your business back to full operation.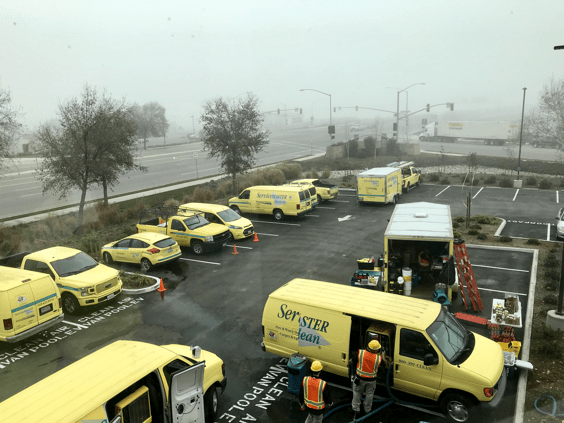 We are a leader in disaster restoration since 1985 and are the go-to advisor in our industry. Our expert restoration team has helped countless business owners across the Central Valley repair and rebuild from a wide variety of disasters.
Our commercial restoration services in Fresno include:
Pre-loss planning
Water damage restoration
Fire and smoke damage repairs
Mold damage remediation
Weather damage repairs
Specialty services
We also provide commercial contents restoration in Fresno, CA to extend the life of your most valuable equipment. Contact us online or call us at (559) 772-1034 to get started.
24/7 Services from Our Commercial Restoration Company in Fresno
No matter what repairs and restoration services your business needs, ServiceMaster by Benevento is here for you. We are your nationwide, single-source solution for commercial disaster restoration and reconstruction. Because we understand that time is of the essence in these situations, we offer 24/7 availability 365 days a year.
ServiceMaster Restore is a nationally recognized brand with local expertise. Our company is run by locals who understand the Fresno region and the threats that businesses face everyday.
Choose ServiceMaster by Benevento for Disaster Recovery
A disaster can leave you feeling helpless or overwhelmed. Even the most prepared businesses face challenges or decisions that are difficult to anticipate beforehand. Our commercial restoration team in Fresno is not only here to help you clean up, but we also offer pre-loss planning to help you prepare for a variety of potential disasters.
Call our Fresno commercial Restoration Experts at (559) 772-1034 today!