Packout & Content Restoration
Bring in experts who know how to carefully handle, clean, and store possessions
Having a fire or water disaster can turn everything upside down, leaving your policyholder unsure of how to get a handle on things.
At ServiceMaster by McCann, when it's necessary to remove policyholders' contents, we have a proven process for inventorying, packing and safely transporting their contents and furniture to a safe location. When required, we also can clean, restore, deodorize, re-pack and store personal possessions until the structural restoration is complete. Our on-site handheld mobile computer automates our inventory process, records each inventory item and tracks the status of the homeowner's belongings from removal to replacement. So rest assured, your policyholder's most cherished possessions are handled carefully until they can be returned.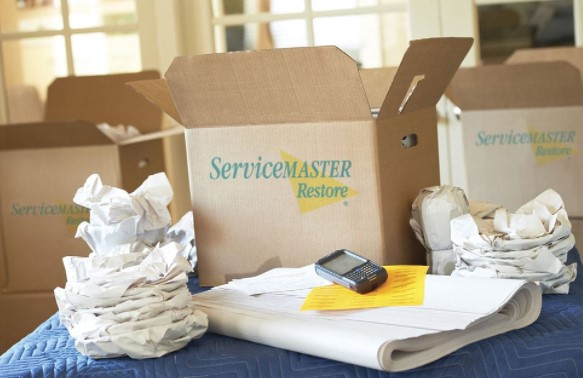 During the packout and contents restoration process, ServiceMaster by McCann will:
FIRST STEP
Inventory, pack and transport your policyholder's belongings to our climate-controlled warehouse
SECOND STEP
Provide a printed copy of the inventory to the policyholder as items are moved to our warehouse
THIRD STEP
Restore, clean, deodorize, re-pack and store items in our warehouse as necessary and agreed upon
FOURTH STEP
Garment restoration
FIFTH STEP
Track and document contents throughout the claim cycle
SIXTH STEP
Arrange for re-delivery of items
Contact ServiceMaster by McCann
When the unforeseen happens, call on the quick response of ServiceMaster by McCann. Our emergency call center is prepared to handle your call 24 hours a day, 7 days a week, 365 days a year.