Water & Mold Damage Repair Services In Defiance
Water Damage Restoration Company You Can Trust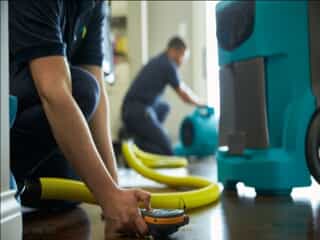 Water damage restoration is an emergency business. That's why ServiceMaster by McCann is on call 24 hours a day, 7 days a week, 365 days a year.
Our quick response reduces your suffering and saves money. Water damage claims increase substantially if prompt action is not taken to contain the damage.
The cleaning professionals at ServiceMaster by McCann use advanced products, procedures, and equipment to assure the highest level of cleaning performance and protection for property and furnishings.
Call(419) 314-4215 today orcontact us online for mold and water damage restoration services in Defiance.
The process unfolds in six steps:
Inspection and assessment
Water removal
Anti-microbial application
Drying: air movement
Drying: dehumidifying
Drying: monitoring
Importance of Quick Remediation
Water damage restoration is required as soon as possible in order to prevent further damage. When untreated, water can penetrate porous surfaces and cause mold, which requires time and money to remediate.
In addition, mold remediation can lead to serious health concerns if not taken care of appropriately. Therefore, immediate action is necessary for preventing mold growth and additional structural damage.
It is important to contact a professional restoration team that has the experience, knowledge, and appropriate tools to ensure mold does not become an issue later on.
Why Choose ServiceMaster by McCann
ServiceMaster by McCann is the perfect choice for professional water damage restoration services. With decades of experience, our highly trained technicians are available 24/7 to address any emergency you may face.
Using advanced technology and methods for restoring flooring, furniture, and other items, we can restore your property back to its pre-loss condition quickly and efficiently.
Our technicians not only excel at quickly removing standing water but also thoroughly dry any damp materials, as well as use specialized tactics and products to prevent mold and mildew growth. Rest assured that our dependable results will leave you worry-free.
Water Damage Emergency Tips:
DOs:

Blot or mop excess water
Remove and prop up wet upholstered cushions for even drying
Place aluminum foil or wood blocks between furniture legs and carpeting
Wipe excess water from furniture
Open drawers and cabinet doors for complete drying
Remove valuable paintings and art objects to a safe place

DON'Ts:

Use your household vacuum to remove water
Use TV's or other appliances while standing on wet carpet or floors
Leave books, magazines, or any colored items on wet carpets or floors
Turn on ceiling fixtures (if ceiling is wet)
Leave wet fabrics in place
Looking for water damage restoration services near you? Reach out to our expert teamonline or call us at(419) 314-4215.